By Jase Walker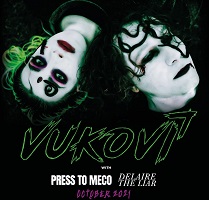 Tonight's show takes me to a venue I've not been to before (for a gig), having narrowly missed it a while back when Sleep Token had their show upgraded to demand. Vukovi have been on my heavy rotation for almost a couple of years now after having the privilege to review their second album, 'Fall Better', and a subsequent follow-up live show at Hyde Park Book Club in Leeds.
It's been a pretty successful tour so far with numerous sell-out shows, including tonight's show in Manchester; I've been closely following their social media and it's been banger after banger for the whole run. With a third album on the way and a smattering of singles in the mix, to say I'm excited for tonight's show does my excitement a disservice! Supports for this tour are Delaire The Liar and Press to MECO; the latter is another band I've been listening to on and off for a while but always seemed to miss when they were passing through the North.
Delaire The Liar hit the stage as I'm still in the queue as the doors had a bit of a delay and the queuing was pretty messy. It wasn't too bad of a delay getting in mind, and the band is SUPER animated right from the word go, punky and loud! The singer is wasting zero time with audience participation; he's immediately in the audience and I'm having to keep an eye on him whilst typing up some notes – I love these sorts of antics!
This is the first time I've heard, let alone seen this band but they are absolutely bringing the energy to the show already! This is legitimately why I strive to always see the support acts, there's some definite gems around and Delair the Liar are one of them. With the sort of guitar playing and vocal register they seem to be using, they remind me a lot of Circa Survive, an excellent band to open with.
Second on today are tech-punk rockers Press to MECO and… Why are they all wearing black jumpsuits? I actually didn't know that all three of them shared vocal duties either, but I suppose that's sort of the stuff you learn seeing bands live! There's a level of brash, unfiltered energy with these guys' live performance; no messing around, all killer, no filler.
This performance is *tight as fuck* for lack of a better term, greater than the sum of its parts and with some absolutely outstanding harmonised vocals, nevermind the frantic movement they've got on stage. Firing on all cylinders to a completely packed out venue, Press To Meco are wrecking the joint and it's a joy to watch.
Even before Vukovi got on stage and started, any time Hamish popped up to do his guitar setup was met with a chorus of "Woo!", to his amusement. Before long they hit the stage and the tension in the crowd is already building. Right as they hit the first note of 'Violent Minds', the entire venue goes instantly berserk, with me right at the front swept up in the euphoria of it all.
Blasting right through every banger they've got in their discography, with someone asking if their partner can get up to sing 'All that Candy' with Janine during a brief lul to which she cracks a smile and asks the audience what they think, responding with a resounding yes. A bit further on someone offers a bouquet of flowers, but not to Janine, to their drummer oddly enough and follows this up with a ballsy stage dive which sets the tone for the rest of the show, the audience knows that there's nothing holding them back now.
Even the new singles, 'Hurt' and 'Kill It' have everyone hanging off every word and matching Janine with an overwhelming roar. The room is thumping along to every song, the temperature has soared by this point, and I am legitimately a complete mess of sweat and excitement. Janine follows through with her promise to get someone up from the audience to sing 'All That Candy' and it takes some guts to just get up and sing a song with one of your favourite bands like that, well done.
The whole show continues to get more and more buzzed as it goes on, crowd surfers, stage divers, mosh pits, every single thing a band could wish for in their shows, it's there in spades. Even one of the new singles, 'SLO' goes down incredibly well, the breakdown initiating a gigantic moshpit right behind me with even more crowd surfers to boot!
The finisher comes in the form of a first album favourite, 'La Di Da' and the crowd seeing the finish in sight wastes no time in going full tilt, including Janine getting the singer up from Delair The Liar up for a bit of crowd surfing action.
All in all, this show was truly something special and Manchester welcomed Vukovi with open arms and hopefully gave them a show that they won't forget in a hurry. Hamish and Janine are both onto something here, they got a following that mirrors the raw energy and fun that their music embodies and I feel quite privileged to be involved in that.
These Scots are a class act.
The tour continues in Nottingham tonight (Tuesday 26 October) and Leeds tomorrow (Wednesday 27), before finishing in Glasgow on Thursday (29 October).
All content © Über Rock. Not to be reproduced in part or in whole without the express written permission of Über Rock.