By Jase Walker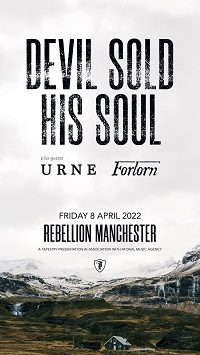 So, despite the lovely heatwave, we're now back in freezing bitter weather but for a slight reprieve, I get to spend tonight in one of Manchester's best venues and regular haunt of mine, Rebellion. Tonight's show should be a sweaty one with Devil Sold His Soul with Forlorn and URNE to support. Sadly Frontierer had to drop out which is pretty gutting, as they're quite possibly one of the maddest live acts next to Car Bomb.
To a bit of an empty room so far, Forlorn quietly makes their way onto the stage with an atmospheric intro. Megan, their singer, takes the stage with a flower wreath in her hair reminiscent of midsommar and here we go! Right from the outset, the sound is FAT. I mean this sort of proggy stuff is my bread and butter, fat chunky riffs, a mix of cleans and uncleans and a dingwall bass carrying the lot with its roaring mids.
When Megan hits the screams everything amps up massively, the mix of light and shade here is stellar. The massive downtuned riffs are fairly reminiscent of the likes of Loathe, little wonder with a Baritone guitar in the mix. This is one of those shows where I'm also pretty impressed by who's doing the sound, I can focus on each part and hear them all clearly, great stuff. A quick spy around the room and there are a ton more people Infront of the stage now with characteristic 'metal gurns'. I mean I'd listened to these before in passing but I didn't not expect *this* – what a show!
URNE kick off with a melody that doesn't sound a million miles away from something Iron Maiden would write, but this is most definitely *not* Iron Maiden, this is *prog* .  Not long before that's shed to thunderous chugs and some of the gnarliest uncleans I've ever heard! Again, I've listened to these in passing before but live really is something else, seeing a 3-piece kick out music that's as layered as this is impressive.
I mean it's hard to overstate how a band like this is kicking out stuff that sounds like Mastodon with a three-piece band, but with a smattering of eccentricities that pay homage to the bands that started it all like Black Sabbath and Judas Priest. For the final song in the set, they really saved the best for last because my god that riff, some of the tightest alternate picking stuff ever, and man does it sound good! So far that's two support bands that have been bloody outstanding and Devil Sold His Soul have a hell of a set to follow!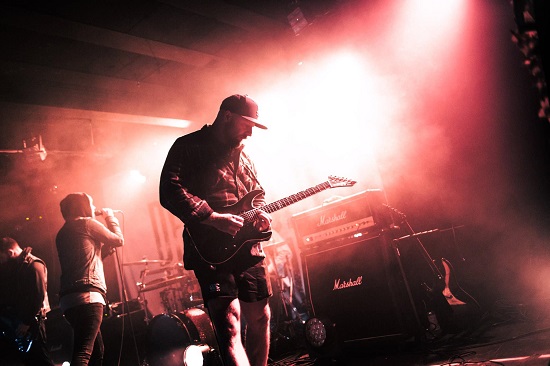 And finally for the night, we're with Devil Sold His Soul, a band that's been on my to-watch list since college, another smashing post-hardcore band that have managed eluding me until now. These along with bands like Finch, Hundred Reasons and Funeral For A Friend and a big reason I'm so into music even now. I know it's a pretty consistent thing for me but nostalgia washes over me and it's like the last 15 years didn't happen, Devil Sold His Soul sounds massive! Post-hardcore is alive and well.
The band clearly has got a solid core of fans right at the front that are hanging off every word and screaming them back at the singers with gusto, always a pleasure to see fans like that. With bands like these you can really see what paved the way for later metalcore bands, the mixture of harmonised clean vocals and unclean growls for emphasis, mixed with massive hooks and chunky rhythms, it's metal at its most catchy – If you don't know the words, you'll recognise the riff.
Prior to this show I would have said Devil Sold His Soul were underrated but given the way this crowd is responding, as well as how many people are here, it's probably unfair to label them as such. The crowd are clearly here for them and loving every single minute of this show, they've got fans that adore them and everything they've done and you can't disregard that when you're in the middle of all of it.
Devil Sold His Soul have smashed it out the park, they've been a wonder to watch with the singers jumping about all over the stage and getting the front of crowd involved in most every song and you can clearly see they're overjoyed to be doing this. Manchester's shown why this city is the heart and soul of the north here, stellar show.
PHOTO CREDIT: Photo courtesy of Devil Sold His Soul.
All content © Über Rock. Not to be reproduced in part or in whole without the express written permission of Über Rock.