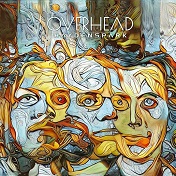 When a band prefaces their description of their music with the word "progressive", that preface naturally comes with certain preconceptions. Predominantly, it is in the style of music they are expected to play: all widdly-widdly guitar wankery (as my esteemed colleague DJ Astrocreep would state), coupled with weird and wonderful time signatures that confuse as much as they explore.
However, personally, when I see the word "progressive" in a band's biog, then I expect them to do something that is just that: break down musical boundaries, or push themselves to create new ones, rather than just adhere to accepted, airy-fairy norm of the genre whose name they employ. So, it was a pleasant surprise to discover that Finnish quartet Overhead do just that, albeit in a confusing and somewhat disconcerting manner which actually makes it difficult to comes to terms with this, their fifth studio album, released on the cusp of their 20th anniversary year.
While inhabiting the more "classic" rock vein of the prog genre that countrymen the Von Hertzen Brothers have popularized in recent years, 'Haydenspark' sees Overhead push the mien into territories bordering on Hawkwind-ish space rock, as evidenced on the opening section of 'Animation For The More Man' – itself the antithesis of a certain similarly-entitled prog rock classic with its more stripped back, harder rocking take – through dank doominess, QOTSA-ish stonerisms and even, the rock gods forfend, grunge elements (such as Alex Keskitalo's Cornell-esque vocal on 'Last Generation').
'Haydenspark' switches mood and atmosphere more times than your average male rockers change their underpants at a festival, which is why I referenced this as being a difficult album with which to come to terms. It took three full listens before I felt able to drill deep into the minutae of the aural experience which it offers: but, that is also a strongly positive statement for the album, as it makes you want to come back for more and explore it further. It wants you to be challenged by those mood, and genre, swings, in among which, in addition to the miens mentioned above, there are also heavy elements of groove rock and jazz/funk undertones, especially on Janne Pylkkönen's bass motifs. In regard to the latter aural aspect, and this is just a sidebar, 'Across The Nation' most definitely would not have sounded out of place on the new Dan Reed Network album. Fuck, there's even a power ballad – and an (albeit very brief) Abba tribute: what is prog coming to?
There are lots of classic "prog" references, but not delivered in a way which sounds "anti-prog", i.e. stuck in the past in the way in which so many bands find themselves polluting the genre, but rather walking a street that sees them helping to take it on its next steps towards a, hopefully, and quite, possibly, unknown destination.
• 'Haydenspark' is out now. You can get your copy HERE.
 www.facebook.com/overheadband/
• All content © Über Rock. Not to be reproduced in part or in whole without the express written permission of Über Rock.