By Jase Walker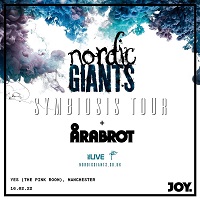 An incredibly blustery evening finds me at a venue I'm often at for beers but have never been to for a gig, Manchester's YES bar.
It's been a hot minute since seeing Nordic Giants at ATG2019 in their 'Amplify Human Vibration' era, but this time it's the first date in their tour to back 'Symbiosis', their latest release which came out a few weeks back.
It took a split second for me going from spying what I thought were some oddly dressed types here to them marching up to the stage – whoops, that's Årabrot! I suppose that explains the 'Norwegian Gothic' album really: you know, other than the bloody massive gothic cross that's right in front of the stage.
I gave these a cursory listen earlier as I only briefly saw them at Damnation festival when they were on tour support to The Ocean a few years back, and I think pegging them as noise rock undersells their sound a bit. They've got all sorts in their sound ranging from '80s goth to more contemporary doom, Norway seems to have a habit of producing genre blending acts like these.
The show definitely works as a solid introduction to Årabrot with having a track list decided by the artist themselves based on what they think is their strongest material. The harmonious vocals from Årabrot come off as their strongest quality, Kjell using a style similar to Frank Black while Karin sounds closer to Alison Krauss, the blend is superb.
With the newer material straying somewhere close to delta blues, Årabrot have been an incredibly interesting act that doesn't seem to be easily pigeonholed with one particular type of Rock and Metal. If you're getting along for this tour, make sure you get in early to catch these!
With Nordic Giants' signature central screen propped up unceremoniously in the middle of the audience at the front, the room darkens as the tiki outfit clad pair take the stage. We're about to witness the audio-visual experience that is Nordic Giants' live show and I've got company with me that's not yet seen this before, so I'll be excited to see what they think!
Legitimately, it's hard to remember to keep tapping some notes out for this because it's so easy to get sucked into the euphoria of it all. All I can think throughout most of this show is that it's one of the most engrossing and personal experiences I've had the pleasure of encountering with live music. Nordic Giants, from the first time I've seen them, have been stunning and they've only gotten better.
With their bizarre music videos including a family that ends up killing each other at a lake for a gasp of oxygen ('The last breath'), a father and son funeral director in their quest to deliver a coffin to its destination ('Illuminate'), or my personal favourite, their love letter to animation, in particular Studio Ghibli ('Together'). Matched with beautiful, sombre and often grand crescendos males for an exceptional and intimate show.
Not missing out one of my favourites, 'Evolve or Perish', with its bleak outlook on the potential course of human disaster matched by its grand, melancholy piano playing, is a truly beautiful song. I feel like I can finally see what they were aiming for with the Symbiosis album, as having seen these before I felt like the album needed the visual element to be complete and seeing this, I can absolutely say that was the correct assumption.
This is just the first date on this tour, and if you have even a passing interest in prog or piano driven music, I would fully urge you to get along to one of these shows, it'll be one of the most unique and engrossing shows you'll see.
The tour continues:

All content © Über Rock. Not to be reproduced in part or in whole without the express written permission of Über Rock