By John Bedard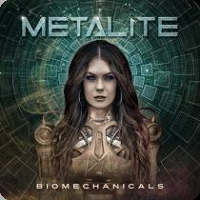 When a band changes one of its members it is a frightening thing. When it is the lead singer it is terrifying. You never know if they are still the band you loved or something entirely different. Is the something different as good as what you remembered? I have been a fan of Metalite ever since I first heard 'Afterlife'. The fusion between techno and metal is something that has always made sense to me. The high energy and high BPM of both make for a natural combination. Being a fan of most techno and EDM as well as metal, I loved Metalite from the first moment I heard them. So, the real question is what do I think of their new singer Erica Ohlsson? Well, you will just have to keep reading because I'm not going to tell you just yet…
First, I want to talk about the music. The style is similar to bands like Amaranthe. You have the strong electronica wonderfully merged with metal. This was done expertly on their first album and here I am happy to report Metalite has done it again. However, I do think they played it a little safer this time. It does seem that the electronic elements are not quite as prominent this time but instead, we have more of the traditional instruments. It is not a huge change just a slight shift, but these songs did lack a little of the punch we had in 'Afterlife' and 'Nightmare'. Only a little though the music here is still fantastic. The mid-heavy guitar tone and tight distortion complements the electronica so well. 'Mind Of A Monster' stands out as my favorite on the new album. It is a standout classic.
OK, so I'm guessing you don't want to wait anymore. Is Erica a worthy successor to Emma? Hell yes, she is! Don't get me wrong, I am going to miss Emma and I will continue to follow her work. She was fantastic in Metalite and left big shoes to fill. That being said, Erica is a fantastic singer that is very much in the same style as the Metalite we knew before while still making things her own. This is one of the rare times where a band I love has changed singers and I don't feel like it was a bad call. Her vocals are a little darker but not much. Some of the higher notes from the first album you don't hear in biomechanicals but there are some lower more aggressive ones that are brought to you complimentary of Erica. I think she fits in very well with the band. I look forward to a lot more from them in the future.
To cut things short, buy this album. It is fantastic. 'Biomechanicals' is a great crossover for many coming from another style of music to the metal world, or for people already here to have a little fun. I don't know anyone that I don't think will like this album. There is so much passion and heart poured into the music and I think that the fans of Metalite will love what they hear – and if you are new to Metalite, this is a great album to be your first. Definitely give this one a chance.
'Biomechanicals'is released on 25 October. You can get your copy HERE.
www.facebook.com/metalitemetal
All content © Über Rock. Not to be reproduced in part or in whole without the express written permission of Über Rock.