By DJ Monk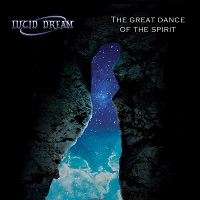 The entire Italian peninsula may currently be on a Government-imposed lockdown due to what we are referring here at ÜRHQ as the "beer bug" (some people obviously aren't getting enough of it – beer, that is – others clearly have had a bit too much), with transport links to and from the country practically severed. But, at least one channel remains open, and infection free, and that, of course, is the interweb, which is allowing music still to flow in our direction. Of course, like Italian beer, it will inevitably be of varying quality… which brings us neatly to this fourth album from Lucid Dream.
'The Great Dance…' is the third and final part of a series of concept albums, started with 'The Eleventh Illusion' in 2013 and continued on 2017's 'Otherworldly', exploring spirituality and man's search for "silent knowledge" and "superior powers". This final part of the trilogy revolves the "subtle energy of the Great Spirit". Noble stuff, indeed, but is it any good, musically?
Well, truth be told, it's OK. It sounds very dated, rooted in the sounds of the mid- to late-Eighties: think Kansas, Styx and Rush at their more commercial and you're more or less treading the right path. Now, it's very well written, and beautifully performed and produced, but it lacks any sense of the energy which it is supposed to be searching for: maybe that's the trilogy's quest, despite having come to it's conclusion, ultimately remains unresolved. There is very little sense of emotion or passion, and in places sounds cluttered and confused, as if it's creator has attempted to cram too many ideas into a single cupboard and then struggled to keep the overfill contained (oops, sorry, silly virus reference right there).
It does have some good moments, such as 'A Dress Of Light', which shows a lot of potential, as does the first section of 'The War Of The Cosmos'. Ultimately, however, 'The Great Dance…', while ticking many of the right boxes in relation to the progressive rock mien – long, meandering instrumental passages, the exploration of high flown lyrical ideals and so forth – is an unfulfilling listen and fits into the category of innocuous background music played to fill the sonic void while you get on with more rewarding aspects of everyday life.
'The Great Dance Of The Spirit' was released yesterday (Wednesday 10 March). You can get your copy HERE.
www.facebook.com/LUCID-DREAM-MUSIC
All content © Über Rock. Not to be reproduced in part or in whole without the express written permission of Über Rock.