By Jim Rowland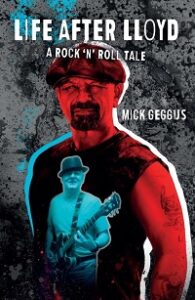 A fair few years back now, Cockney Rejects front man Jeff Turner released a book, 'Cockney Reject', to much acclaim. Now it's the turn of his brother Mick Geggus, guitarist and co-founder of the band. But don't expect a rehash of Turner's book: this one is a different beast and largely deals with more recent times.
The title 'Life After Lloyd…' refers to Tony Van Frater, nicknamed 'Lloyd' by the band, a lifelong fan who became the bassist when the Rejects reformed in 1999, and remained until his untimely and unexpected death in 2015. The book serves both as a tribute to the colourful character that Van Frater was, as well as providing some fascinating rock'n'roll tales, some of which are greats highs, and some of which are great lows. The most obvious low would be the painful recounting of Van Frater's death, how the band struggled to deal with it, and how, eventually, they picked themselves up and carried on with original bassist Vince Riordan returning to the fold. The absolute affection for Tony Van Frater is clearly there for all to read about, with many of the tales told providing an insight into what life with Lloyd was like, with numerous more from the post-Lloyd era.
'Life after Lloyd' is a roller coaster ride of highs such as one of the band's proudest moments as they closed the night's celebrations at the last ever West Ham game at Upton Park, numerous successful tours in far flung parts of the world confirming the enduring legacy of the Rejects, Geggus' rather fine but brief side-project as a member of The Crunch with Dave Tregunna, Terry Chimes and Sulo Karlsson, as well as the making of the 'East End Babylon' film (reissued and reviewed separately here).
In many ways, it's the recounting of the lows, and how they are dealt with, that makes for the most interesting read here. One that sticks out is a particularly challenging and disastrous tour of the USA at hands of some unscrupulous promoters. Although the band have had several successful tours there, this one went badly wrong and serves as a warning to many bands looking to cross the Atlantic in search of a dream that could easily turn into a nightmare. Elsewhere, there's the tale of Geggus' heroic struggle through an entire Japanese tour in agony due to having contracted shingles, and the sad episode where long time drummer Andrew 'Lainey' Laing collapsed mid-set in Skegness, an incident actually witnessed by this writer, which led to his time being up with the band, and as it turned out, his time nearly being up full stop as it was caused by a blood clot near to his heart.
'Life After Lloyd' is a good and easy book to read, whether you are a hardened Cockney Rejects fan, or just a music fan in general who likes to read some good old rock 'n' roll tales. It's a tale of endurance, fighting on in the face of adversity and coming out winning, as well as being a fine tribute to 'Lloyd' himself.
'Life After Lloyd: A Rock 'n' Roll Tale' is published this month, to tie in with the Cockney Rejects' 40th anniversary celebrations, along with a limited edition signed reissue of the acclaimed 'East End Babylon' DVD. Additionally, on 14 December, there will be a special live performance at O2 Academy Islington, where the band will crash through a set comprising their 'Greatest Hits 1 and 2' albums in sequence.
All content © Über Rock. Not to be reproduced in part or in whole without the express written permission of Über Rock.