By Jim Rowland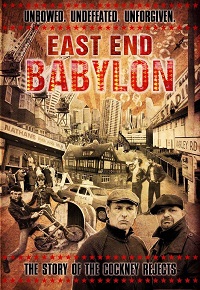 As part of the Cockney Rejects' 40th anniversary celebrations, October sees a limited-edition release of fully signed copies of the DVD of 'East End Babylon', the acclaimed movie that tells the band's story, originally released back in 2013. The film was directed by Richard England, who was the executive producer of 'Oil City Confidential', the excellent Dr. Feelgood documentary, and edited by Henry Stein who edited 'Celebration Day', the Led Zeppelin concert film.
'East End Babylon' is a riveting watch, in equal parts funny, informative and in places quite shocking. It follows the roller coaster ride of brothers and founding members Jeff Turner and Mick Geggus, from their modest upbringing in Canning Town through to the success, infamy, chaos, downfall and resurrection of the Rejects. One of the tag lines on the cover to the film states 'there were only 3 ways out of the East End – football, boxing and rock'n'roll' – the Rejects dabbled in all three. The first part of the film acts as an interesting social history of London's East End, enhanced with old newsreel footage, and what it was like to grow up in for the brothers, before touching on their brief boxing careers before they traded in the gloves for a guitar and a microphone. Commentary from Gary Bushell features prominently, having championed and managed the band through their formative years as they hit the big time with an EMI contract.
A film about the Rejects wouldn't be complete without exploring their affinity with West Ham United, and the most gruesome part of the film covers the trouble on the terraces developing into blood on the dancefloor as the violence of football tribalism started to mar Rejects' gigs, culminating in the infamous Birmingham Cedar Club gig. Things only got worse when the British Movement boneheads got involved, hindering the Rejects' career as it did for Sham 69 at the time. Perhaps a bit more light hearted is the footage and stories of the band's appearances on Top Of the Pops, the second of which earned them a BBC ban.
The Rejects' subsequent change of direction into the world of hard rock and their ultimate demise is also covered, but as with the excellent 'Anvil! The Story Of Anvil' film, 'East End Babylon' has a happy ending after all. Years later the band is reborn and they finally get to reap the rewards of the influence and the legacy they laid down in those turbulent early years, playing sold out, violence free concerts all over the world, as they continue to do to this very day.
'East End Babylon' is a great true story, told is a great way. You don't have to be a Cockney Rejects fan to find it a riveting watch, their story is that good.
www.facebook.com/TheCockneyRejects
All content © Über Rock. Not to be reproduced in part or in whole without the express written permission of Über Rock.