By Jonny Bakes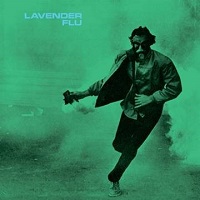 Sometimes music can be used as a bit of escapism, it can take you to another place or sometimes just take you on a long trip down memory lane. But for those times when I feel like I want to escape the planet entirely, there's always space rock. Obviously Hawkwind are often the band that immediately jumps out when this particular genre is mentioned, but what you may not realise is that space rock is still well and truly alive, with lots of new, younger bands forging a similar path. 
One such band is Lavender Flu, who until recently have been running a particularly DIY approach to recording and releasing albums in their hometown of Portland, Oregon. Their first two albums were self-recorded at home, which gave that bit of extra fuzzy feel to everything. But for abum three it's time to go big, with the band hitting a professional recording studio for the very first time to record 'Barbarian Dust'.
'Barbarian Dust' is almost a bit of a bi-polar album that drifts between summery, bluesy type songs that are reminiscent of The Byrds and psychedelic space rock. It's almost as if Lavender Flu stepped through some form of time portal in the late 60s and ended up here to unleash their music. It all sounds distinctly aged, in a way that fits perfectly with the general vibe that they're aiming for.
Take 'No One Remembers Your Name' which is the first of those songs that immediately jumped out to me as sounding distinctly like something from The Byrds. Now, I have to admit, I fucking love The Byrds, so this could be the point of the album that it really grabbed my attention and made me sit down and give it a good hard listen. This is immediately followed by the completely contrasting title track 'Barbarian Dust' which takes things in a faster and fuzzier direction, although this momentum doesn't hold out for the whole song, as things get back to a lighter more psychedelic feel with plenty of reverb on the vocals that makes it feel like an outer-body experience.
'Toward Acid' is another favourite track of mine. It caught my attention with the buckets of energy that get chucked at you after a deceptively chilled out introduction. It's pretty upbeat and encourages some great positive vibes. This air of positivity sticks about for the closing track, 'James Bay' which features some particularly cosmic guitar work, which is just the thing to round off the album.
Considering that Lavender Flu started off as an independent project for Chris Gunn, it looks like they've found some good solid ground as a band with this third album. The change to a more professional recording approach certainly hasn't resulted in losing any of the charm that the homestyle approach had on their previous albums. I still can't quite get over how this album sounds like a time capsule that someone has dug up, dusted off and decided to release as their own! But rest assured, this is all genuine original material from Lavender Flu, and it goes to show that some things just don't go out of style, like denim, or day drinking…
I really dig this album, it's been a pretty great accompaniment to chilling out in the garden while I write this, and it will certainly make future appearances when I fancy a bit of a wind down. Even better, this is certainly an album that you could quite easily listen to with your parents and not be accused of listening to "bloody goth music" that's for sure. In fact I will definitely be recommending this to my mum, hell it might even be a late Mother's Day present for her! I just hope she doesn't read this before I get round to doing it.
Barbarian Dust' is out now. You can get your copy HERE.
www.facebook.com/In-The-Red-Recordings
All content © Über Rock. Not to be reproduced in part or in whole without the express written permission of Über Rock.