By Steve Mirsik
YOU WANTED THE BEST! YOU GOT THE BEST! THE HOTTEST BAND IN THE WORLD… KISS!
I still get chills every time I hear that opening line before the giant black curtain falls revealing out of this world pyrotechnics, iconic stage costumes and Rock 'N' Roll Hall of Fame Royalty. KISS recently resumed their massive 'End of the Road' world tour after almost two years of being on hold. On 21 August 2021, I drove about three hours to Atlantic City (New Jersey, USA) to the Hard Rock Casino where the band would be playing at Etess Arena.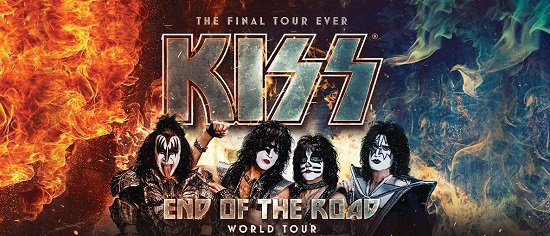 It had been exactly 532 days since my last live concert due to the Covid-19 pandemic which ravaged the world and sent the music industry to a screeching halt. To say I was anxious about attending a live event with thousands of other people again would be an understatement. Shockingly, the venue had absolutely no Covid restrictions in place that I was aware of. They never asked to see proof of vaccination or a negative test result, which many venues in my state are now requiring for entry. There were also no visible signs indicating social distancing or wearing a mask (which was evident as people packed in like sardines to look at all the band merch in the lobby).
Even though I'm fully vaccinated and wore a KN95 mask all night which was not an easy feat, there was still a shroud of worry hanging over my head being around so many people who didn't seem to care as much. However, there were plenty of other concertgoers (several thousand actually) who just wanted to have a good time and didn't seem to mind the incredibly lax rules.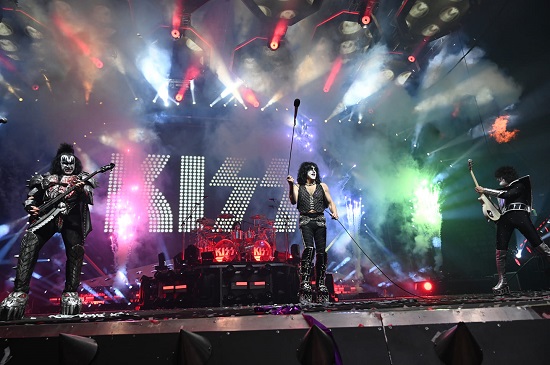 After the band descended from the rafters in a blaze of pyrotechnic glory playing 'Detroit Rock City' and 'Shout It Out Loud', Paul Stanley took to the microphone to address the people: "man, a year and a half gone from our lives, but tonight we get back together. What do you say we have a Rock 'n' Roll party?", which drew massive cheering and applause from the masses, myself included. Stanley continued: "Tonight's not a time to be cool, not a time to worry about what your neighbors think. We're here to have ourselves a good time!".
That's exactly what we did! KISS went full throttle playing a massive career spanning set for over two hours. Gene Simmons had plenty of his usual stage antics including breathing fire after 'I Love It Loud, spitting blood before 'God of Thunder', and grabbing at his codpiece while winking at all the ladies in the crowd. Tommy Thayer is undoubtedly an amazing guitarist. There wasn't a single wrong note coming from his iconic "White Lightning" Gibson Les Paul all night. Even while shooting fireworks out of his Flying V, he made it all look effortless in his massive boots. Eric Singer is also a phenomenal talent on the drums who kept the party going all night including a very impressive solo.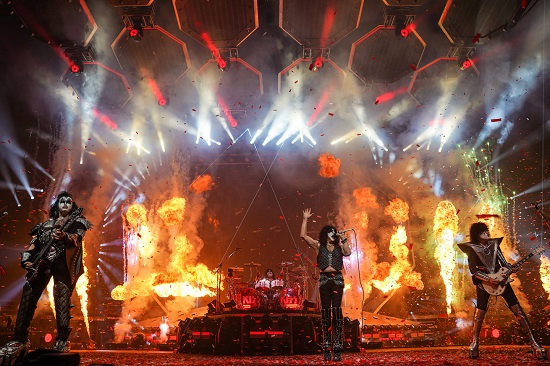 Do I wish the band could have reconciled with founding members Peter Criss and Ace Frehley? Absolutely! Even though they've been out of the band for quite some time it would have been a nice surprise for the fans to get the original four together for a song or two. Who knows? The tour will be going well into 2022, so anything is possible at this point. Either way, it was an unforgettable night with one of the greatest bands of all time.
I loved watching Paul fly over the crowd on his zipline to the auxiliary stage that was two rows behind my seat to play 'Love Gun' and 'I Was Made for Loving You' before flying back to play my all time favorite tune, 'Black Diamond'. At this point the band was already twenty songs deep into the set and it was time for the encore. Eric Singer rose from the stage floor on a grand piano to 'Beth' while the crowd sang along, followed by the whole band joining in for 'Do You Love Me'. What's a KISS show without their most famous song? The band played the iconic 'Rock and Roll All Nite' to close out the evening while showering the crowd in tons of red and white confetti.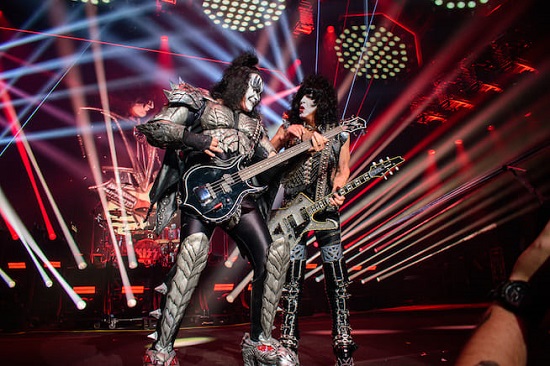 Unfortunately, the show right after this scheduled for Hartford Connecticut was cancelled due to a bad storm in the area. Even worse than that, Paul Stanley took to Twitter stating that he tested positive for Covid-19, despite all the precautions they had in place. Shortly after, Gene Simmons released a similar statement that he also tested positive, and shows have been postponed ever since. I'm wishing the Star Child and God of Thunder a speedy recovery so they can get back on the road bringing the greatest rock show of all time to the masses!