By Monk
ÜS industrial metal pioneers Ministry and hardcore legends Converge will co-headline Damnation 2022 on the festival's return to Manchester next November.
German thrash titans Destruction, grind masters Pig Destroyer and doomsters Pallbearer will revisit the event in its new 6,000 capacity venue, the BEC Arena, on Saturday 5 November next year, while there will be Damnation debuts for Canadian deathcore giants Despised Icon, American thrashers Toxic Holocaust and progressive stoner rockers Elder.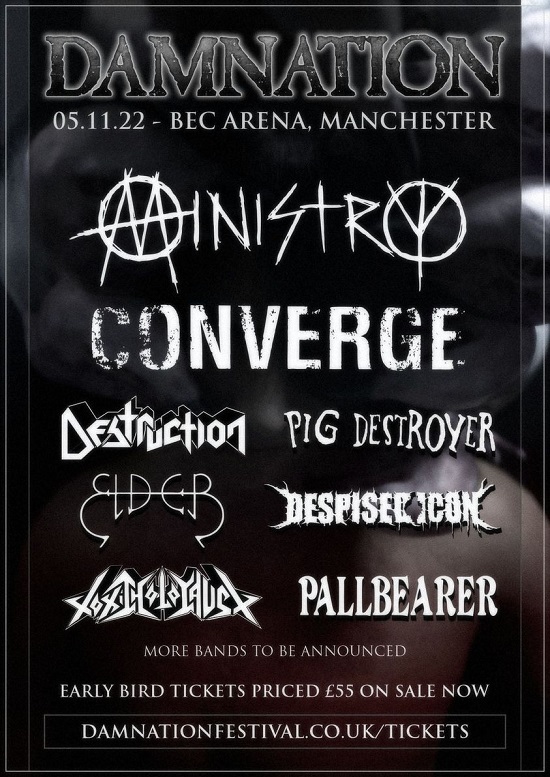 Damnation organiser Gavin McInally told us:
"We left Manchester 15 years ago after we'd outgrown the venue, so it's quite surreal to be returning, in an arena, armed with no less than Ministry and Converge co-headlining and a bill already stacked with some very special performances.
"Pig Destroyer agreeing to come back after they had to scrap their headline set this year was a huge coup, while Destruction and Pallbearer were also hugely popular when they played previously.
"Toxic Holocaust, Despised Icon and Elder offer a fresh and diverse mix of styles to the day and we have so much more in store for 2022."
He added:
"This year's event sold out nine months in advance, and we currently have more than 1,000 fans on the waiting list. If we experience that same level of support for next year, Damnation will become Europe's biggest indoor metal festival.
"As a thank you, we've frozen ticket prices at £55 until the end of the month, or they sell out, whichever one comes first!"
Tickets are on sale now.