By Jonny Bakes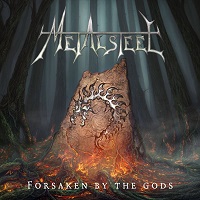 The other day I spent a good while procrastinating by reading up on tautological names, that is things that are named in a way that two differently sounding parts are synonymous (but of course you know that). Take the River Avon, for example, where Avon is an old Celtic word for river, leaving you with "River River". What I didn't expect was for this to be relevant for an album review this week, but life moves in mysterious ways. When an album release from a band called Metalsteel crossed my path, it caught my attention as it was yet another example of a tautological name, and because it's a pretty badass name for a metal band. So I decided to dive in and find out just why Metalsteel have been 'Forsaken by the Gods'
You might be thinking "I wonder if Metalsteel are a power metal band" and you wouldn't be far from the truth as it treads that murky water between old school heavy metal and power metal. These Slovenian metallers have been shredding for the best part of two decades, have seven releases to their name, and boast sharing the stage with some of metal's classic heavyweights such as Helloween, Saxon and W.A.S.P. They were even responsible for recording the official anthem for the 2015 instalment of Metaldays! Yet somehow, this is my first introduction to Metalsteel, but I guess it's better late than never after all…
So, on first impression 'Forsaken By The Gods' is good solid heavy/power metal. It has just about everything you would expect really, from galloping rhythms and harmonised guitar riffs to bold wailing vocals. It's certainly heavily influenced by the likes of Iron Maiden and Helloween and draws heavily upon the winning formulas from those and other bands of the same ilk. So what you end up with is something that is virtually timeless, it's a bit like the combination of jeans and a band t-shirt that will just never go out of style! The majority of tracks are energetic and catchy, but there's also the obligatory ballad number thrown in to achieve the classic balance.
The album opens with title track, which is a prime example of Maiden worship, and I am here for it. It opens with the line "Thank you Mother(?) Earth for giving us a chance" which caught me off guard when I first heard it after only catching the back end of the line… I thought they somehow knew this was my first foray into the music of Metalsteel! Everything about this track just screams Iron Maiden, from the guitar riffs, basslines and vocals, everything is straight out of the Maiden playbook and it works really well for them.
A track worthy of mention is the obligatory ballad 'Fallen Brother' (not to be confused with the definitely-not-ballad by Kreator). This is a definite change of pace from the rest of the album, but successfully scratches that itch for a heavy metal ballad that makes you suddenly spawn a lighter in your hand and wave it in the air from side to side. The marching band style snare rolls add a nice touch to the context of the track as well, making this feel like an homage to those who have fallen in battle. And like all good heavy ballads, it gets a little bit heavier and more intense as it goes through before hitting the audience participation chanting section just before the obligatory key change!
Overall, 'Forsaken By The Gods' is a pretty solid album. Okay, so there's nothing new here, in fact it's very much delivered with an "if it ain't broke, don't fix it" attitude, which may turn off a small handful of people. But for the most part, I think this will appeal to metal fans from across the decades as the style is something that is accessible by everyone and is certainly not exclusive to a particular subset of fans. For me, I think Metalsteel have produced an album that deserves to be toured to death, as it feels like the majority of the tracks were written with the primary focus being live performances – and I hope I manage to experience that firsthand!
'Forsaken By The Gods' is released on 15 September. You can get your copy HERE.
All content © Über Rock. Not to be reproduced in part or in whole without the express written permission of Über Rock.