By Jonny Bakes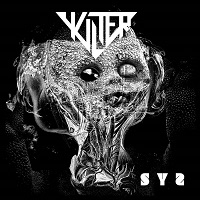 I found myself with a spare bit of time on a Monday evening so thought it was time to dip into the Über Rock lucky dip bag and see what musical delights I could pull out. It seems like I managed to bag myself quite the doozy too with what promises to "marry the heaviness of metal with the madness of jazz." Considering my interest well and truly piqued at this point, I couldn't resist diving in and checking this one out!
'SYS' is the brainchild of a trio of musicians from the heart of the Brooklyn experimental metal scene known as 'Kilter' which is fitting really as this particular EP can certainly be described as being off-kilter! They achieve exactly what they set out to do and combine impressive jazz musicianship with hints of metal to provide something that you won't realise you were looking for. Not dissimilar to the likes of Igorr and Clowncore, although not as heavy as these, Kilter are certainly something out of the ordinary.
The EP starts with 'Sentient Robotics', which is more of a musical conversation than a song in the traditional sense. Each instrument takes its turn to come to the forefront for its own passage, while at times all the instruments play off against each other in a bit of cacophony of noise that somehow retains clear structure! It's clear from this track alone that each of the members has some serious musical pedigree, from the impressive saxophone playing, ridiculous bass rhythms and drumming that is so technical that it makes me want to just throw my own sticks in the bin!
The other tracks on the EP follow a similar style in that they are both impressive free form jazz pieces that are laced with metal elements. At times they come across completely chaotic, yet you know that at the core everything is completely in control and is played exactly as it is intended. While this may not be something for everyone, I think that this will appeal to anyone who is musically minded (particularly practicing musicians) who will appreciate the technicality of each piece. It's not something that I could see myself listening to on the day to day, but it definitely deserves a place in my collection alongside my other experimental albums.
'SYS' is out now. You can get your copy HERE.
All content © Über Rock. Not to be reproduced in part or in whole without the express written permission of Über Rock.