By DJ Monk.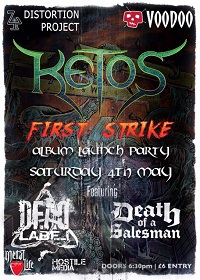 I have great admiration for bands who make the conscious decision not to make things easy for themselves but opt instead to push themselves to the limits. It would be so easy at the likes of, say, an album launch show, to assemble a relatively safe and staid undercard, in order to make you look as absolutely good as possible. But, Ketos have always striven to take themselves to the next level, and so it was no surprise that they brought along two of the most consistently intense and impressive live acts on the island of Ireland to make this one of THE "must see" metal bills of the year in this corner of the Überverse.

It had been quite some time since I last caught up with openers Death Of A Salesman (the grand final of Bloodstock Metal 2 The Masses a little under a year ago, to be precise), who themselves are returning from something of a live hiatus, partially enforced by drummer Rory Gould's back injury. Bit, you can't keep a good band down and so the Belfast combo get things off to a suitably loud and heavy start with their angry beatdown groove. They deliver big winding harmonies over thick, beefy percussion and bass, topped with angst-fuelled vocals and couple with a healthy doses of "fuck you" in your face attitude, hardcore energy and fiercesome intensity.
Then, just as the band retune for the finale of 'Heretics', frontman Aidan Thompson drops a complete fucking bombshell, when he announces that the band have decided to call it a day, putting the decision down to "life gets in the way". There will be one last show, details of which will be announced in the near future… and one thing is for sure: not only will they get a tremendous send-off (and I'll hold them to that offer of a Chinese and a few beers) but they will be sorely missed.
Another band I haven't seen in simply ages are Kildare killing krüe (sic) Dead Label, making one of their well-timed forays across the border. This is the first time I have seen the former trio since they added second guitarist Mick Hynes, and the first thing that is obvious is how this expansion of the line-up fills out their sound immensely, allowing lead guitarist Danny Hall greater freedom of expression and experimentation.
With Claire the complete powerhouse, an exemplar of mixing power and precision, behind the kit, the new-look four-piece ratchet the intensity level up to its highest point – and then take it further up, and off, the scale.  They have a couple of treats for us, in the shape of as-yet-unreleased new single 'Triggered', which features some absolutely fiercesome double kicks, and a beautiful use of counterbeats, from Ms Percival, and the live debut of slower, moodier 'Dystopian Complex', both of which show that Dead Label are still very much at the peak of their creative powers. There's a nice touch as the end, when Dan O'Grady invites DOAS' Aidan back onto the stage to duet on 'Pure Chaos' before creating a massive wall of death which just fails to match the sheer power coming from the stage in what is yet another exemplary performance from the band who are quite possibly the best metal act to ever have emerged from this island…
However, that is an assertion with which our headliners might seek to argue and lay down a challenge to their guests to get in the ring and battle it out for that honorarium.  If Dead Label brought the intensity, then Ketos drive a demolition truck filled with Semtex right into the heart of the proceedings, place a brick on the accelerator pedal and wait for the boom! And when it comes, it is absolutely crushing.
One of the reasons Ketos have developed a reputation as one of the best live bands on the NI circuit – and, as tonight once again proves, they somehow manage to get better with every performance – is their ability to combine fury and clarity, pure unadulterated energy and melodies that you can't help but bounce along to.  Big brawling riffs from the twin guitars feed off James' bass, which in turn rumbles with the force of an awakening volcano. Another major factor is the band's brilliant mixing of light and shade, both musically and vocally, with Pete's effortless switching between growling and clean vocals finding the perfect balance in their delivery.
Obviously, their set draws heavily on the awesome 'First Strike' album, although there also a couple of nods over their shoulder to their older material, such as the always punchy 'Chaos Theory' (is there a thread developing here?). The live debut of one of the album's highlight tracks, 'The Lost Ones' shows that they can slow things down without losing sights of the overall heaviness, especially in Gareth's ever impressive double-kick work, and they make everything look so effortless despite the obviously high level of musicianship and technical ability evident behind everything they do.
On the evidence of this performance, Ketos must surely be hot favourites in the NI Grand Final of Bloodstock Metal 2 The Masses, which takes place back at Voodoo this coming Friday (17 May): but, then, what would I know? Whatever the outcome of that may be, this was the best way possible to signal a first strike (sic) on the wider metal world.
Watch out for our exclusive premiere of the new Ketos video, for the track 'Escape The Chains', tomorrow (Sunday).
All content © Über Rock. Not to be reproduced in part or in whole without the express written permission of Über Rock.