By DJ Monk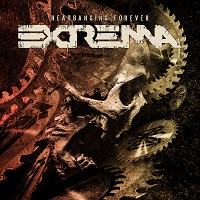 Despite having been kicking around the boot of Europe for more than three decades now, Italian metallians (sic) Extrema only came to the attention of ÜRHQ last month, when their declaration that they were doing what they do 'For The Loved And The Lost' won them a much coveted stool at the Singles Club bar. That, of course, was the lead track from what is, unbelievably, their seventh studio album (they've also released three EPs, two live albums and a retrospective compilation in their 32-year long recording career), 'Headbanging Forever' – and a more appropriately monickered opus you will not cross paths with this year, as it basically summarizes everything this band is about.
Yesterday, in my review of Asomvel, I referred to them as playing the sort of "good old balls out, no nonsense, get tae fuck heavy metal of the sort I was raised on and still love to the day": well, to be honest, Extrema don't stray too far from that tried and tested path, with their mix of modern, groove, old school thrash and classic metal sensibilities. And it is that sort of straight down the middle, don't deviate too much from the expectation approach that makes this album work on almost every level.
Very reminiscent of the likes of Overkill in places, especially in Tommy Massaro's frenetic guitar work and new vocalist Tiziano Spigno's high-pitched yelps, this is a collection of simple, heads down see you at the end heavy metal anthems very much rooted in the old traditions of the genre. Now, when I say "simple" I do not mean that the album, or the songs, or the musicianship, are in any shape or form simplistic, as nothing could be further from the truth. It is a tremendously solid body of work, produced by accomplished musicians who know their craft and how to present it extremely well. What I mean is that they eschew all needless airs and graces to get on with the job in hand – and that is to get you living up to the album's title. Yes, there are moments of complexity and technical excellence, but these are not allowed to detract from the overall ethos, and impact, of the album as a whole.
Aided by a pinpoint accurate production, the one thing that strikes you about 'Headbanging Forever' – and this is a quality so many younger metal bands seem to overlook – is the balance between power and melody, the use of harmony to offset the fierceness. Yes, there are massive, punchy riffs with the potential to leave you reeling and gasping for air, especially in the live arena, but there also earworms that hang around your aural cortex and then pop up later on to remind you what you heard.
Extrema may pull no punches, but they also deliver plenty, showing that they can more than hold their own on the modern Euro-metal scene – and that sometimes being a bit set in your ways and sticking to the old school way of doing things garners the best results. In this exam season, 'Headbanging Forever' definitely earns a B+.
'Headbanging Forever' is released today (Friday 10 May). You can get your copy HERE.
www.facebook.com/extrema.official/
All content © Über Rock. Not to be reproduced in part or in whole without the express written permission of Über Rock.