Written by DJ Monk. Photographs by The Dark Queen.
It truly was a sight to gladden the heart of every true red-blooded metallian and even make it skip a beat. A truly wonderous spectacle – four towers 0f Marshall stacks, two on each side of a crystal-clear double bass Pearl drumkit.  There can be no more beautiful vista on this planet. And it was this vision that greeted us when, having successful battled through the crowds of spides kicking off their Bank Holiday drinking sprees, we climbed the stairs into one of our favourite haunts. Yes, Asomvel were in town for their first ever visit to Belfast.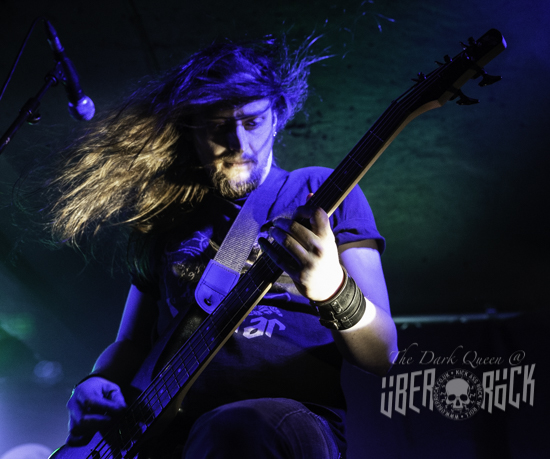 Dublin old school sleazebags Stereo Nasty were originally due to open proceedings on this, the first night of the visitors' three-date Irish tour, but the band shockingly announced that they were splitting up just a couple of weeks beforehand. Fortunately, local thrash warriors Scimitar stepped into the breach, and did so with their usual energy and enthusiasm, delivering the sort of blistering set we have come to expect from this young crüe.
Their old school deathly thrash is presented at a furious pace, but without once sacrificing the quality of the musicianship – even if they do fuck up the intro to 'Act Of War'. As ever, Ryan is a powerhouse behind the kit, Chris pounds and grounds with his beefy bass lines, John's guitar work is as precise as it is frenetic and Johnny is constantly cajoling and encouraging the best out of the small knot of early comers planted in front of the stage. Showing the need for bands to move ever forward, they finish off their short set with a new song, 'Fireborn', which Johnny informs us is about the Targaryns from 'Game Of Thrones': it's a good track, which ticks all the right boxes and ensures Scimitar will be holding their swords high and proud for some time to come.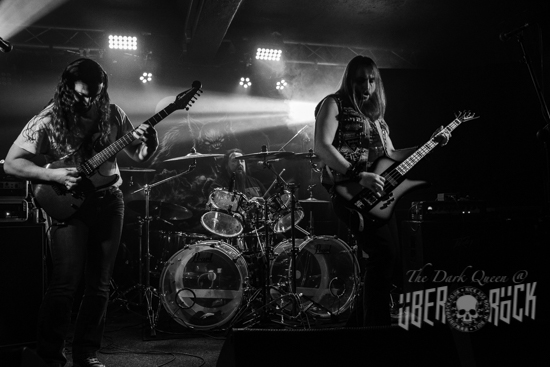 Talking of 'GoT' (the majority of which, for the uninitiated, is filmed in this little corner of the Überverse), next it's the turn of the Wildlings – sorry, Rabid Bitch Of The North, to lay down their brand of NWOBHM. "It's been too long," Joe admits during the intro to 'Sisyphus' (maybe something to do with Chris being off doing the extra #2401 thing the final series of thon there TV show), before advising us that this will be the last time we'll hear many of the tunes they're playing tonight, as the trio are currently writing a new album: well, we better make the best of it then, hadn't we?
With that assertion in mind, it's very much a set of RBOTN standards and fan favourites, from the unbridled energy of 'Defending Two Castles' through the dense rumble of 'The Missionary', the acidic 'Nothing But A Bitter Taste', the ironic 'Help, I'm Trapped In 1999' – which always gets DQ dancing on her stool (she's gonna fall off one of these days, especially in those boots) to the anthemic closer of 'Us Against Them'. It's going to be a real shame if we never hear any of these toons again, but life is about moving forward, so it's onward and upward, eh boys!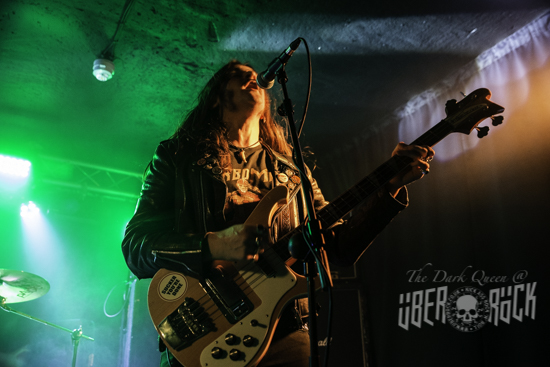 OK, let's get this out of the way at the very beginning: the oft-rehearsed comparisons between Asomvel and Motörhead are inevitable – the band themselves will admit that (and they did in our hysterical post-show interview, which unfortunately you'll never get to see due to a fuck up with the recording equipment which we only discovered when we went to play it back the next morning). They are a power trio who play heavy blues-based rock 'n' roll.  They have a bassist/vocalist who has a moustache and plays a Rickenbacker. Both he and the guitarist wear leather jackets on stage. The drummer has a shock of tousled hair and plays stripped to the waist (even if he looks more like Dave Musthaveawank than Philthy Animal). And they pride themselves on playing loud through the towering Marshall stacks mentioned at the outset. But anyone who thinks that is the beginning and the end of Asomvel is not only completely missing the point, but also naïve in the extreme.
Because, at their heart, these three guys are just a good old-fashioned heavy metal band, with the emphasis on the "heavy" – and damn good they are at it, too.  At the end of the night, it's all about the music, and these lads play damn good rock 'n' roll through amps that skip 10 and 11, and 12, and go straight to the earthquake inducing end of the Richter scale.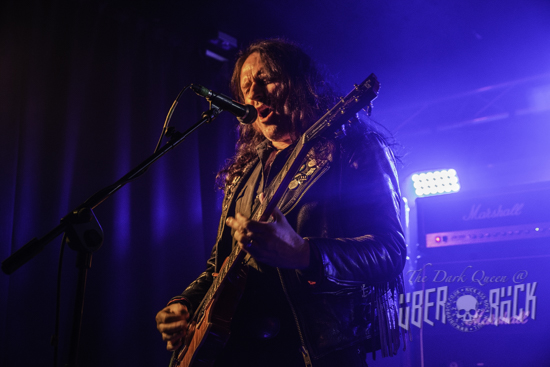 They delve briefly into their back catalogue with 'Kamikaze' and 'Cash Whore' (surely one of the best song titles I've ever come across) before playing the whole of their new album – released on the very same day as this show – from beginning to end. And you just cannot help but get caught up in the excitement that is emanating from the stage: and that's what a rock 'n'f'n' roll show is all about. At the end of the day, Ralph (the aforementioned bassist/vocalist) demonstrates another invaluable rock 'n' roll trait, a self-deprecating sense of humour, as he invites us to give ourselves a round of applause: "you made it through the album… 36 minutes of bullshit!"  Judging the amount of vinyl flying off the merch table after their set, it must be the sort of bullshit us discerning Belfast metallians love!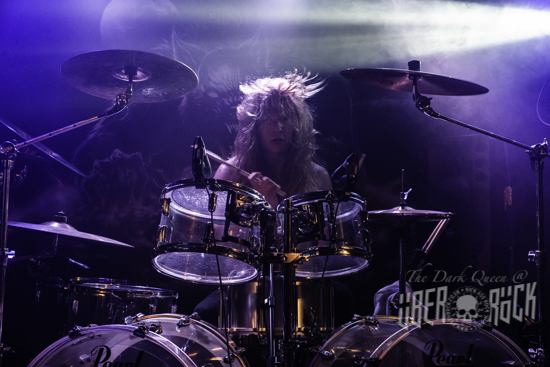 Thankfully, 'The Nightmare Ain't Over', as there's time for another quick delve into their back catalogue, as they pierce us with a 'Stone Cold Stare' and then introduce us to the 'Trash Talker' before fittingly dedicating the finale of 'Full Moon Dog' to band founder, the late JJ Winter, rounding off a set of good old balls out, no nonsense, get tae fuck heavy metal of the sort I was raised on and still love to this day.  Sure, what more could you ask for on a freezing cold Friday night in the back streets of Belfast – well, apart from a decent pizza and another cider?
PHOTO CREDIT: All photos © The Dark Queen/Über Rock. You can see our full gallery of photographs HERE.
All content © Über Rock. Not to be reproduced in part or in whole without the express written permission of Über Rock.