By DJ Monk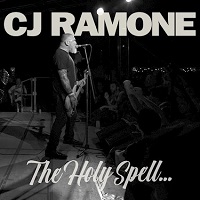 In the history of power pop, pop punk or just plain punk, whichever term you care to apply, there can only be one name that is synonymous with the evolution of the genre, and one which quite probably has been checked more often than any other in these hallowed pages – and that is, of course, Ramone. Of course, more than two decades after the band called it quits, all four of the original "bruvas" subsequently have shuffled off this mortal coil, leaving it to their second generation "cousins" to keep the name alive – which is just what the man born Christopher Joseph Ward, the longest serving of the band members and therefore perhaps most deserving of the right to retain his adopted monicker, seeks to do on this, his fifth solo album.
Following on from 2017's excellent 'American Beauty', 'The Holy Spell…' is very much a homage, not only to the Ramones themselves and the signature sound that they helped to craft, but also Ward's own influences, as it contains a pair of astutely chosen covers, in the form of Dave Edmunds' 'Crawling from the Wreckage', which the man who went on to become known as CJ Ramone recalls first hearing on the portable radio he played in bed at night, and Webb Pierce's 1953 hit 'There Stands the Glass', which recalls his parents' love for classic country. The other ten songs are originals, penned by Ward and his collaborators, in the form of guitarist Dan Root, multi-instrumentalist Nate Sander, and drummer Pete Sosa, which stick to the tried-and-tested formula within which he has plied his craft for the past three decades: but then, as the good old saying goes, if it ain't broke…
'One High One Low' sets the scene right from the off, a raucous blast of punk 'n' roll energy played fast enough to help CJ and his fellow merry hellraisers break free of the earth's orbit without even pushing the thrusters to maximum, combined with an infectious beat and the sort of earworm hook that all great songs should possess, while 'This Town' throws in elements of rockabilly and the greased up smoothness of da bruvas' early garage. His version of 'Crawling From The Wreckage' is energetically respectful and yet also takes the song to a new level, much in the same way Pat McManus did with his equally energetic re-imagining of the tune on his 'Blues Train To Irish Town' album a few years ago.
'I'm Disappointed' has an almost metallic crunch to its opening riff as the energy level shows no sign of letting up, despite it being a lament about age catching up on the singer: "I'm sick and tired of being sick and tired, getting fatter every day…" he sings with a glorious sense of irony that will have the likes of Jaret Reddick wondering why he couldn't come with a lyric as inanely insane.
Ward, however, saves the best course on this pop punk menu for last, with the beautiful closer 'Rock On', a tribute to his longtime collaborator and friend Steve Soto, who passed away in his sleep last June. Instead of being a mournful eulogy, as it hints in its opening section, on which Ramone declares he "can't write another sad, sad song 'bout a friend gone home to the Lord" but instead would rather remember "the good times we had every day", it is an appropriately ebullient slice of pure punk 'n' roll party anthemic that would indeed make its subject proud: in fact, he's probably up there bopping along as I play this on repeat for the umpteenth time…
If one man is best served to keep alive the memories of the brothers whose name he shares, and so many others that have fallen by the wayside but left so many great rock 'n' roll moments behind, then it is indeed the man rechristened and better known as CJ Ramone. And he's still doing a fuckin' good job of kickin' ass in good old-fashioned punk 'n' roll songs…
'The Holy Spell…' is released tomorrow (Friday 10 May). You can get your copy HERE.
CJ Ramone plays the O2 Shepherd's Bush Empire on Friday 2 August, the Exchange in Bristol on Saturday 3 August and the Rebellion Festival at the Winter Gardens in Blackpool on Friday 4 August. He will also perform with Me First And The Gimme Gimmes at Download on Friday 14 June, the O2 Ritz in Manchester on Saturday 29 June and the O2 Kentish Town Forum on Sunday 30 June.
All content © Über Rock. Not to be reproduced in part or in whole without the express written permission of Über Rock.