Review by Jonny Bakes. Photos by Simon Dunkerley. Interviews by DJ Astrocreep.
We're here in Birmingham, the home of metal, on the weekend after the 50th anniversary of Black Sabbath's debut album for a weekend of metal goodness at HRH Metal. While the big lad takes care of the interviews, it's left to me to cover the stages for the next couple of days. With three stages to cover and lots of competing slots, I'll be doing my best to catch as many of the bands as possible! Things kick off at 1pm today, so it's time to make my way down to the third stage to check out the first band…
It's no easy feat to be the first band up at an event like this, but these guys pull out all the stops to kick things into action. There are dancers, free shots of rum and loads and loads of… unicorns! Lullaby For A Unicorn's groove laden riffs draw in the crowds to nearly pack out the third stage with eager fans who seem to really get stuck in. Some fantastic Tom Morello-esque solos only add to the spectacle that sets the tone for what it's bound to be a help of a day.
Next up on the third stage are Eagles Vs Drones with their passionate alt-rock which reminds me of Funeral for a Friend, but with more balls! The predominantly clean vocals manage to stir up some emotions within me, and I find myself pretty hooked. But it seems that the band are losing out to the guys who are playing on the main stage, so I make my way through to see what the fuss is all about.
And there I'm greeted by something distinctly different with the slow and heavy riffs of Nailed To Obscurity. The absolute powerhouse of a rhythm section really drives home this heavy melodic doom/death to the eager crowd at the main stage. In fact, those drums are so hard hitting that I can feel my ribcage rattling as they power through the heavy tracks. We're even treated to a harmonised guitar solo to wind things down to bring this hard-hitting set to a close.
Then it's time for some more melodic death at the third stage in the form of Frozen In Shadows. Now you may be confused to see their frontman, Russ, not wearing his trademark tutu that he wears with his other band, Footprints In The Custard. The two bands may share a couple of band members, but that's where the similarity ends. In a complete contrast to that other, very silly, band we are treated to some very well-crafted melodic death metal that has really drawn the crowd in to fill out the room. Each song gets a great reaction from the crowd with fantastic engagement throughout the set which suggests there must be scope to see Frozen In Shadows work their way up the bills to bigger stages in future. One to watch for sure!
But then it's back to the main stage to check out Dendera, who have recently been on tour with Rhapsody of Fire (who we'll see later on). After an instrumental introduction that sounds something like the Avengers theme, the band take to the stage to launch into some great upbeat heavy metal. In a change from the harsher vocals of the previous couple of bands, the vocals of Ashley Edison just scream (literally) power metal which makes it clear exactly why they've been chosen to tour with Rhapsody. It appears that the majority of the room are new to Dendera, and the band make sure they leave a lasting impression with a whole slog of fantastic guitar solos that crop up at opportune moments during the set.
Managing to catch a bit of the main stage again between interviews we have Dogsflesh, who rip through a pretty blistering set of their unique blend of thrash and punk. A couple of surprises crop up during the set though, particularly a very Iron Maiden-esque track with harmonised guitar melodies. Massive props to the bassist of Dogsflesh as he consistently rips out serious bass line after serious bass line to lay the foundation for the rest of the band to charge through the set at a blistering pace.
Then it's time to get on the run around again to catch the other stages, where I find myself at stage three to witness Dialekt's set. This is something a little different from the rest of the bands I've seen so far today, with a distinctly nu-metal influence to the music. While the vocals are predominantly clean, vocalist Matt manages to transition seamlessly between these and harsher vocals to add that extra element to the atmosphere. These guys have been pretty good, but I've got a hankering for something heavier, so I make my way upstairs to stage two…
I'm greeted with some good old-fashioned thrashy goodness in the form of Helgrind. This is some real fast and relentless shit that whips the crowd into a frenzy at the second stage. So much so that we're treated to our first proper pit of the day as everyone really throws themselves into it. It's clear that this has really tickled a few testicles, so to speak, so it looks like thrash may be heavily in favour this weekend!
Heading back down to the main stage where '80s NWOBHM stalwarts, Blitzkrieg, are getting going. This is a bit of a family affair with vocalist (and sole remaining founding member) Brian Ross' son, Alan, wielding the axe for the band. While this set is well delivered, there's definitely a stark contrast in reaction from the crowd when compared with the band upstairs.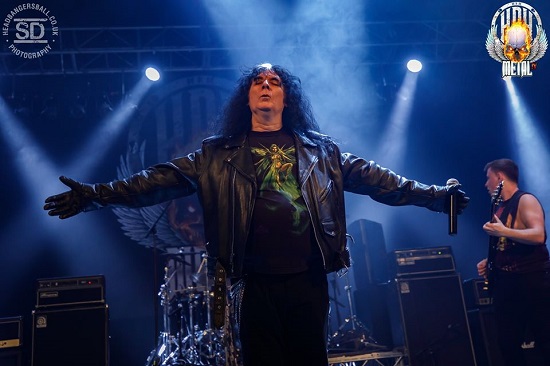 Following Blitzkrieg should have been Lord Of The Lost, however due to some unfortunate circumstances there's been a last minute replacement. So, we welcome back today's third stage openers Lullaby For A Unicorn! This is great for all the latecomers who missed the opening slot, as the guys deliver this performance with even more energy than earlier! No free shots for the crowd this time which probably for the best really considering the number of people in the room. The absurdity of watching a guy in a unicorn onesie shred the bass is a great warmup for one of my eagerly awaited bands of the day.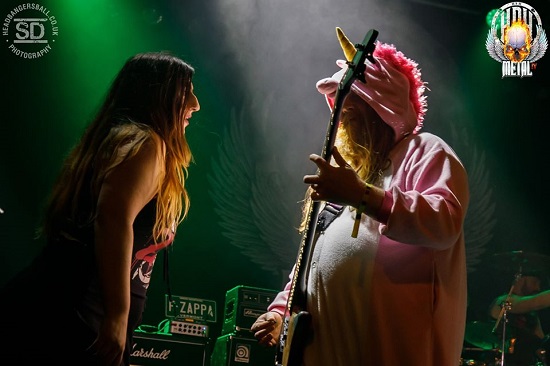 So, I head up to stage two to catch Raised By Owls, Derby's finest comedy grindcore bands. The room is absolutely packed out with fans who I assume are prepared for the sheer silliness that's about to ensue. If they weren't, it's pretty clear what is to be expected the moment Sam takes to the stage in rainbow coloured leggings, a cut-off vest covered in cats, and a rainbow bandana. There are loads of things that I could highlight from this set, so I'm going to do a quick rundown of what we experienced… There was a spot of grindcore karaoke, a wall of death where the room was split by their pronunciation of the word "scone" and a Barry Chuckle memorial circle pit. Possibly the biggest highlight of the set, however, has to be the special guest appearance of Mr Blobby who arrives on the stage helicoptering a massive floppy dildo. Rumour has it that the band spent fifty quid on sex toys for the performance tonight, and if that's not dedication, I don't know what is! I certainly haven't laughed this much at a gig for a while as the band crack out plenty of fan favourites like 'Rob Halford Robs Halfords', 'Harry Potter and the Curse of the Student Loan' and 'Owen Wilson Says Wow'.
Something a little more serious now as I head back to the room. Only joking, it's time for Evil fucking Scarecrow! I get to the stage just in time to catch the entire packed out room doing their synchronised robot square for 'Robototron' which is quite a sight to behold. I think it would be fair to say the Evil Scarecrow get the award for most elaborate stage set up of the day as they've brought all of the toys and costumes that we've come to expect from an Evil Scarecrow show, how they manage to get all of this to fit in their van I will never know! If you haven't come across these guys before, you should know that an Evil Scarecrow show is all about the audience participation and this main room is more than willing to get involved with every last bit. Whether it's joining Team Pain or Team Craven for a sexy dance off competition during 'Red Riding Hood' or the waving of arms, lighters, phones, etc. during the 'Ballad of Brother Pain', there's not a single person in the room who doesn't get involved. Of course, no set would be complete without the absolute staple that is 'Crabulon' which never fails to impress. From the balcony it surely is one hell of a sight watching the entire room scuttling left and right on demand. What a way to end the set!
I manage to slip away briefly to see the bands who are having to compete with the draw from the main room. At stage three I catch the end of Valafar's set who have succeeded in bringing in a pretty large crowd. They blast their way through some pretty solid death metal goodness that the crowd are absolutely loving, it's a shame that I only managed to catch the end of this one!
A bit of a surprise greets me when I get to stage two for the latter half of Kyrbgrinder's set. It takes me a little while to spot the vocalist, as it turns out he's hiding behind the drum kit! I always have a lot of admiration for guys that can drum and perform lead vocals at the same time, as it's not an easy thing to do at all. Particularly when you're playing as hard as Johanne is today, he's definitely playing out of his skin and giving those drums a serious beating. Naturally, Kyrbgrinder are a very rhythm-driven band which results in this strangely catchy and funky beast of a sound. It's definitely something that appeals to me and clearly to the room as a whole but it's soon time for me to move on again to catch some more bands.
Back to the main stage now for Equilibrium who are another band I'm eager to see this weekend. Now, these guys have had a few changes of direction and style during their career to date, so I'm hoping for a good variety of songs that spans these transitions. Immediately the crowd are clearly getting really into this, with some heavy pitting (not heavy petting!) going on in the centre of the crowd. In contrast to Evil Scarecrow, the stage set-up for Equilibrium is nice and simple which gives the guys plenty of room to move about and really show off the energy that they're bringing. Leading with some of the newer songs, we're treated to 'Path of Destiny' which has recently been met by mixed reviews when it was released. But the reaction in the room is certainly not mixed, with everyone getting involved and bouncing around like a bunch of Duracell bunnies. Delving a little deeper into their discography, Equilibrium crack out the slightly bizarre 'Born to be Epic'. This is a song that I was initially not sure about, but it's such an incredibly catchy tune and after this performance I can also see that it's a fantastic live number! But towards the end of the set, we go all the way back to 2008 for the song that first introduced me to Equilibrium – the folky-as-owt 'Blut Im Auge'. I'm clearly not the only one that was waiting for this, as the whole crowd go absolutely fucking wild for it!
I feel like I've crammed in a lot already, but now it's headliner time! A delay on the main stage means I have a chance to catch some of the second and third stage headliners as well, which is an unexpected bonus. Headlining stage three are groovy stoner/doom metallers Mage who really bring that slow and sexy metal. These guys already seriously impressed our resident gigaholic when they played stage two at HRH Doom vs Stoner last year, and they're certainly impressing me tonight! The slow groovy riffs inspire much headbanging and dancing from the crowd and I'm compelled to join in until I have to tear myself away to move on to the next stage.
Up at stage two are the headliners from Friday night's pre-party, Enquire Within. The first thing that stands out is that the set up and acoustics of the second stage are far more suited to their sound than the environment in the HMV vault on Friday. This allows Jacob and the guys to really bring the heaviness to the crowd gathered before them. Things are getting late and it's clear some of the crowd have partied too hard and KO'd early, but those who have stuck around for this set are treated to their variety of flavours of metal. From the heavier thrashy numbers through to expressing their more melodic nature, this set packs in a hell of a lot.
Alas I can't stick around for the whole set as I catch wind that Rhapsody Of Fire are ready to finish things off on the main stage. Considering that this set is starting over half an hour late, there's one of two ways this can go. Either we'll be left with an unfortunately short set, or the band will carry us into the wee hours of the morning with their symphonic power metal. Immediately apparent, and somewhat expected, is that vocals of Giacomo Voli are absolutely on point. The full range you'd expect to hear is there, and all the high notes are belted out with true gusto. You can tell that he's loving every minute of it too, as he's grinning from ear to ear for pretty much the entire set. Accompanying this is a pretty flawless performance from the rest of the band with excellent guitar solos and even the odd bass solo too where Alessandro Lotta shows exactly why he needs all six of those strings on his bass.
This set is really quite the musical spectacle with much of the remaining crowd opting to stand and watch as opposed to getting particularly boisterous, but that could just be what is needed to be able to take in all of the elements that Rhapsody Of Fire incorporate into their music. The song 'White Wizard' is dedicated to former collaborator, and icon, Christopher Lee which adds a solemn note to the set but this is not the only occasion that things take a more emotional turn, with the ballad 'The Wind, the Rain and the Moon' resulting in many lighters and phone torches being waved in the air.
Turns out we're not short-changed with this performance as the band storm through their full length set which appears a little too much for some people as the more worse-for-wear crowd members duck out early. Unfortunately for them, this means they missed out on my favourite song 'The Village of Dwarves' which makes a flawless appearance towards the end of their set. 'Emerald Sword' is the chosen finale song at the end of the encore though, which is a pretty impressive way to end the set bringing the first day to a close.
I'd have to choose Raised By Owls as my band of the day today, their performance was absolutely fantastic even if they may have ruined a few childhoods with their dildo-waving Mr Blobby. The humour of their set is exactly what I needed, and it was clear that the whole crowd were on board with their performance and willing to really get involved with every silly request from Sam and the lads.
That's the lot for today though, time to let loose before getting back into the O2 Academy again tomorrow for day two of HRH Metal!
PHOTO CREDIT: Photos courtesy of Simon Dunkerley/HRH Metal. Copyright remains with the photographer.
All content © Über Rock. Not to be reproduced in part or in whole without the express written permission of Über Rock.