Review and interviews by DJ Astrocreep. Photos by Simon Dunkerley.
Over to Sheffield then for the latest instalment of Hard Rock Hell's Doom vs Stoner festival in Sheffield's Academy. Twenty-three bands on two stages across two days means there should be plenty of self-induced whiplash even by the end of day one. A couple of trains later, I arrive in time to settle myself down and get ready for the riffs!
The Red Widows, a London-based sludge act, playing only their second ever gig, open up the first stage with around 100 people in to welcome them. They have a hell of a lot of fuzz and mic effects to add a certain occult feel to their tracks which seems to go down quite well with those that have braved the rain to get in early. It's likeable enough, though the bass feels a touch flat – more likely a sound engineer issue than the bands – but certainly worthy of a spot on what is quite a great line up.
Deadsmoke follow on from here, with what is a fairly obvious mash of Black Sabbath and Sleep in their sound. They're as good on this much bigger stage as when I saw them in support of label mates Dead Witches earlier this year at Heavy Psych Sounds fest, which is some compliment, as moving to an almost 2.5k capacity room from the couple of hundred in London means some bands would be found out, certainly not the case here! A heavy, heavy set that seems to daze the growing crowd into submission through sheer musical bludgeoning with their wall of noise. Great set!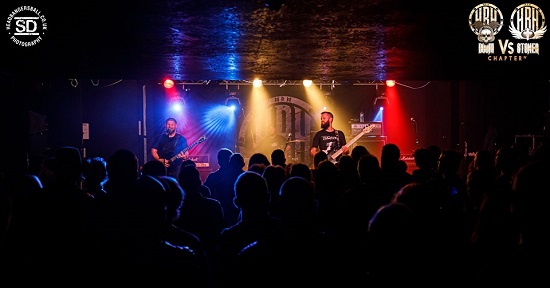 Flex Bison kick off the second stage to a very busy room, quickly showing why they've drawn so many with their heavy rock and roll. It's a lot closer to the up-tempo stylings of Motorhead, who would probably be similarly classed these days and they go down excellently with the busy room. A great band who are well worth the applause they garner.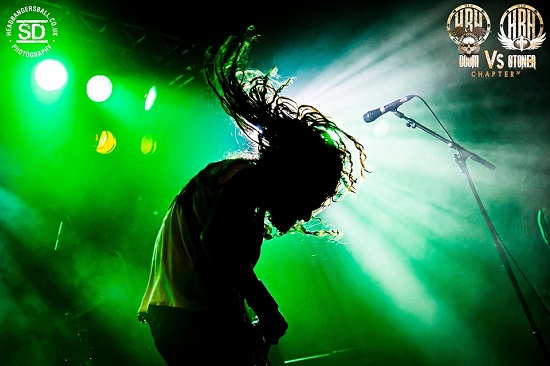 Gonga are on stage one and have a good crowd for part of their set, as stage two empties then refills. There is an almost prog feel about some of their songs, with strange offbeats making for a more enigmatic performance than their festival mates so far. It's an interesting performance, in a positive way, with Gonga adding something beyond the fairly usual type of sound, however well performed, that we have had so far today.
Psychlona are competing for the crowd on stage two now, as they clash against the end of the Gonga set. Desert rock in the same vein as Kyuss, they have an impressive pull, despite the presence of Witch Tripper on stage one, which will always be hard to go against, giving a good demonstration of quite how good they are live. Despite being a fairly new act, they clearly love being on a stage, as shown with an energetic and powerful performance. A very strong showing.
As mentioned above, Witch Tripper play on stage one with a major set clash with Psychlona. This isn't their first HRH event and their familiarity with both the venue and crowd shows as they have the strongest first stage showing of the day so far. Very much an old school hard rock band with a bit more of a groove edge than your standard such band. Richie is as charismatic as ever, with his down to earth charm winning over the uninitiated quite quickly, and their infectious riffs take the venue by storm. As always, a storming set – how long until they move even further up the bill?
The shuffle back to stage two sees Mage take their turn to a pretty packed room, with plenty of headbanging the immediate sight as I get there. Sabbath riffs a plenty greet my ears and the urge to headbang grows even stronger as they progress through their set, with those around me similarly unable to stop themselves do similar. Even the lure of Black Moth doesn't seem to detract from the gathering in front of them, as we are all seemingly enthralled. They've never disappointed and today is no change to that. Superb set.
Black Moth take over the first stage and are as enticing as ever, continuing that slightly off kilter feeling we got from Gonga a couple of bands previously. More people have finally arrived at the venue, so both rooms are now fairly full and the Leeds outfit are another with previous HRH experience, which shines through in terms of crowd reaction and stage presence, the familiarity with both quite evident. The varied influences shine through, as ever, with Harriet in imperious form as she demands the audience's attention in the same manner as some of the genre's greats, simply by being there. Another great set.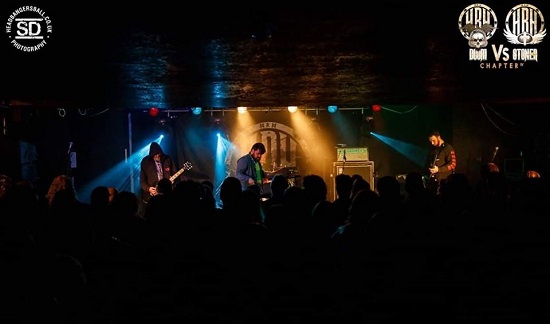 Space Witch are our final stage two act of the day and it's still a respectably busy room that greets them, which bloats further still as the gap between bands on stage one occurs. By far the most space sounds of any band on the day, with a solid doom backing to it adds up to a good set, providing something a bit more eclectic than the average stoner or doom band can offer. It's an interesting mix which clearly captures the imagination of more than a few people, as the swaying bodies and nodding heads demonstrate. Another good set from the Stoke space-doomers.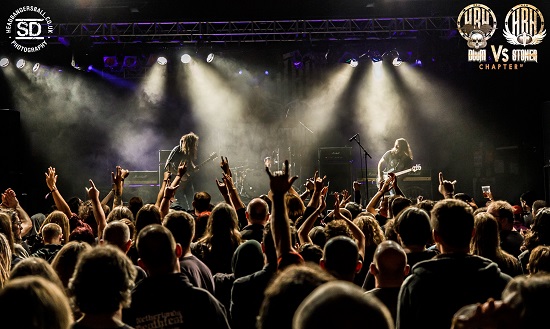 Back to a single stage for our remaining two bands and penultimate act Black Rainbows take to it like a duck to water. Singer/guitarist Gabriele is the owner of Heavy Psych Sounds, the fuzz/space/stoner music label, so clearly knows more than a thing or two about these genres of music. A talented musician in his own right, ably supported by another two equally capable members, Black Rainbows have a fair amount of old school space rock in their sound, meshed in alongside the heavier doom which combines well to form what, at times, comes across like an angry alien screaming across the void of space at us. Some great musicianship alongside a mix of clean and not so clean vocals leads to a likeable sound, shown as much by those around me as they celebrate the music in their own way. Another good set, which perfectly paves the way for our Saturday headliner.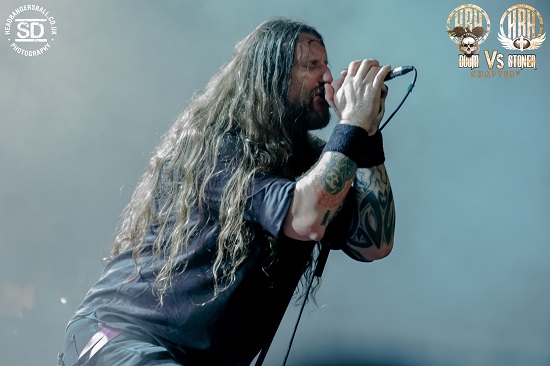 Orange Goblin have been here a few times before with good reason, as the veteran act are almost always a sure fire hit with audiences. The band are in good spirits and the crowd get swept along with them, as usual, with their highly infectious music dragging us all along, some more kicking and screaming than others, as the busy room gets right into what they're being served by the London 4-piece. A mosh pit kicks off from the start and the almost capacity room says they've yet again done their job before they even get on stage, with the loud crowd completely up for it. They're headliners for a reason, they know it, we know it and they once again smash it out the park.
Band of the day? It's a day of strong competition for this award, but just edging it are Psychlona. A bit different from a lot of the other acts and a highly polished performance.
PHOTO CREDIT: All photos © Simon Dunkerley/Hard Rock Hell. Copyright remains with the photographer.
All content © Über Rock. Not to be reproduced in part or in whole without the express written permission of Über Rock.