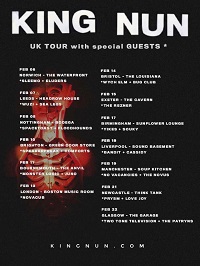 A local gig for some not so local bands sees me take in the aural delights of London's King Nun, with a couple of bands in support. 
Local indie blues rockers Cassiddy take to the stage and we get a slide blues rock track to start off with, which is pretty well written and goes down well. The frontman and occasional rhythm guitarist seems to just look downwards or close his eyes, but, despite his lack of presence, he does well generally with what he does, though stage confidence is something that will obviously only come with time and experience. There are definitely a couple of things they need to sharpen up on, but their song writing is very effective and their songs enjoyable, with a rough feel similar to early Oasis, albeit with the mentioned blues tint at times, and a live rawness that comes across earnest. An enjoyable performance and good opening act that have won the crowd over by the end of their set.
In a very similar music vein, albeit a more polished version, we have Bandit, another local rock act that are clearly further along their path than Cassiddy's before them. A bit of feedback apart, they play a well-rehearsed and enjoyable set that clearly goes down well with both myself and those around me. A couple of songs in, we even get a spoken word part from vocalist Nat,  who generally comes across very much in the same fashion as Alex Turner and similar, while the band behind him are able musicians, with the overall effect maybe being a bit more towards The Last Shadow Puppets than Arctic Monkeys, though this is hardly a bad thing in itself. It's an appealing set that thr busy room take well to. Job done.
The lighting goes minimalist and King Nun take to the stage with an amp shaped TV proudly showing a Marshall logo. It's noticeable gow much the atmosphere picks up as they take to the stage and a few more people scurry in through the door as the cheers start to ring out. Theo makes apologies for his vocals, given he is recovering them at the moment, something that had caused them to cancel the previous night's gig in Birmingham, not that it seems to make a difference to any of us! The entire band are highly energetic, more than filling the cramped stage, with plenty of passion and a darker feel to their rock 'n' roll than either of the support acts had mustered. There seems to be a quite Punk energy about a fair amount of their playing, with an occasional tilt at a dark psychedelia sound that sits well in correspondence to the above-mentioned side of their music.
The TV amp shows off what appears to be a mix of their music videos and some background images, with an occasional white screen, providing something to look at in the dim light of the room, given the band are not highlighted by any lighting. Their sound continues along the heavy rock n roll route as they wind through the set, with a quite relentless tempo being set by the talented drummer, while the overall set is clearly well rehearsed as the only sound issues we get are some feedback issues at times, rather than the dropped notes we had encountered at times earlier. As I look around the little sweatbox of a room, almost every head is nodding, whilst some others are outright dancing, this is some pretty enjoyable stuff ringing out from the stage. The livewire Theo continues almost tripping over everything as he jumps and runs all around the room, as enthused by their own set as the rest of us seem to be! It's a thoroughly easy to enjoy thing, with the sheer enthusiasm from the band as infectious as their well written music. A great gig.
The tour continues at The Garage in Glasgow tonight (Saturday 22 February) and finishes with two re-arranged shows at The Soup Kitchen in Manchester on Monday (24 February) and The Sunflower Lounge in Birmingham on Tuesday (25 February).
All content © Über Rock. Not to be reproduced in part or in whole without the express written permission of Über Rock.