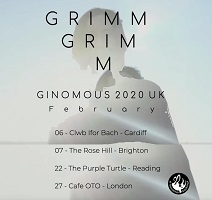 London-based experimentalist Grimm Grimm, the former vocalist for The Screaming Tea Party Koichi Yamanoha, now tours as a rather intriguing blend of experimental and psychedelic folk. Given the later than usual doors, I manage to avoid the usual travel chaos that getting to Manchester for 7pm doors entails and arrive in time for our first support act to go on stage. 
Manchester's own crush are a band that I'm pretty sure I've seen on another bill, as they definitely seem familiar and they employ a Cure-based up octave rhythm guitar approach to grungy pop, giving a quite different feel to work that could otherwise be quite dark. Higher range female vocals work well with this musical approach and people have come down early, clearly interested in their music, which makes the gathering at the front of the stage pretty rapt when it comes to their set. The blending of the light and dark aspects provides contrast within its own sound, creating a likeable and approachable soundscape, which they play will despite a couple of issues with levels as they do so.
Hyperdawn are clearly here to provide more experimental support for our headliner, as the mix of samples and vocals create a different sonic state than our previous support. The room is quieter when they start the set but steadily builds as they progress, with the applause they garner being just reward for a set that requires a more thoughtful stance than the immediacy of Crush. The longer tracks seem to be slightly challenging for some, as a couple of people seem to turn to phones at times, but the fact that attention can mainly be held for these tracks means that it is clearly well created, if a touch less my own personal thing. A well-orchestrated set in support of their debut album 'Bleach'.
A one-man approach to a more experimental sound is often a difficult one to take, yet that is the path that Koichi Yamanoha, aka Grimm Grimm, has chosen to tread, mixing electronic with his vocals and some quite exquisite guitar playing to craft a rather interesting sound. It's noticeable that almost everyone in the venue heads straight down to the front for his set, though the low turnout does feel a bit disappointing for someone putting so much effort and thought into his music and set. The pre-recorded backing he sets for himself works well and there is a good level of applause despite the audience size when he comes to the conclusion of the tracks.
It's refreshing to see a dearth of mobile phones out during his set, too, my own excluded as I take my notes, showing just how enthralled those in attendance clearly are with what he is doing. The performance relies on a balance of delicacy and harmonics in a lot of places, luckily an approach that works really well in this venue, with Koichi adopting a singer-songwriter approach for some of the set, lacking a touch on the more experimental side on those occasions, though his ability when doing so is of a good quality and shows an adeptness at guitar picking when playing it. It's possible that this feels more like safer ground for him, given his dual bass/vocal duty for previous band Screaming Tea Party, hence this reverting to type, though there does seem an overall feel still that it's not jarring when he brings in the backing for the rest of his set, alongside a female co-vocalist to provide vocal harmonies in addition to the rest. It's overall an interesting and appreciable set, if lighter on experimentalism than I had hoped before the set.
The tour continues at the Purple Turtle in Reading tonight (22 February) and finishes at Café OTO in London on Thursday (27 February).
All content © Über Rock. Not to be reproduced in part or in whole without the express written permission of Über Rock.