Review by Jonny Bakes. Interviews by DJ Astrocreep.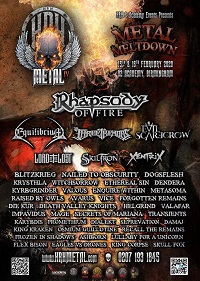 We arrive back at the O2 Academy ready for the second day of HRH Metal, and I'm the only one of the pair of us that's feeling worse for wear. My reward? I get to cover all of the stages again which'll serve me right for shuffling in sometime around 5am this morning.
Nevertheless, time to get back in the groove and head to stage three where Skull Fox are kicking off proceedings today. And get in the groove is exactly what I do as this energetic local band rip through groovy basslines and heavy riffs to deliver an impressive performance to a crowd that looks about as fragile as I feel.  These are followed up on the same stage by King Corpse who slow things down a little bit with their groove-tinged doom metal. Particularly standing out is 'The Count' which starts off sounding a little like Sabbath before becoming something slower and heavier.
I make my way through to the main stage where it's currently absolutely Baltic! Fortunately, the main stage openers, Vice, are from Manchester so I doubt a bit of a chill will make much of a difference. For a three-piece, Vice really manage to make a hell of a lot of noise as they thunder through their set of catchy heavy riffs. The earlybirds who have made it down to the arena seem pretty impressed with this performance but it's the next band that really catch my attention on stage one…
Ethereal Sin, the Japanese black metal band, have been going for over 20 years, but this is the first time they've ever managed to break into the UK so I was keen to see what they would bring, and boy do they bring it! Aesthetics are an incredibly important part of this performance, and it seems that they've managed to blend elements of the Norwegian black metal image with Japanese cultural elements. Each member is clad in what appears to be a black yukata (but I'll admit I'm no expert!) with their faces painted with corpse paint and from the moment they break into the first song I'm absolutely captivated. They successfully blend black metal with melodic/symphonic elements and tinges of traditional Japanese music with vocals that are delivered by one hell of a frontman, Yama Darkblaze. Another surprise is the inclusion of a violinist in this performance, which is something I'm not sure I've ever seen in black metal (although someone is bound to point out bands that have done it before). Ethereal Sin have certainly succeeded in blowing away most of the hangover brain-fog with this incredible performance and I sincerely hope that we get to see more of them in the future!
I make my way to stage three to catch Ashborn, who clearly have a dedicated legion of fans as I'm immediately greeted by a large homemade banner that has clearly been made from a sheet and some marker pens, excellent! These guys take the brutality up a notch with their flavour of metal that is clearly influenced by the likes of Machine Head and Pantera. Vocalist, Marcin D, is clearly channeling his inner Phil Anselmo as he growls his way through each track much to the delight of the fans.
Before long, I'm on the move again for the opening of the second stage with Welsh boyos King Kraken. Arguably these guys look like they have a bit more life experience than some of the bands we've seen this weekend, but this means that they've had time to hone a pretty tight performance. The set is littered with heavy, catchy riffs which is especially apparent in 'Heatwave'. This starts with a pretty slow chunky riff before all hell breaks loose and the tempo rockets to really whip up a frenzy in the crowd.
Back to stage three where Flex Bison, who we already managed to catch at the pre-party on Friday, are getting things going. I personally missed them on Friday (that's Birmingham traffic for you!) but I'm glad I managed to see them today. They bring this real no frills, ballsy, rock 'n' roll sound that has some serious groove to it that gives me that warm fuzzy feeling. It's catchy as fuck and I'm tempted to stick around for the full set, but alas duty calls and it's time to hit another stage.
Things get slow and about as heavy as a metric fuck-ton of bricks when Witchsorrow take to the main stage. The bass is so deep and heavy that not only do my ribs shake, but I'm pretty sure my brain starts rattling around inside my head. Couple this with the impressively hard-hitting drumming of David Wilbrahammer and you've got yourself some really heavy doom metal that invokes some slow rythmic headbanging from the crowd gathered before them.
After a while I'm drawn to a pretty packed out stage three for Osmium Guillotine. The core of this sound is distinctly 80s heavy metal with the odd slow doomy sections to their songs. The guitars often harmonise in a very Iron Maiden-esque manner, but the tempo tends to err on the side of raw speed. Osmium Guillotine even manage to whip up a frantic circle pit that takes up the bulk of the space in the room. It's pretty obvious that, like me, the whole room is getting really into this set!
I manage to get to stage two just in time to witness the end of Die Kur's set, and what I see makes me wish I'd managed to get here earlier! There's a hell of a lot going on here, Die Kur seem to have a predominantly industrial sound but they really shake things up with other elements too. For a start, vocalist and synth maestro Ays Kura also makes heavy use of a theremin which is something you certainly don't see every day! If that wasn't enough to convince me that I need to see more of these guys, they also make interesting use of the electric violin courtesy of Takatsuna Mukai. All of these elements combined lead to quite the spectacle that this second stage crowd seem to have enjoyed!
Krysthla absolutely tear things apart on the main stage with their heavy as owt metal. If you were to put a label on what you get here, progressive death is probably the closest you'll get but that doesn't quite do them justice. 'Negative' is a seriously intense number that sees Adi Myers absolutely belt out those harsh vocals while the rest of the guys maintain an impressive momentum. These guys put on an absolute belter of a performance that shows exactly why they were given the main stage slot at Bloodstock last year! They're not just popular with me too, the whole room is going wild so the rest of the crowd clearly fucking loves this too! They've certainly set the bar pretty high on this main stage with their performance today,
Rising to this challenge are Argentinian(ish) bagpipe metallers Skiltron who I've been waiting to see for a long time! Taking to the stage in kilts, they quickly impress with their unique blend of metal and bagpipes. You're not getting folk metal here in the traditional sense instead it's more of a heavy metal vibe with the bagpipes interwoven into that sound. There are some fantastic moments where Emilio's guitar riffs harmonise perfectly with Pereg's bagpipes to create something pretty damn special. Some additional excitement in this set comes with not only the announcement of a new album, but also a performance of a new track from this album, 'Fight Loud and Destroy'. This is a pretty fitting song considering that's exactly what Skiltron do with this set! I manage to worm my through down to the front of the crowd and things are getting pretty wild as the set goes on but then, the moment we've all been waiting for happens… it's time for 'Bagpipes of War'! Fuck me, does the crowd get even wilder for this. So wild, in fact, that I'm compelled to get involved and dive right into the ensuing pit with my hangover being a long-forgotten memory at this point. It's pretty safe to say that everyone around me enjoyed this set as much as I did!
Another last-minute replacement awaits on stage three where Damaj have been replaced with something completely different – the heavy punk band Face Up. You what though? Having something this different is a breath of fresh air at an event like this, and considering I grew up with punk music I'm more than happy with this substitution! Frontwoman Roxx delivers an aggressive performance that blows me away. With the amount of energy in this performance, you would have thought that Face Up had been destined to play this slot all along. I manage to stick around long enough to witness bassist Gav make his way into the middle of the now massive circle pit and play out an entire song surrounded by the swarm of bodies – brilliant. I'll definitely be keeping an eye out for these in future that's for sure.
I drag a friend with me up to stage two for Avarus because, after catching up with the guys earlier in the day, I was keen to see his reaction to this set. Initially you would be forgiven for labelling Avarus as a metalcore band as their opening song has that vibe to it but we were promised variety and we certainly get it! Introducing their new song that is all about partying (which I gather is something they've had a little experience in) they launch into this upbeat hard rock number that sounds completely different to the last song! The mixture of confusion and enjoyment on my mate's face is exactly what I was hoping I would see in reaction to this change. I'm certainly very impressed with the vocal talent of Lucas, particularly his high range which seems to work well no matter which style of song they've broken in to.
Stage three again, where I get to see some of the set from Impavidus. It's pretty heavy stuff from the Manchester locals but it's difficult not to focus on Michelle's vocals. She transitions from serious gruff growls to equally impressive melodic vocals. I struggle to believe that there isn't a second vocalist on stage as it's hard to believe that both extremes are coming from the same person but they sure are! It's like a Jekyll and Hyde scenario! But let's not neglect the rest of the band who shred through some fantastic groove-tinged riffs to compliment Michelle's vocals. I'll definitely make sure to catch Impavidus at a later date to get the full experience as unfortunately I have other stages to get to!
Running through to the main stage I'm hit with the noise of some old school sounding thrash metal which can only mean one thing – Xentrix have already launched into their pummeling aural assault. Having been around since the mid-80s, these guys are no strangers to performing, and their experience is pretty evident by the way they storm through flawless renditions of tracks that range from their early albums like 'Shattered Existence' to the more recent 'Bury the Pain'. If you've been living under a rock and have no idea what Xentrix sound like, you only have to look at the Big 4 to get a good idea of what we've experienced today. It's been absolutely relentless classic thrash that resulted in quite possibly the biggest circle pit of the weekend.
Secrets of Mariana headline the third stage with a show that really reflects how much they deserved the headline slot. Although hit with some technical issues, the band are unphased and their professionalism allows them to continue through to deliver a great performance. This local band have been around for a good few years now, and I'm hearing very positive reactions around me from those who have seen them develop from their early days to this set today. The sound issues that the band experienced on Friday are long forgotten as the sound at the third stage today is on point (once those technical issues are ironed out anyway). The crowd gathered in the room are treated to the new track from the upcoming EP that we were promised when we caught up with the guys earlier in the day and this too is met with great reception from the crowd.
A string of unexpected interviews means that I miss the start of tonight's headliner's The Three Tremors, who are certainly what you could consider to be a super group. They combine the vocal talents of Tim 'Ripper' Owens (Judas Priest, Iced Earth), Sean 'The Hell Destroyer' Peck (Cage) and Harry 'The Tyrant' Conklin (Jag Panzer) with members of the band Cage picking up instrumental duties. Their set is a great mix of original material from their self-titled album and a healthy mix of covers. I reach the stage as they are smashing through an impressive cover of Sabbath's 'Heaven and Hell'. Dio's vocals often make his work difficult to cover, but it's absolutely no problem for these guys which is no surprise given the calibre of vocalists we are talking here!
Tim unleashes one hell of a scream to herald the introduction to Cage cover 'Hell Destroyer' which is met with great response by the few people that have managed to last through the whole weekend to witness this. Often the issue with two-day events like these is that people party themselves out too early, which means they often miss the end of the festival, which is a real shame because this is pretty spectacular.
As if three fantastically talented vocalists weren't enough, there's a big surprise when the local legend himself, Blaze Bayley takes to the stage to join The Three Tremors in a hell of a cover of Judas Priest's 'Breaking the Law'. This performance is becoming a bit of a "who's who" of classic metal and I'm fucking loving it. Unfortunately all good things must come to an end as this set ends with a cover of 'Painkiller' followed by the self-titled track 'The Three Tremors' which ends this festival on a bit of a high for those festival survivors who last out the entire set.
Prior to The Three Tremors' set, we managed to grab what turned out to be an exclusive interview with the band, including both Tim 'Ripper' Owens and special guest Blaze Bayley:
Unlike yesterday, it's a bit more difficult to pick out my favourite band of the day but eventually I've decided that it has to be Ethereal Sin. Their energy throughout the performance really showed just how excited they were to have finally made their way across to the UK and the crowd were extremely receptive to their theatrical performance. Coming in a very close second, however, are their UK tour-mates Skiltron who also pulled off a blinding performance today which was met with nothing but praise by those around me.
And that's all folks, I'm going to go and sleep for about a week to recover from what has been another great HRH event… here's to the next one!
All content © Über Rock. Not to be reproduced in part or in whole without the express written permission of Über Rock.