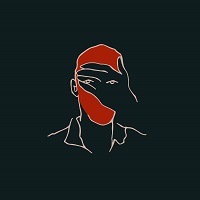 Climb through the walls, tilt the structure; our putrid, morally bereft and bilious systems need to be taken out from the inside. This is the gist of what Danish synth-punk noise trio Hiraki want to convey in 'Stumbling Through The Walls', their second album. It's a bit more aggressively put than your usual punk message and given that the vehicle of delivery was honed, thrashed out and produced by the band themselves in their 'Cube of Eternal Doom' studio in Skødstrup, central Denmark, it begins to feel like the plot of a dark yet ominously realistic science-fiction novel.
Since their inception in 2016, having firmly established themselves in Denmark's underground scene playing alongside bands such as Hexis, We Are Among Storms and Oxx, Hiraki have become known for their innovative sound which straddles both synthesised and hardcore punk genres successfully.
A band that fully embraces anti-capitalist DIY culture, they create their own music videos, their first album 'Modern Genes' was released on cassette and as an art print with the album vacuum packed inside. Inevitably they re-released it as a split with 'We Are Among Storms'.  Sonically they are a surreal listen. Going beyond simplistic lyrics and bass-led rhythm they meld layers of sound together, riveting them to one another to construct something more intricate than it appears on the face of things.
On 'Stumbling Through The Walls', opener 'Common Fear' is an ominous warning. Industrial stop-start synth backs unabated screams from frontman Jon Gotlev and further in by guest vocalist Cara Drolshage (of Detroit based experimental hardcore band, The Armed). Gotlev has described it as confronting the '…unyielding and bellicose' who subject the world to exploitation, displaying an underlying eloquence to back up his fearsome, screaming punk-rock presentation.
Drummer Tim Frederiksen has definitely put in a shift in single 'Wonderhunt'. Its relentless, undulating rhythm is the soundtrack for 'The Stumbler', a character in the accompanying video who trips and staggers his way through the track as a parallel for stumbling through life. Think Renton of Trainspotting.  Shot DIY in 24 hours, the stumbler must've been black and blue by the end of this. While 'Wonderhunt' is a decent offering by itself, in combination with the video it is taken to another level.
Metal-fused 'Proto Skin' has a maniacal sound both in terms of the unhinged vocal and jarring guitars while a post-apocalyptic feel envelops 'New Standards' which is a mostly spoken track guested by Rikke Fink.  'Blossom Cuts' is where we start to get properly heavy and Tue Schmidt Rasmussen (Guitar) gets as much of a look-in as Frederiksen. The track builds throughout to a crescendo of noise.
After that  'Mirror Stalker' is a bit of a respite, although an ominous one as the rhythm is a slow paced .. ehm… stalk rather than a full on chase. Meanwhile electronic beat filled 'Peach Lung' features Jørgen Mogensen (KLoAK, Gullo Gullo) feels almost light in comparison. Not sane, just light.
Last track 'The Alarmist' was the first single to be released from 'Stumbling Through The Walls' and it can only be described as a cacophony. About those who become so involved with inciting panic and turmoil that they are overcome by the chaos they caused themselves. At times this is so off the wall that you struggle to find any harmony. Then slowly as the intensity builds, it raises its head, albeit distorted and warped, from the abyss. This, I think, is a proud moment for Hiraki. What they see the album as being ultimately about. Ugliness, distortion of the facts and the pain that arises from that.
In my opinion this is an album that starts well, dips a little and gets very messy toward the end. Don't get me wrong, it appears that  the messy ending was completely intentional, necessary and indeed fitting directly into Hiraki's dark and noisy style and to the telling of the tale. What carries the album through whether or not you buy into the clashing chords and unrelenting noise is the undeniable presence of Gotlev. The character he evokes is magnetic. If you are stumbling through life, Hiraki may well provide the direction that you need. Better that, than a flowery-worded put-down. Tilt the structure.
'Stumbling Through The Walls' is released on Friday (9 April). You can get your copy HERE.
All content © Über Rock. Not to be reproduced in part or in whole without the express written permission of Über Rock.