By Monk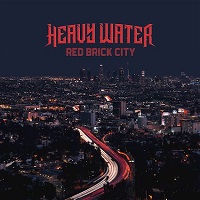 The history of the entertainment industry is littered with nepotism, with children either seeking to ride on the coattails of their more famous parents or, more importantly, to emulate, or perhaps even their success. The movie business has generations of offspring taking on the mantle of their famous forebearers: the likes of Liza Minelli, Carrie Fisher, Keifer Sutherland have all carried on their family names with pride. Similarly, the music business has multiple examples, such as Natalie Cole, Nancy Sinatra, Julian Lennon, Zak Starkey… So, it should not be surprising that heavy metal, now in its seventh decade as a musical force, should also have it fair share of familial ties. What has been rare, with a few notable exceptions, has been for the parents and children to collaborate (we'll cast aside Kelly Osbourne's awful duet with her decrepit dad, shall we?)
While some metal progeny, such as Debbie and Jason Bonham, have ploughed their own furrow without playing on their ancestry, and others have been given an invaluable boost by being more directly associated with their parentage – both Bruce Dickinson's and Steve Harris' children's bands have supported Iron Maiden – how many of them have actually sat down and said "hey, dad, why don't we record an album together?"? Okay, there's been a few, but they're hardly as frequent as buses to that mysterious destination known as 'Not In Service'. But that is what Seb Byford, who has carved out his own career as frontman with NWoCRers Naked Six seems to have done with his dad, one of the most iconic frontmen in the whole of the HM genre.
What immediately impresses about 'Red Brick City' is that it does not sound like a vanity project, which it could well have been in danger of being, especially in misguided public perception. It is an entity in its own right: a collection of rich, vibrant, new age blues and jazz infused rock songs that can stand tall and proud. Yes, Biff's distinctive vocal style is stamped on it, but very subtly so: there are none of those roof-raising screams, but rather a much more laconic, restrained, feel to what can best be described as his interjections, as he lets his son step very firmly front and centre in terms of hogging the limelight. Like last year's solo album, it shows a different side to Byford senior, this time one of a proud parent content to sit back and bask in the glory of what he has produced, both figuratively and literally.
But, most importantly, this is a strong, vibrant album, which stands on its own two feet for what it is, and, at the end of the day, that is all that is important. It is an album which may defy expectations, and especially preconceptions, and for that it works on every level. Go on, step out of your comfort zone and give this one a spin… or three…
'Red Brick City' is released on Friday (23 July). You can get your copy HERE.
www.facebook.com/heavywatermusicofficial
All content © Über Rock. Not to be reproduced in part or in whole without the express written permission of Über Rock.