By Monk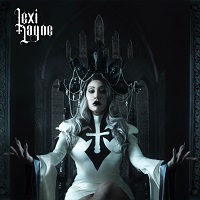 Please don't take this the wrong way, but for me if there is one thing that makes some of the gothic industrial noise stand above that which pollutes this particular sub-genre it is the inclusion of a female voice. And especially one which introduces a benign fragility to contrast with the harshness of the mayhem in the background. Few artists have succeeded in achieving that balancing act, but scene newcomer Lexi Layne has made a damn fine stab at it with this, her debut EP.
Very much embroiled thematically in the S&M fetish scene which has provided much of the grist to the mill of the goth iconography for the past four decades, Layne manages to combine the elements of erotica and musicality in an extremely atmospheric manner, with the EP characterized by its ebbs and flows of nuanced aggression and passivity.
Despite its dark undercurrents, 'Sinner & Saint' is a very poppy EP. There are a couple of tracks, 'Bloodless' and 'Sinner & Saint' itself, which you could imagine storming to the top of the mainstream charts in the hands of the likes of Lady Gaga, her fans unaware of the underlying mischievousness. Equally, this introductory EP will appeal to fans of the likes of The Pretty Reckless, with its blend of hard rock edged backings and high-end female vocals.
'Sinner & Saint' is released on 6 August.
All content © Über Rock. Not to be reproduced in part or in whole without the express written permission of Über Rock.