By Monk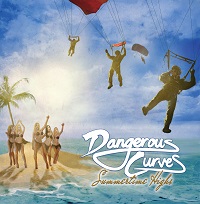 If ever an album lives up to its title, then it is this, the second full-length offering from Melbourne retro rockers Dangerous Curves, who well and truly evoke the heady days when AOR and hair metal dominated the then much more cultured radio airwaves, as yet unpolluted by the advance of grunge and other 21st Century musical phenomena… It is also an album which once again prompts the question as to what the actual fuck they are putting in the beer in Australia's most musically prolific city, as this is yet another act to have come exploding out of there with the ferocity of a nuclear missile strike…
Dangerous Curves have no shame in admitting their mission statement, and that is to evoke the feeling, and sound, of the likes of Bon Jovi, Bulletboys (whom they have actually supported in the past), Def Leppard, Poison – hell, I could go on and on (and on) – and bring them roaring back to life in the sonic equivalent of glorious technicolour.  And, boy, do they succeed? Of course, they fucking do, in not only spades but (beer) barrel loads.
Going back to my opening comment about the album living up to its title, well it should be obvious now why it does just that. It is rammed from the opening chorus to the final fade with back-to-back summertime highs, packed with sun-baked party anthems. OK, like so many bands which find themselves categorized as part of the New Wave of Classic Rock movement, all of the tropes are clearly identifiable and there is nothing startlingly new of offer – but is there ever these days? Yes, we've heard it before: the vocals sound in places very like a young Joe Elliott, in others like Mark Slaughter; that riff wouldn't sound out of place on a Poison hit; and that song structure has a very Bon Jovi feel to it. But familiarity does not necessarily breed contempt; no, it takes us into a comfort zone, caressing and embracing us in its warm glow. And I for one am very glad to lose myself in that familiar embrace, at least for 45 minutes or so…
'Summertime Highs' is out now. You can get your copy HERE.
www.facebook.com/dangerouscurvesofficial
All content © Über Rock. Not to be reproduced in part or in whole without the express written permission of Über Rock.