By Monk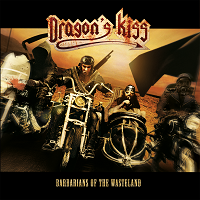 Originally released back in 2014 via the rather appropriately named Killer Metal Records, this debut album from Portuguese speed merchants Dragon's Kiss has now been given, if somewhat low profile, new lease of life by a  label seemingly determined to delve deep into the dark mines of the southern European metal scene and see what long-lost gems they can unearth and present to the modern world.
I have to admit that 'Barbarians Of The Wasteland' is not a bad album. Neither it is a great one, but it is by no means the worst example of the speed/sub-thrash genre I've heard in the past three decades and more I've been listening to metal.
I'm not sure if it has been touched up in any way, but it retains a freshness and energy which is, well, energizing and, indeed, welcoming, in these days of over-dubbed, over-produced sterility. It's certainly not in the Premier League of its style but I will say this (and this is a compliment): if these guys were on the bill at a gig down my local venue, I would certainly think twice between staying to watch them or seeking refuge at the bar…
'Barbarians Of The Wasteland' is released on 26 July. You can get your copy HERE.
www.facebook.com/dragonskissband
All content © Über Rock. Not to be reproduced in part or in whole without the express written permission of Über Rock.