By Monk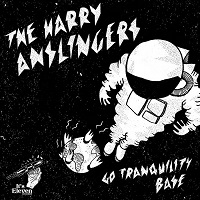 Like a lot of people, we at ÜRHQ love a good conspiracy theory – and we all have our favourites: I'll not share mine, as I'd only get myself and the site into severe trouble with the militant right-wing creationist religious freaks who dominate this particular corner of the Überverse. But there are three events which have pervaded the conspiracy community through the latter half of the 20th Century and into the 21st: the deaths of John F Kennedy and Princess Diana, and, in between them, the first moon landing. And it is the latter that German garage punk trio The Harry Anslingers (who, ironically, take their name from the US federal prosecutor responsible for the banning of marijuana… but that's a whole different conspiracy theory…)
However, there is no conspiracy around what this Leipzig three-piece do, and this is produce mad, manic punk 'n' roll very much embedded the in the old school ethics of the genre: fast, loud and uncompromising, anarchic and dirty, rawer than a slice of fresh sirloin and snottier than a schoolboy's shirt cuffs.
Clocking it a precisely 16 minutes and 15 seconds – the amount of time it took the three stages of the Apollo 11 rocket to separate – 'Go Tranquility Base' is garage punk, pure and simple: it sounds like it was recorded in one of the guys' garages. There's certainly no fancy studio trickery involved (apart from the interjections of the intro and outro tapes), and the result is a high energy blast of old school, frenetic punk rock of the kind we've rarely heard since the heady days of '77.
'Go Tranquility Base' is released tomorrow (Tuesday 20 July) – the date on which Apollo 11's lunar module "landed" on the moon. You can get your copy HERE.
www.facebook.com/Itselevenrecords
All content © Über Rock. Not to be reproduced in part or in whole without the express written permission of Über Rock.