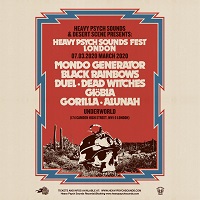 So, it's back down to the Heavy Psych Sounds Fest again, meaning another round trip to London, despite the ongoing COVID-19 issue. It is the same issue, in fact, that renders two bands unable to play on the day, with Gorilla having an ill member and not risking it being the illness, and Giöbia having been denied access to the UK, despite getting clearance previously from the Italian embassy. Doors are therefore moved two hours later, with Alunah similarly taking to the stage the same two hours later than previously planned. 
Alunah finally take to the stage to myself and a couple of other people, though this very swiftly grows to a pretty decent-sized crowd within a couple of songs. They strike me as a mix between Windhand and if Grace Slick was fronting Black Sabbath, mixing softer, ethereal vocals with some pretty hard riffing, with some vocal harmonies creeping in between frontwoman Sian and Dean on guitar and work very well in adding an extra layer of depth to their sound. They rightfully draw a good level of applause from those of us gathered to catch their set, further enhancing their burgeoning live reputation.
Alunah play Port Mahon in Oxford tonight (8 March) before supporting Mondo Generator on the rest of their UK dates (see below).
I pick no bones about being a fan of Dead Witches, having caught them at the previous HPS Festival before HRH Doom vs Stoner, but as they take to the stage I'm a touch worried, as there is a new guitarist and vocalist, with this being only their second gig together with the current line-up and three weeks into her career with the band for new vocalist Spring. It feels somewhat harsh to be judging the new members so soon into their time in the band, yet the set does not feel particularly coherent, nor well-rehearsed. The rhythm section of Mark and Sam on drums and bass respectively are obviously good at their own sections, but the guitar sounds somewhat muffled and certainly missing the wah pedal, taking away the raw power of the previous occasions I have seen Dead Witches play live, while Spring's vocals are not clear enough on too many occasions, which is quite frustrating as it makes it even harder to fully judge how she fits from an audience point of view, though she clearly does not have the stage confidence of previous vocalist Soozi who owned it and drew your gaze to her, while the vocal style is also different, being one more akin to Lori S of Acid King than either of the previous Dead Witches singers, though this is not necessarily a bad thing. Spring does come across quite well where we can clearly hear her, which adds further to the frustration of when we can't and an issue that I don't feel sits with the sound desk. Overall, despite the warm reception from the audience, it feels like a big step backwards, which is a great pity, as they lack some of that edge they've previously had. I will add though that I think these issues could be easily sorted with the current line-up, just through time together, gigging and fixing the guitar tone, as both newcomers are quite capable at their respective jobs.

Coming on stage like a blues fuelled Motörhead, the four-piece stoner juggernaut known as DUEL come on stage to a busy room and it's no surprise why, when they get into their groove. Their more uptempo nature than the previous acts clearly grabs us all by the ears, given the waves of headbanging almost in synchronicity around the room that adhere to every riff. Hailing from Austin, Texas, they bring a hell of a party with them as we are swept away by the barrage of riffs that spew forth from the stage through their set. Finishing on a space rock dissonance, the verve and drive they show right through the set rocks the fuck out of everyone in the room, rightfully earning them loud accolades throughout their set.
DUEL release their new album, 'Valley Of Shadows' via Heavy Psych Sounds on 17 May.
Black Rainbows carry on the good work of DUEL in keeping the crowd pumped up and baying for more, with their heavy stoner approach to space rock clearly of interest to people all around the room. Vocalist Gabriele Fiori is the chief of Heavy Psych Sounds, so clearly knows his way around more than a few, as the psychedelic beast carries on what he started around a year ago with his live performance at the previous incarnation of this event, making the room the very best type of fuzzy as the trio make sure whiplash is incoming for us all with their groove laden goodness. An excellent set in a justifiably good billing.
Not content with merely being involved in Kyuss, Queens of the Stone Age and The Dwarves, amongst many others, Nick Oliveri has had Mondo Generator as another excuse to never stop gigging and it's my first time seeing them live. After I get a great chat with him just before he goes on stage, he comes out, armed with the two Mikes as more than adequate musical support and rocks the fuck out of the entire venue. Mosh pits galore,  crowd surfers, and constant energy are the result, as Nick and co masterfully mix in Mondo Generator tracks from across their releases, including latest releases 'Fuck It' and 'Shooters Bible', plus more from Nick's past in the form of both Kyuss and Queens of the Stone Age tracks, with all of them going down excellently. Watching Nick perform 'Green Machine' and 'You Think I Ain't Worth A Dollar But I Feel Like A Millionaire' is a special treat indeed, with '…Millionaire' closing the end of the three-song encore, grabbing half the audience up on stage with him to join him, the kind of chaos Nick both revels and rules in and the kind that endears him to every single one of us. A fantastic headline performance.
As mentioned above, earlier in the day I had the opportunity to have an in-depth chat with Nick Oliveri, in which we talked about the two new MG albums and a myriad of other stuff – including a possible Kyuss 25th anniversary reunion:
Mondo Generator play four more dates this week – Albert's in Nottingham tomorrow (9 March), the Exchange in Bristol on Tuesday (10 March), the Star & Garter in Manchester on Wednesday (11 March) and Nice 'n' Sleazy in Glasgow on Thursday (12 March).
All content © Über Rock. Not to be reproduced in part or in whole without the express written permission of Über Rock.