By DJ Monk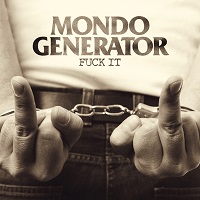 It is not unusual for bands to release two albums in quick succession. But, to do so within the space of a single week could be seen to be so. However, in the case of these two offerings from Nick Oliveri's Mondo Generator, there is perhaps a subtle difference, as one is the band's first studio album in eight years, while the other is a rediscovered gem from the archives, a set of recordings first laid down a decade ago but only now seeing the light of day.
We'll tackle the new studio album first, and both its title and its artwork basically summarize what is going on within its grooves. It's uncompromisingly Oliveri: raw, visceral, "fuck you" punk rock drawn from the well of America's old school punk and hardcore roots combined, naturally, with elements of the stoner cult that brought its progenitor to the fore. This combination is laid bare right at the beginning with 'Nowhere Man', which combines the rich bassiness of the desert sound with the frenetic energy of basement punk, the guitar crashing against the cymbals, which in turn collide headlong with the acerbic but laconic vocals.
There are also many other aspects and elements at play, from the manic thrashing of 'Up Against The Void' to the darkened humour of the ironically titled 'Kyuss Dies!', the almost 70s prog/psych touches in 'Listening To The Daze', the acid-jazz-meets-hardcore inflections of 'Silver Tequila/666 Miles Away' and even the Zeppelin-meets-Black Flag classic rock intro to 'There's Nothing Wrong'.
But, for all of its deviations, 'Fuck It' delivers what exactly it says in its title, presenting three musicians who don't give a flying one about the haters and the trolls, but continue to ply their own punk 'n' roll path in their own distinct, anarchic way, raising a middle finger (or six) to the norms of expectation and instead presenting a defiant stance which they maintain with their fist raised and their amps turned up to 11.
The end result is an album that most definitely has been worth the eight year wait.
'Fuck It' is released on 21 February. You can get your copy HERE.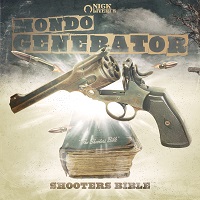 As intimated in the intro, 'Shooters Bible' is a totally different beast, but can also been perceived as an apt companion piece to 'Fuck It'. It was originally supposed to be released back in 2010, but, just like MG itself, was put on the back burner when Oliveri rejoined the re-branded Kyuss Lives! alongside John Garcia, Brant Bjork and Bruno Fevery. The recordings subsequently emerged two years later as the 'Hell Comes To Your Heart' album – and 'Shooters Bible' is basically a collection of remixes and remasters of 11 of the 12 tracks ('The Dirt Beneath' is the one track omitted), plus two similarly treated extra tracks, including a cover of Iggy Pop's 'Dog Food', complete with Dave Grohl on drums.
While I'll admit to 'Hell Comes…' having passed me by on its original release, 'Shooters Bible' is much more of a purer garage/proto-punk album, very much – perhaps ironically, given the abovementioned Iggy cover – in the mien of the Stooges and their fuzz-pop contemporaries. But, then again, there are those cheeky, almost trademark MG sideswipes and allusions, with interminglings of stoner and thrash into the overall sound.
The merits of a release such as this, especially at this moment in time, and given the fact that all of the material is already available in one shape of form, no doubt will be debated at length. Would it not have been better to concentrate on one album of long-overdue material rather than dilute the impact by so quickly following it with what is basically a re-issue? Or is it a case of trying to capitalize on the momentum built by the former to propel the latter to potentially new audiences? Whatever the rationale, the former is a defiant statement of continued intent while latter is, at worst, an interesting curio and at best a valuable addition to any fans' collection.
'Shooters Bible' is released on 28 February. You can get your copy HERE.
Mondo Generator play the Heavy Psych Sounds Fest at the Underworld, Camden, on Saturday 7 March, followed by three headline shows:
Monday 9 – Nottingham, Albert's
Tuesday 10 – Bristol, Exchange
Wednesday 11 – Manchester, Star & Garter
Tuesday 12 – Glasgow, Nice 'n' Sleazy
www.facebook.com/officialmondogenerator
All content © Über Rock. Not to be reproduced in part or in whole without the express written permission of Über Rock.