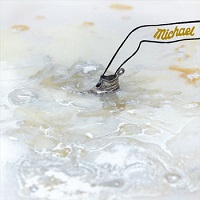 Evil Blizzard's own Cracked Ankles Records label have taken on a new act? Considering how different they are to most acts on the UK circuit, there has to be something a bit different about Michael for them to be taken on board. A bit of digging shows that they have previous in bands such as Princess Headbutt and Hag among some others and they're described as akin to the Butthole Surfers and Melvins era of US underground noise…should be right up my street then?
I wasn't ready for quite what a wall of noise it would be! They're quite similar to Geordie noise merchants PIGS PIGS PIGS PIGS PIGS PIGS PIGS in their louder approach, whilst I can certainly pick up on what's meant with the points toward the Melvins and co on tracks such as 'Sole Trader', which still has that heavily fuzzed-out approach with a bit more reservation about it at times, akin to early Nirvana or Mudhoney in their more heavily fuzzy Punk eras.
Even from the start, opening track 'Mario' is heavy on the fuzz, though this starts out closer to a Drone track in the manner of early Acid King, though this fits in well with the rest of the album, despite having the slightly slower pace not always shown throughout the album. The mashing of that almost Drone with the noise and what is an otherwise heavy Rock sound works well for them – though, given their history, it's highly unlikely that they would not be able to make this work.
In terms of negatives, they do have a fairly distinct target audience. It probably won't have much for those whose inclination is towards the more mainstream of Rock, though it may surprise a few such people, as it is definitely for a more Noise and Stoner crowd. That sits perfectly fine for me, personally, as there are levels of vocal melody in there, which sit at juxtaposition to the noise in the manner of Fugazi's 'Waiting Room' – thinking of the linked video above, 'Sole Trader' for this comparison – while there are definite Punk elements that blend in at times too. A mish-mash, for sure, but a quite effective one, in my opinion.
'Tell Your Friends' is out now. You can get your copy HERE.
www.facebook.com/MichaelWebsite
All content © Über Rock. Not to be reproduced in part or in whole without the express written permission of Über Rock.