By Jason Walker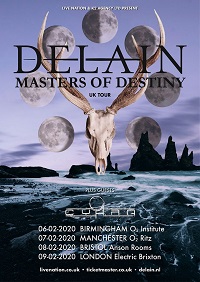 I've always had a real soft spot for symphonic metal. Nightwish, Within Temptation, Sirenia, and Delain were all very much mainstays of my playlists and tonight, I get to relive the chills I got seeing Delain at Sonisphere almost a decade ago. After an extensive EU tour at the back end of 2019, the ÜK (well, part of it – Ed) got a multi-date tour with some other European dates to finish off their 'Masters of Destiny' show. Bringing with them a band I've been keeping an eye on for a while, Cyhra, a band featuring ex-In Flames guitarist Jesper Strömblad, I'm really excited to watch these two bands blow the bloody doors off the Ritz tonight.
As there's only the two bands on tonight there's a full hour between the doors opening and Cyhra taking the stage, but as the intro music plays the audience begins whooping and clapping along to the music. There's noticeably quite a lot of people here already so the entire main area is looking pretty chock full. The first thing I'm noticing after they've started is, "Where's Jesper?" But it's still sounding pretty good though!
A bit of self-deprecating humour in the form of "We're from Sweden, so we're going for a mix of heavy metal and IKEA", they're doing a good job of engaging the audience and are acutely aware of people not quite knowing who they are despite the acts that the members were part of previously. On the whole it's very evident that the crowd doesn't really know their material, a number of bobbing heads would suggest they've probably done the trick with winning over some new fans however which is usually a good sign.
With some of the songs that they're playing tonight though, Jesper's fingerprints are absolutely all over this stuff. If you're aware of any of In Flames's back catalogue, especially their earlier stuff before Björn became a major contributor, you'll recognise his riff style standing out massively. It's one of the reasons I'm quite keen on these as I'm a huge fan of In Flames and Jesper's writing so getting to hear his identity shine through so strongly really scratches that nostalgia itch. On the whole, solid performance and I can fully expect that we'll see these back very frequently over the coming years.
Delain start with an atmospheric intro with some of the most interesting looking mic stands that I've ever seen, they're almost like light sabres! Opening with 'Burning Bridges' from their latest album 'Apocalypse & Chill', they're sounding absolutely huge here. The Ritz is a great venue for them, the venue is absolutely packed to the brim with people wearing Delain merch and they are hanging off Charlotte's every word – her outfit tonight looks bloody fantastic too.
If there's one thing Delain do in a fantastic way, it's mixing such wonderful melodies with such crushing chunky rhythmic riffs. The crowd are absolutely loving this so far and every little direction Charlotte gives is met with rapturous applause and screaming. From my brief chat with Martijn earlier, the setlist they're playing on this tour is set to be a bit more of an anthology rather than leaning directly on the new album so I'm hoping to hear a couple of numbers from my favourite album, 'April Rain'.
No sooner do I type that than they drop the title track from that album, and I am straight back at Sonisphere all those years ago! Admittedly I'm getting a little bit annoyed with the middle-aged woman next to me trying to sing along considering she's out of time and completely tone deaf but Delain are loud enough to overpower that a bit. One thing that I do find at odds with the shows I normally attend is how tame the audience is – typically metalcore and prog metal audiences are a lot younger and a lot more wild so it's a little hard to gauge the audience response to some of the new stuff but it looks to me like they're enjoying it!
Getting the audience a bit more involved they play another new one in the form of 'Lets Dance' with its catchy chorus getting the audience to shout back "DANCE!!" in response to Charlotte singing "Let's Dance" which the crowd joins in with big enthusiasm. 'One Second' gets a massive round of applause as the first track from their latest, so it seems Delain's fans have already warmed to a lot of the new album's material which is awesome to see. On the whole Delain has smashed through a lot of material in this set, it's fantastic to see them doing so well with their growing catalogue of music and devoted fanbase, they sounded great tonight and hopefully I'll see them again soon!
The tour concludes at Electric Brixton tonight (Sunday 9 February).
All content © Über Rock. Not to be reproduced in part or in whole without the express written permission of Über Rock.