Another trip down to London sees me take in the visceral delights of an industrial double header in the form of Pig and 3Teeth. They had played Manchester but a few days ago – sadly the same night as Amigo The Devil, hence the long journey for tonight's delights. Heaven was a new venue to me prior to tonight, but I have to make a point of how friendly and helpful the staff were from the very off – above and beyond the call of duty – for which they should be heartily commended. If only other venues were as accommodating, at times!
When it comes to support acts, Pig really is a statement of intent. A headline act in his own right, having done so with KMFDM on many occasions in the past, a performance like tonight would see him steal the show on most occasions. Just the right side of sleazy, with a swagger that comes from knowing quite how good he is, he oozes class throughout his set, more than ably backed by a tight, talented backing band. He clearly has his own fan club in attendance, given the reaction of some people, shouting and screaming along from the off, with tracks such as 'The Chosen Few', 'Find It Fuck It Forget It' and 'Painiac' proving especially popular, while there is even time for KMFDM fan favourite 'Juke Joint Jezebel', which goes down exceptionally well. Raymond knows just how to manipulate a crowd to doing exactly what he wants and proves it throughout this set. We all love it, myself and the good-sized crowd that have come down early, and this translates well into Pig pushing the boundaries throughout, providing an exceptional support performance.
With Pig having truly brought their A game, 3Teeth were really going to have to step up to the plate. They certainly were not helped at all by Chase having technical issues at the very start, meaning they scrap opener 'Hyperstition' halfway through to restart with the guitar finally working – in Alexis' own words "industrial without guitars, what the fuck do they call that, EBM? Fuck that shit, you're getting nu-metal'" as they get into the restart. We get mosh pits, we get shouting along, strong visuals with a light show and some heavy Industrial metal as punishment for our crome of attending the show. Ah well, what a shame!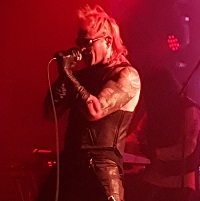 The crowd are well and truly up for it, skewed between metalheads, goths and more, all singing along and enjoying ourselves immensely, with the energy reflected right back at us by the bands, as both Alexis and Chase are the proverbial Energiser bunnies, never really stopping moving at any point during the set, without so much as a missed beat to their credit.
A 17-song setlist awaited us, with new tracks such as 'Sell Your Face 2.0' and 'Time Slave' working almost as well as some of the band's more established favourites, littered throughout the set. The inclusion of both in the first half of the set is a good one – they get the chance to warm up, spam the new ones out, if they don't go down well, before breaking back into lots more big ones to keep everyone happy, with the band happy to keep the pace almost constantly relentless. They needn't have worried, they're also loved and the crowd has a whole lot of love to give the boys on stage for their efforts. 'American Landfill', 'Degrade' and 'Pit Of Fire' all make for high points in what is a very high quality set and 3Teeth are still giving everything they've got. They take leave of the stage for a short break and to put Alexis into his mask for our only encore, 'President X' before storming back out to ensure they annihilate us one last time.
A gig that even at this early stage is shortlisted for my Gigs Of The Year list.
All content © Über Rock. Not to be reproduced in part or in whole without the express written permission of Über Rock.