By DJ Astrocreep
My final day kicks off with I Saw The World Burn, a couple of bands into the Stage Two schedule. After a quiet start, the room busies up quite nicely, with the Stoke-on-Trent thrashers doing a very good job of entertaining those giving them a chance. Capable, crushing riffs and full of energy, a great way to start my day.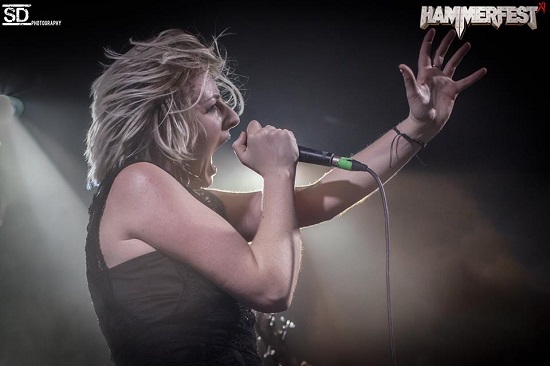 After a break for food and interviews, it's time for Pist.on on Stage One, running a bit behind but with a fairly full room to play to. There's a level of groove and something a bit different to them – not exactly Gothic metal as I've seen them described, but maybe a darker edge of traditional heavy metal. A couple of sound issues apart, they're on pretty good form, with more movement visible from the crowd as we get further into their set, showing that they do win over those who are maybe previously unaware of their back catalogue. They find time for an excerpt of Alice In Chains' 'Junkhead', which is performed decently enough, with their set, in general, being well performed.
Sworn Amongst are playing the second stage, which also has a fair few in for them, the music being a bit more on the technical side, with a healthy dose of groovy thrash. They get a generally good response from the crowd, with a good standard of musicianship on show. They come across like a mix of Lamb of God and the more melodic side of Killswitch Engage, switching well between the two and working the crowd well. Entertaining set.
Wolf are the last band I catch at Hammerfest and a very busy room shows that they're well thought of amongst the festival attendees, too. A mix between power and old school metal works very well for them, with a lot of friendly faces nodding in front of them indication that the set is going down fairly well all around. They are technically proficient, tight and everything you would expect from a band that have been around for over 20 years together. A great final band for me to take in.
PHOTO CREDIT: Photo courtesy of SD Photography/Hammerfest. Copyright held by the photographer.
All content © Über Rock. Not to be reproduced in part or in whole without the express written permission of Über Rock.