By DJ Astrocreep
Another trip across to Wales for this year's instalment of Hammerfest sees Paradise Lost, Overkill and Kamelot as our main headliners, alongside a plethora of other talented acts. A much shorter drive to Prestatyn than previous iterations of Hard Rock Hell's weekend tribute to all things metal makes for more band time and shenanigans before our first acts.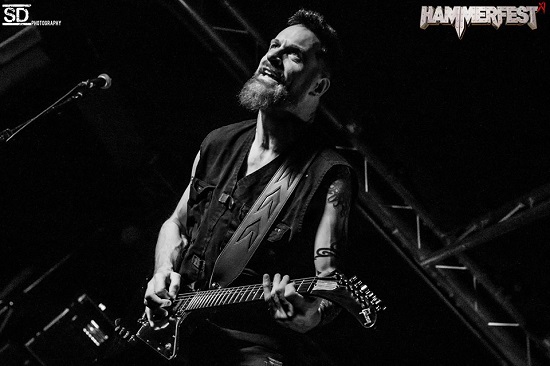 I sadly miss festival opener The Heretic Order, so it's up to Manchester's Kill II This to ease me in to things the right way. A layout change sees seemingly more room capacity than last week's AOR, with a busy room in place. Their blend of nu and heavy metal seems to go down well and the band themselves absolutely nail it, with the reaction of the crowd the best indicator for this. Their various influences and sound mesh well in the live setting, with the band clearly enjoying the performance as much as the crowd they're playing to. Enjoyable set.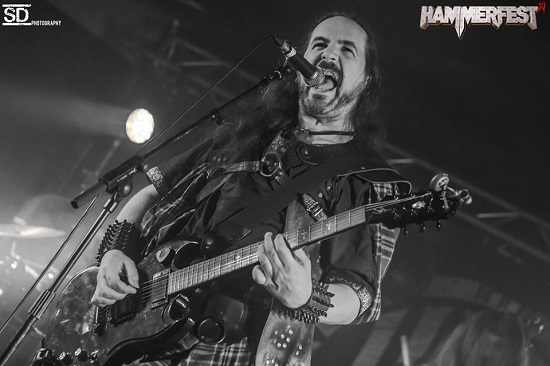 The crowd is only marginally quieter as Cruachan take to the stage, with their Celtic metal maybe not whetting quite so many appetites as the earlier acts. The band themselves are enjoyable and play to a high standard, winning over the interested crowd as the set goes on, with more jumping, shouting along and dancing around the sides showing how much people like the band, even if some initially seemed disinterested or unaware of their music. There is a cross between the Celtic side and something approaching black metal at times, which work as well as each other, demonstrating a versatility within the band and how their sound has changed through their career, indicating a good depth of ability and variation across the members.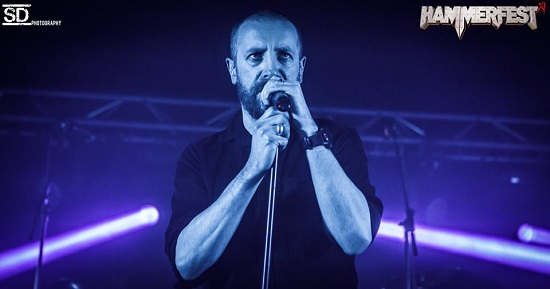 Paradise Lost headline and the room is busy. Headbanging and horns greet the songs from the start, as people are clearly right into them – some friends of mine from Liverpool coming solely for them before heading back. Even after all these years, they have a lot of pull and it's easy to see why, as they get the crowd going again and again through the set. They're in fine form, and while a few people do wander off a third into the set, the majority seem very happy with proceedings, as the sea of hands greeting the end of each song attests to. While quite different to the other bands I've seen today, their dark charm is undeniable and it's clear that most of those that were maybe not so familiar with their body of work take well to them, alongside some that are definitely among their legions of fans.
A great set from across their catalogue is a great way to end the opening day.
PHOTO CREDIT: All photos courtesy of SD Photography/Hammerfest. Copyright held by the photographer.
All content © Über Rock. Not to be reproduced in part or in whole without the express written permission of Über Rock.