By Jim Rowland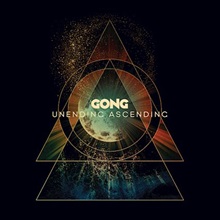 The current line-up of the legendary Gong, led by the inimitable Kavus Torabi, is now the longest running line up of the band since its original inception all the way back in 1969. 'Unending Ascending' is the third studio album to be released since the passing of founding member Daevid Allen, and promises another fascinating journey in the ongoing exploration of the planet Gong.
The planet Gong, the Pot Head Pixies and the Octave Doctors have been part of my listening life for not far short of 40 years now. I must admit that when this 'new' Gong emerged following the passing of legendry founding member Daevid Allen (with Allen, they had been the final incarnation of the band), I was sceptical to say the least – how could Gong continue under that banner without any original members?
So when I was dragged along to see them live at Tufnell Park's Dome following the release of the first post-Allen album 'Rejoice I'm Dead', I resolved to go there with a completely open mind, doing my best to cast aside those reservations. I think it took all of ten minutes to realize that my beloved Gong was in safe hands and that the spirit of the band was being taken forward with love and care.
Indeed, the two previous albums this incarnation of Gong have released, 2016's 'Rejoice I'm Dead' and 2019's 'The Universe Also Collapses' have done just that- preserved the long standing spirit of Gong whilst taking it forward musically. Both are great albums. Whereas 'The Universe Also Collapses' had more of a progressive nature to it, with one single expansive 20 minute epic taking up side one and just three tracks filling the second side, this new album casts that approach aside with an emphasis on shorter songs, and there are eight on offer here.
Opener 'Tiny Galaxies' is a slight departure from the previous albums, a short, gentle and subtle psyche-pop ditty, perhaps with a hint of Syd Barrett-era Pink Floyd to it, with 'O, Arcturus!' following similar lines. 'My Guitar is a Spaceship', 'All Clocks Reset' and the excellent 'Choose Your Goddess' are all up tempo spacey belters in more familiar Gong territory with great guitar and sax work, whilst the long, dreamy and meditative 'Ship Of Ishtar' heads in a different direction, but still is still very Gong, as is the shorter but similar vibe of 'Lunar Invocation'.
'Asleep Do We Lay' closes the album in subtle, dreamy but still very Gong fashion, and heralds the welcome return of the 'space whisper' to a Gong album.
'Unending Ascending' is another wonderful and enchanting instalment in the unending musical journey of the Gong legacy.
'Unending Ascending' is out now.
Gong tour with Ozric Tentacles later this month and into December: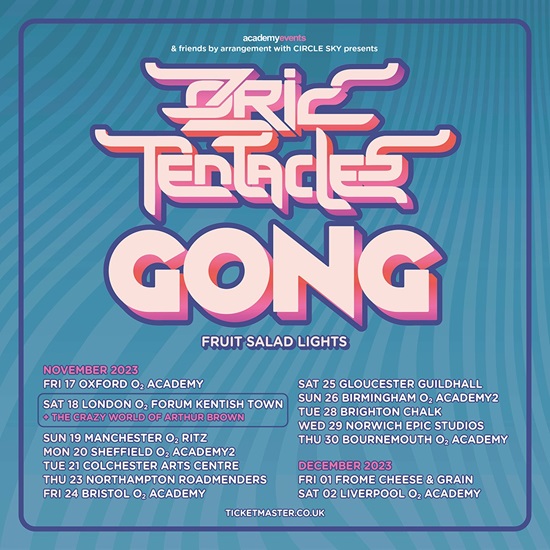 The two bands also head out together in March: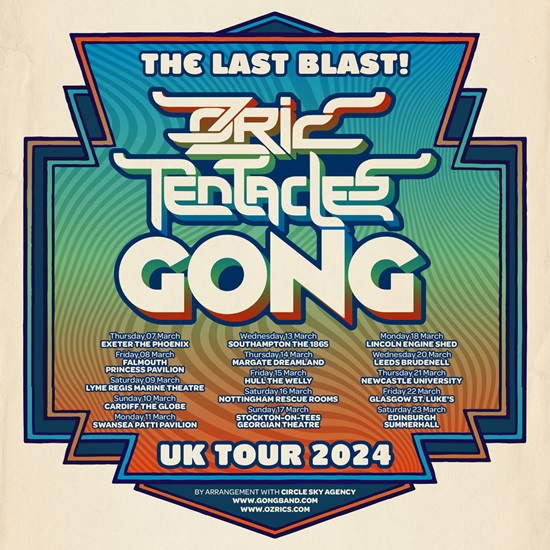 All content © Über Rock. Not to be reproduced in part or in whole without the express written permission of Über Rock.