By DJ Astrocreep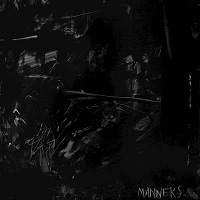 Cold-wave/noise? This Parisian trio sit as squarely within the industrial rock bracket with this release, for my ears, sounding like it would be at home somewhere between 'Lonely Boy' by The Black Keys, Nine Inch Nails' 'The Hand That Feeds' and a number of Big Black tracks. There are a few different sounds that go alongside each other within the album, too, with it not feeling like a tale being told, rather something focusing more on the music itself as individual tracks.
As industrial/noise releases go, this is a pretty good release. There are a fair few instant impact songs on it, with the slow-burning tracks not taking a silly amount of plays themselves. Album opener 'Collision' is a great place to start, luckily, with it being a single. It's among the fuller, less minimalistic tracks on this album, making for a good introduction to anyone finding the band for the first time, in turn showing thought of order to ease people in towards what at times comes across more as almost dance or trance in its minimalistic cold-wave bits.
It does feel like a journey into a crossover between the Industrial and cold-wave natures of FTR, with the songs getting further into such fields as we get into it. 'Chances' feels more like Fields of the Nephilim heading into an Industrial phase, while other tracks such as '10327'and 'Never' are rather more fully into the aforementioned hybrid sound. Add penultimate and closing tracks 'One' and 'Breathe' and we have a full step into the cold-wave/early EBM side of things, which they suit as much as the more up-tempo parts of this release.
There are no real criticisms I can find of the album. While a couple of ideas are tweaked for a couple of songs, there are enough differences for them to not sound too alike. The band have a width of soundscape that defines their music without it being a specific idea, leaving them plenty of room for mixing things up with their different moods and ideas. I'd recommend it for anyone into their post-punk, industrial, cold-wave or early EBM, maybe even things such as the burgeoning Synth-Wave movement at the moment. A strong release.
'Manners' is out now. You can get your copy HERE.
www.facebook.com/Futurebandclub/
All content © Über Rock. Not to be reproduced in part or in whole without the express written permission of Über Rock.