By DJ Astrocreep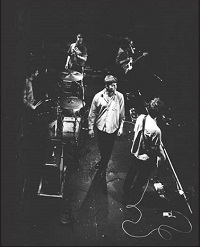 A short hop across to Manchester is on the cards once more to catch the sold out Fontaines D.C. gig, with the Irish post-punk rock heroes usually on fine form live. The venue is usually sweltering for a sell-out show, which is a good respite from the very cold air outside as I make the short trip across and into the venue.
A single support act is here to warm us up in the shape of Warm Drag, an LA-based duo with Vashti on vocals and Paul on sampler and Roland. It's an awkward thing, in honesty, as I should like a lot of it, given the sound seems driven towards the Batcave kind of scene that I still am involved in myself to this day. It just doesn't work for me, though and the polite lukewarm applaise that they get early on in their set disappears in the main by the end of it. Vashti's vocals are fine in themselves, obviously styled as a mix between Siouxsie Sioux and Goldfrapp, when they can be understood, but they keep gettinf lost in the mix. Paul's samples and other work do take timing and a level of talent too, but whereas they were tight together, this did not transfer across in the same manner.
The crowd grow significantly through their set and while people can be seen moving to the music the murmurs from plenty more get louder and louder to be quite audible towards the end of the set. I end up quite bored, despite wanting to like them, which is a pity as the audience are definitely not warmed up.
There's a very marked difference as Fontaines D.C. take to the stage though, as the atmosphere is electric pretty much from the word go. Grian Chatten is like a man possessed from the get go. Not so much an energiser bunny as an agitator, a disruptor, whipping us all up into a frenzy during the intro to the first song. The mosh pit quickly opens up, in very good spirits, something that reverberates around the room and I'm struck at just how happy and smiley people are to what is quite melancholic, albeit uptempo music. We get a guitarist sliding what looks like a bottle across his guitar at a couple of points, which is one way to combine 2 good passtimes,  while the frenetic playing and the loud/soft sonic landscape works extremely well with the crowd, giving those in the pit the time to take a breather before coming back renewed.
It seems somewhat incredible that they are such a recent band, releasing their debut album in April this year,  when you look at the fact they have sold out dates at this 1500 capacity venue, amongst others, while seeing the crowd go quite as mental as they do to the likes of 'Televised Mind', 'TV Screens' and 'Liberty Bell' is almost surreal given the subject material and musical style. The band themselves are very tight, the pounding drums at an almost head smashing level to their heavy post-Punk action. The melodies are still strong, shown best in 'Dublin City Sky', our penultimate track of the night, before getting back on to the harder stuff with set closer 'Big'. We might have gotten an hour set, but I could swear it was over in about 10 minutes. Luckily, they're more than capable of getting us all going with such a great, passionate set after the rather disappointing opener. A headline set from a band that deserves to be going places.
The sold-out tour continues: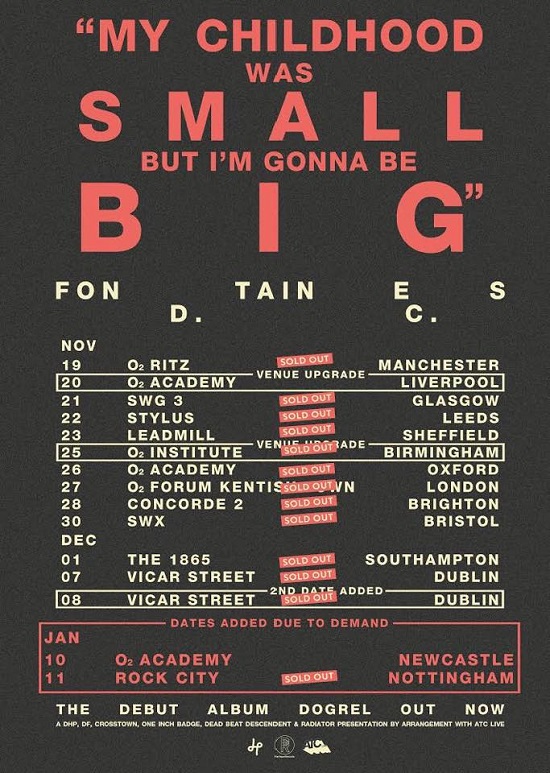 In addition to the dates above, Fontaines D.C. play the Ulster Hall on Thursday 12 December.
All content © Über Rock. Not to be reproduced in part or in whole without the express written permission of Über Rock