By Jonny Bakes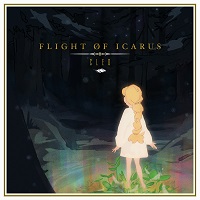 You know how sometimes there's a time and a place for an album? I think this alum is definitely something that fell into that category for me until I found the right time and place for it. It wasn't until I listened to this late in the evening while on the old wind down for the day that it finally sunk in and I realized that this is almost like a bedtime story of an album! So, for a change, let's unwind and lie back to take in the story of 'Cleo' from Swedish duo Flight of Icarus.
'Cleo' is the debut full length album that follows up the 2018 self-titled EP that introduced the world to the melodic pop-metal sensibilities of Flight of Icarus. It follows the story of the lead character, Cleo, from her birth and through her journey bringing light and colour to the people of the world before experiencing some personal loss and being reminded that life is a gift that lasts a finite amount of time. Once you've listened to each track on the album, the story is then summarized through a short reading at the end of the album to reinforce the story that you just experienced (whether you realized it or not!)
Musically, 'Cleo' is quite an interesting experience in that it can quite simply be summarized by imagining what you would get if you combined the general feeling of Disney songs with a small helping of symphonic metal. The result is something that is quite gentle and very melodic but, most importantly, is seriously uplifting! This allows it to deliver the harsh truth of the finite nature of life in a way that applies the positive spin that you should make the most of life (instead of adopting the "we all die anyway, what's the point" stance that some of our other sub-genres would take). Elisabeth's vocals could quite easily earn her the title of metal Disney princess and they are complimented by the melodic and, at times, symphonic nature of the music but there's also some distinctly pop elements in there as well; to the point where I was getting some serious Journey vibes!
'Departure' is a song that caught me off guard a little bit. In this track, our Cleo is travelling home when a voice from the sky reminds her that all emotions are good, whether they be happy or sad. It's something that really builds up from something gentle and melancholic in a way that gradually layers the instruments until you find yourself met with something that is really uplifting and passionate. This then flows into an orchestral interlude that is very reminiscent of the Jurassic Park theme tune and I think it was this that really made 'Departure' stick in my mind!
Overall, this reminded me of the concept album on Scrooge McDuck from Nightwish's Tuomas Holopainen, although in this case the source material is entirely original. Whether intentional or not, you can definitely draw some parallels between the story of Cleo and biblical themes. It'll quite possibly appeal to fans of Within Temptation and Nightwish but also acts like Heart and Journey too. For others, this could be something that you listen to on a regular basis, but for me this is definitely something I would only really find myself listening to in bed when I'm struggling to get to sleep not because it's dull, but because it has just the right level of relaxation.
www.facebook.com/flightoficarusband
All content © Über Rock. Not to be reproduced in part or in whole without the express written permission of Über Rock.