By Rich Hobson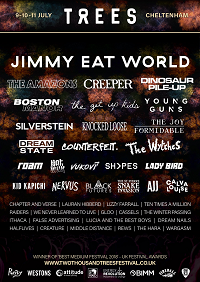 Following on from the pre-Christmas announcement that Jimmy Eat World will be headlining 2000 Trees this summer, today the festival has released its first major wave of acts to appear at the 2020 iteration of the festival.
Goth-tinged punks Creeper head up the latest announcement, marking their first festival appearances since the band 'retired' at the end of the 'Eternity, In Your Arms' album cycle. Showcasing the festival's commitment to championing up and coming talent, this first announcement represents a wide cross-section of subgenres and styles within the rock, punk and alternative communities with The Amazons, Dinosaur Pile-Up, Hot Milk, Vukovi (who release their ÜR-approved new album, 'Fall Better', this coming Friday), Boston Manor, Counterfeit, SHVPES, Lady Bird, Kid Kapichi, The Get Up Kids, Roam, Young Guns and Dream State also taking up prominent positions.
While by no means heritage acts, the festival also has established talent flexing their prowess in the likes of Knocked Loose, Silverstein, The Joy Formidable, AJJ and The Wytches. There's also a helpful smattering of Trees' favourites, with Nervus returning following a stage-storming set last year and St Pierre Snake Invasion also once again bringing their inimitable punk racket to the table.
These are just a small selection of acts confirmed for the 2020 edition of the festival (which also includes Calva Louise, Chapter and Verse, Lauren Hibberd, Lizzy Farrall, Ten Times A Million, Raiders, We Never Learned To Live, Gloo, Cassels, The Winter Passing, False Advertising, Lucia and The Best Boys, Dream Nails, Halflives, Creature, Middle Distance, Rews, The Hara and Wargasm), but already 2000 Trees is looking to retain its place as one of the UK music communities most beloved independent festivals, championing new talent whilst bringing some of the hottest acts around together for a massive party.
While decidedly lighter on heavier acts for the moment, it goes without saying that we expect Trees to continue taking shape over the coming months and more acts pop up to represent the vast diversity of the modern rock, punk and metal scenes.
2000 Trees takes place 9-11 July and is held at Upcote Farm near Cheltenham. Tickets go on sale at 9am on Friday (24 January) and come with a variety of options including day tickets, weekend, VIP and even evening-only entry for each day.