By Jase Walker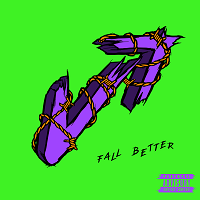 Vukovi are a band that's been on the fringes of my music radar for a couple of years or so now, friends of mine have rated them quite highly but I'd never actually got around to properly listen to their stuff until very recently. Prior to the forthcoming 'Fall Better', they'd released a self-titled debut album back in 2017 which admittedly I'm kicking myself for not checking it out sooner – it's a smashing album.
Once I saw the offer to review their latest offering, I absolutely jumped at the chance to get an early listen to it! There's something about the very unique fusion of styles they use, there's influences from pop, to punk, to indie, and all the way to good old-fashioned rock. With Janine Shilstone's tender vocals carried by Hamish Reilly's infectious hooks, there's definitely a sound that could easily fit into an incredible amount of gig and festival line-ups and 'Fall Better' is no different.
As 'Fall Better' starts with it's intro track, '17359', there's a warning for some dirty fucking riffs then kicks off straight into 'Violent Minds' which sets the tone with pounding drums accented by a hard downpicked riff, a fantastic opener for the album and hopefully a live set opener too!
'Aura' carries on the fuzzy poppy energy with a wonderful synth hook playing out across the top of the bouncy drums, definitely a stand-out favourite for me. 'C.L.A.U.D.I.A' comes across more aggressive and melancholy in comparison, can see this one provoking moshpits when they play it live.
Coming back to more bouncy drums and catchy synths, 'Behave' is an absolute headbang anthem, it's three minutes of almost non-stop infectious groovyness. The first half of the album finishes with 'Play With Me 'Cos I Can Take It' which drops back into Vukovi's more aggressive sound and the chorus is absolutely MASSIVE. I'm blown away by how Vukovi can fit so many dynamics into such short songs, but they do it with finesse.
'Verify Your Worth' signals the start of the second half of the album as a short interval and referencing the album's intro track, it'd seem this would indicate the albums intention to work as a vinyl release which seems to be a bit of a trend at the moment. 'All That Candy' shows a bit more of a heavier side of Vukovi with a bit more focus on rhythm but of course, still ticking all the pop style boxes and guitar fuzz of their hallmark sound. 'I'm Sorry' follows on the trend of being a bit more on the heavier side but mixing in verses that seem oddly reminiscent of some earlier nu-metal bands like P.O.D and Spineshank.
The first thing that strikes me about 'Where Are You' is that guitar sound is BRIGHT. Coming off as a bit more of an anthemic ballad, this one is definitely more along the "lighters in the dark" live set finisher. 'White Lies' comes off as a bit more towards modern RnB/Trap music which sets it apart from everything else on the album, it's a bit of an odd one out but shows that Vukovi aren't afraid of experimenting with their sound, which is always a good sign. Finally the album wraps up with 'Run/Hide' which goes in hard with an aggressive fuzzy guitar riff which oddly sounds a bit like some of Arctic Monkeys' earlier work, the track serves well to wrap the album up in style and I can see this being an encore favourite in their live sets.
'Fall Better', start to finish, delivers some really honest pop tinged rock, it's cohesive and extremely well put together with each song standing out on it's own merits and not outstaying it's welcome. Vukovi have put together an album that's extremely accessible and radio friendly but without being boring, songs that are easy to sing along to as well as memorable riffs and melodies that would easily suit any size show. In many ways their style reminds me a lot of Biffy Clyro, in the way that the music is energetic, not overly complex, and it's easy to jump in, find your favourite songs and be that person that's passionately singing along in your car with it blasting at full volume.
For Fans Of Biffy Clyro, Lower Than Atlantis, Don Broco.
'Fall Better' is released on Friday 24 January. You can get your copy HERE.
Vukovi tour later this month, with a combination of headline shows and instore appearances: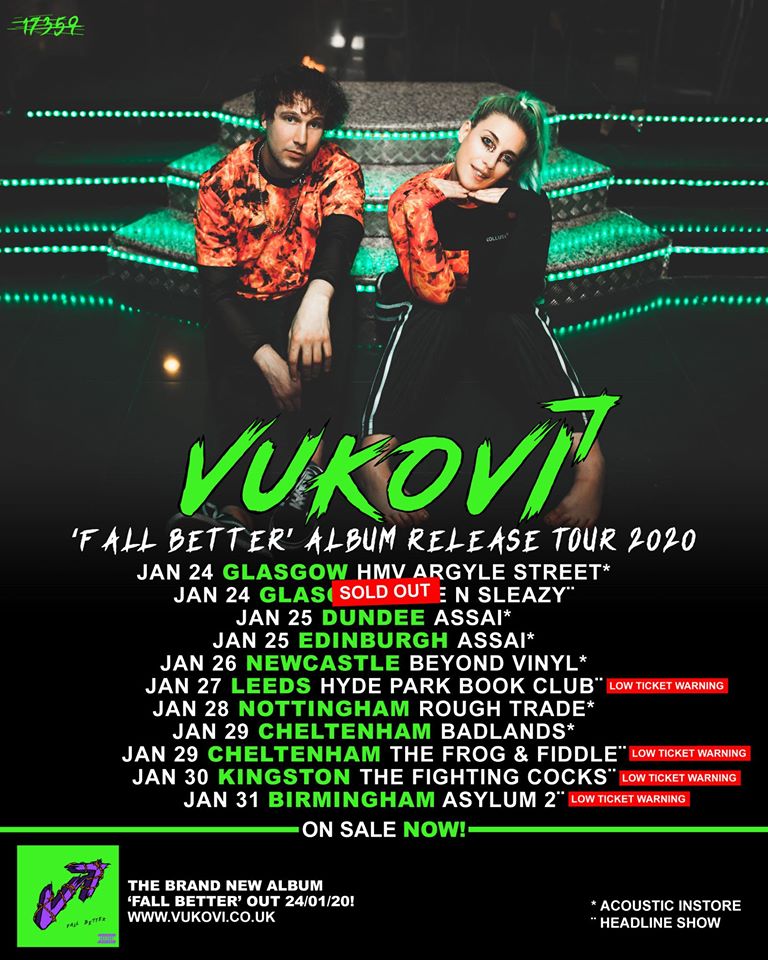 They also play the Sunstroke Festival in Dublin on Saturday 13 June.
All content © Über Rock. Not to be reproduced in part or in whole without the express written permission of Über Rocck.