By DJ Monk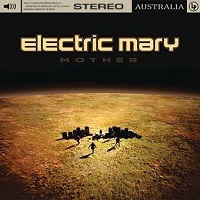 I don't know what they're putting in the beer in Australia, but it certainly seems to have got the creative juices flowing in the land down under, as a plethora of hot, talented new rock 'n' roll bands have been emerging on a virtually weekly basis over the past year or so. Now, you can add the name of Electric Mary to that ever-growing list, as they seek to develop their equally expanding reputation with this, their fourth studio album in their ten years.
Taking both their inspiration and name from the legendary curator of the equally legendary Electric Ladyland studios, Electric Mary present us with nothing new in the wider scheme of things. After all, they plough the same retro-blues-rock furrow that has polluted the classic rock internet radio playlists for nigh on the past half-decade or more now, drawing as they do from the wells of the Black Crowes and The Answer as much as those of The Faces and, almost inevitably, AC/DC. But, Electric Mary do manage to offer a little more panache, and a lot of qualities that not only keep the listener's attention but keeps you coming back to give this release a much closer examination, especially as there are elements of psychedelia and even a generous helping of classic '60s r'n'b (a la Stones, natch) thrown into the headily intoxicating recipe.
'Gimme Love' kicks in with frontman Rusty Brown appealing for just that, his rich, gravelly vocal matched by the thick twin guitar riff created by the duo of Pete Robinson and Brett Wood, while bassist Alex Raunjak seems to be one of those players who uses his instrument as more of a rhythm guitar than merely an appendage to the bottom end of the sound. Underpinning all of this muscle is the precise, taut percussion of Spyder, which drives the songs forward with the well-greased ease of a Ferrari being put through its paces at Imola.
'Hold On To What You Got' is a bubbling broiler which undoubtedly will sound great in the live environment, its thick crunch bombastic without being boastful – not that the latter would be a bad quality, given that of the eight tracks on this impressive opus, each and every one speaks, very loudly, for both itself and the band. 'How Do You Do It' sees them ease back for the first time, its initially winding, almost psychedelic opening riff shifting down the gears to a mournful vocal from Brown before the twin guitars then open up their throttles and spin the cogs to 11 with a neat trade-off solo section.
At two seconds shy of six-and-a-half minutes, 'Sorry Baby' sees the Marys moving into positively epic territory (and not for the last time): appropriately, it's another broiling tune, reminding me, in its feel, of my own countrymen Blackwater Conspiracy and Screaming Eagles in its texture and tone, the latter of which also evokes the likes of Thunder, especially in the guitar department.
Flipping over to side two, at least metaphorically, 'The Way You Make Me Feel' bumps and thumps like a toddler on the dodgems, banging and rattling while generating another earworm of a melody, once again topped off with an infectious chorus. 'It's Alright' is a lowdown and dirty Delta-style blooze groover, built on a duopoly of a laconic main riff and a vocal delivery so laidback it's virtually horizontal, while at the same possessing enough power to light up the Melbourne skyline for at least a full weekend of rock 'n' roll partying. Heading into the final quarter of the album, 'Long Long Day' (the second of the six-minute-plus tracks) is a suitably morose lament which evokes the sort of blue-collar vibe in which the like of Black Stone Cherry specialize, although there is much more of a world-weary feel to it, before lead single 'Woman' rounds off proceedings with another kick-in-the-arse riff and an enervating performance which brings the album to a neat conclusion by closing its circle with neat aplomb.
'Mother' is a real grower of an album. Although I did enjoy it on its first listen, I found it more and more rewarding the more I delved into its grooves. It's also the sort of album that contains many moments of what can probably best be described as "mood music", as each track can be individually picked out and used to match your feelings at the time. Having said that, it also has a completeness and a flow that eases the listener in and out of the gears and generates that all-important sense of fulfilment that all good albums should produce.
'Mother' is released today (Friday 15 February). You can get your copy HERE.
www.facebook.com/electricmary/
All content © Über Rock. Not to be reproduced in part or in whole without the express written permission of Über Rock.