By DJ Monk and The Dark Queen
Stone Broken are, without a doubt, one of the hardest working bands in the Über Rockin' firmament. They seem to be constantly on the road, and it is a wonder how, given the volume of gigs they perform in any given year, they find time to write and record new material, never mind pause for a valuable sip of Vimto (a reference which will become clear during the interview at the end of this piece).  It is this hard-working ethos which seems them currently ploughing the highways and by-ways of the Über Kingdom on yet another headline tour spanning 16 dates, including some out of the way places which many other bands would never even consider visiting.  And it was this work ethic, and trek, which saw them return to ÜR's home city of Belfast to build on the success of their first appearance here, a little less than a year ago, when they blew Buckcherry off the stage (but, then, that's not hard to do!).  But we'll come back to SB in a moment or three…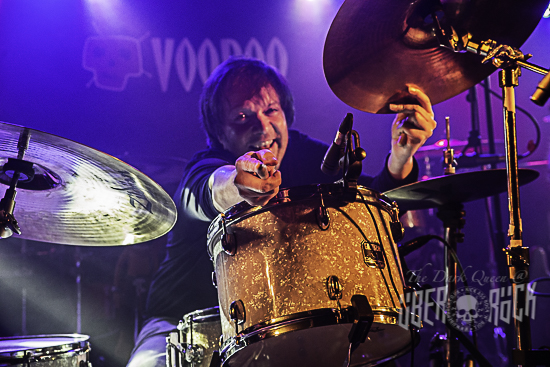 One of the most reliable bands on the Belfast scene are Baleful Creed. I use that term in relation to the fact that you can always rely on them to put on a good solid show, no matter the circumstances or where they find themselves on the bill. And tonight is a case in point as they are crammed into the tiniest corners of the already bijou stage, which is dominated by two separate sets of backlines and drum kits… But, that doesn't dampen their enthusiasm, or that of the large volume of loyal supporters who have turned out early, given the sheer number of Creed T-shirts, beanies and hoodies on show (I know many bigger bands who would give their hind teeth to have such a display of devotion). Their thick, crunching doom groove is possibly a bit heavy for this bill, but as intimated it attracts an extremely appreciative early crowd, who lap up every second of a performance as taut as Dave's snare wires and benefits from a great sound mix… pity about the shit lighting, though!
Baleful Creed support The Pat McManus Band at Touchline Rugby Club in Holywood next Saturday (23 February) and then play The Pavilion in Belfast (with Rosco's Riot, Dead Addiction and St Hellfire) on Friday 1 March).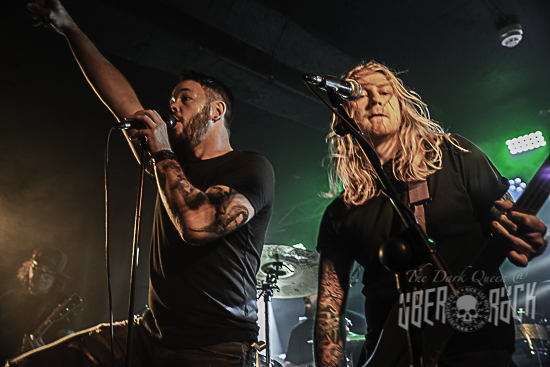 Kicking off their first ever appearance on this side of the Irish Sea with the declaration that 'I Don't Care', Welsh wunderkinds Those Damn Crows immediately deliver high energy, raucous rock 'n'f'n' roll with the dirt of the valleys firmly engrained in its grooves. Big riffs are mixed with evn bigger melodies, with loads of earworm-inducing charisma. While Lloyd Wood writhes and shimmies like a snake emerging from a swami's basket, frontman Shane Greenhall really knows how to work the crowd, with plenty of well-humoured interaction: "can you understand what I'm saying?" he asks at one stage, a reference to his thick accent, before self-responding with "that's cos we're all fucking Celts!"
They conclude their set with strident declaration that 'Rock 'n' Roll Ain't Dead'… and certainly, even if it was an endangered species of pangolin proportions, these crows certainly won't be picking over its decaying corpse anytime soon.  Their tight, pacy sets earns the Bridgend quintet a suitably rousing reception and I reckon it won't be too long before they are following in the ferry trail of the headliners and returning to this corner of the Überverse.
Following the conclusion of the 'Home' tour, Those Damn Crows play the Muni Arts Centre in Pontypridd (with Departed, Wager and Digital Criminals) on Saturday 27 April. Tickets are available HERE.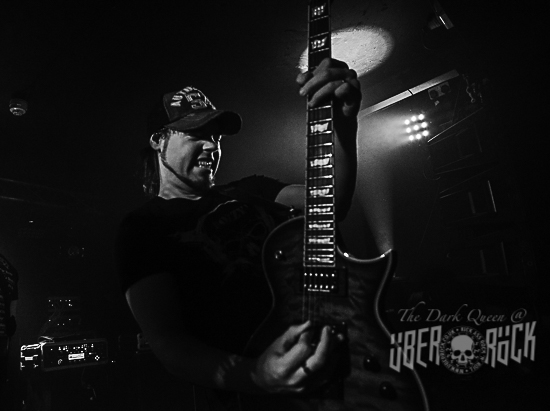 Even before they strum a note, Stone Broken earn an ecstatic response as they fight their way through the nearly sold-out crowd to the stage, showing that their relatively early return to these shores was well-deserved as well as anticipated.
Their arena-sized sound is much warmer in a more intimate setting such as this, one of the smaller venues on their current jaunt, but the result is just as big, with the crowd singing along to virtually every word.  Feet are tapping and hands are clapping all over the room – and that's what it all about after all… as is the fact that merch is flying off the table so fast that the tour manager can hardly keep tally! Nobody seems to be worrying about having to get up for work in the morning, as the tunes cascade from the speakers at a non-stop pace and, apart from the obligatory calls to "make some noise Belfast", Rich Moss eschews niceties such as needless chit-chat, allowing the band to do what they came here to do – and that is put on a quality rock 'n' roll show.
The only disappointment is that the set is seven minutes short of its advertised running time (surely, they could have squeezed another couple of songs in?), but otherwise it is yet another taut, precise and impressive performance from a band who are very much on the up. If they keep up the work ethic talked about at the beginning of this review, then next time we see them they should be playing to packed-out 1K-plus auditoria rather than 200-cap clubs. But, sure, that's the joys of rock 'n'f'n' roll – being able to get up close and sweaty!  Job done.
Check out our interview with Rich and Robyn, in which we chat about their work ethic, what the remainder of 2019 holds for them – and their rather un-rock 'n' roll backstage rider:
The 'Home' tour continues at The Mill in Digbeth tomorrow (Friday 15 February) and then as follows:
Saturday 16 – Norwich, The Waterfront
Sunday 17 – Leeds, Brudenell Social Club
Tuesday 19 – Hull, The Welly
Wednesday 20 – Liverpool, Arts Club
Friday 22 – London, Islington, O2 Academy
Saturday 23 – Oxford, O2 Academy
Sunday 24 – Cardiff, The Globe
Tuesday 26 – Exeter, Phoenix
Wednesday 27 – Southampton, 1865
PHOTO CREDIT: All photos © The Dark Queen/Über Rock. You can view our full gallery of photographs HERE.
All content © Über Rock. Not to be reproduced in part or in whole without the express written permission of Über Rock.