By Mistress Of The Moonlight
So, the first festival of the year is finally upon us, in the shape of the HRH Metal shebang in the home of the genre, Birmingham. In the weeks leading up to this moohassive weekender, we have been chatting to some of the lower order acts to get their take on the event and find out what they are up to currently and in the near future… In our latest chinwag, we dialled up the hotline from ÜRHQ to the Midlands to catch up with a band seeking to follow in the footsteps of their fellow Stourbridge natives Diamond Head, in the shape of Left For Red.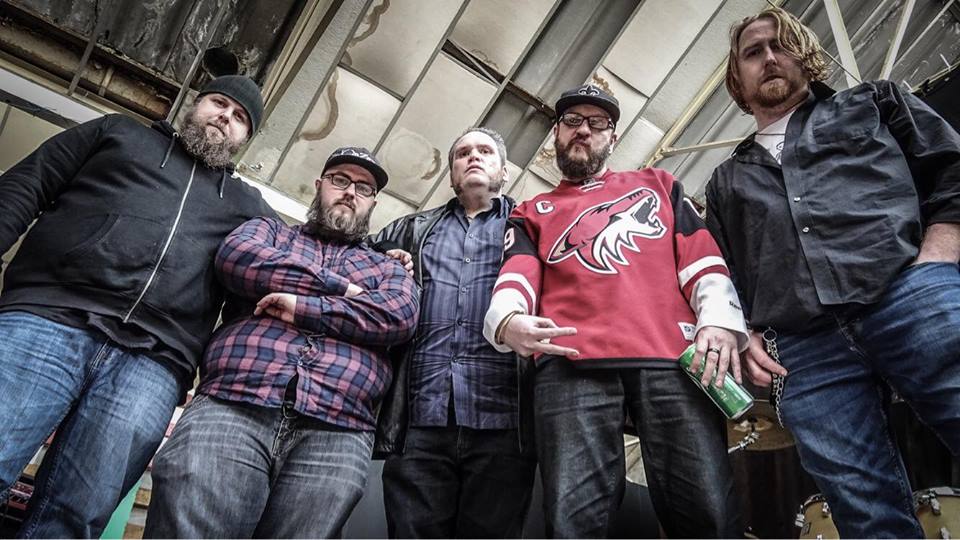 I started by asking them what they've been up to in the week leading up to this key date on the local metal calendar…
Standard rock 'n' roll stuff working, paying the bills and complying to what "the man" wants lol! Aside from this we had our final practice before HRH Metal.
I think the last time I caught up with you guys was at Hammerfest 2017, so a catch up is well and truly due!
Hell Yeah! We'll get the beers in.
I will hold you to that guys! So, 2019's calendar is filling up nicely for you guys with a lot of great events in which you will be taking part. At what point do you guys start assembling your calendar? Do you start the end of the previous year or the start of the new year?
Depends really. Most of the time we are a year in advance for some shows like HRH Metal but others it can be last minute. For the new album we had to make sure our gigging calendar was good and we are getting out to some old favourites and pastures new.
Are you excited about this weekend's HRH Metal? When it's finally festival day will the nerves kick in or will you just head out on to stage to have fun? Will you be sticking around to check any other bands out while your there, or do you have to head off after your set?
A couple of us are there all weekend, we have lots of friends playing across the weekend on all stages so will be great to see so many familiar faces (too many to name). As for nerves, I'm not sure, we have had a break from gigging whilst we finished recording but we love playing the O2 and especially HRH events as we always have a great time playing to a great crowd. We will go out ready to have some fun!
Can we expect to get a taster of the new album at HRH Metal?
Yes, we have four new songs within the set list. One is brand new and never been played live before… in fact we have only played it in the studio a handful of times so it will be interesting for us as well HAHA!
How are you expecting the audience to react to your new material?
We are hoping those who are already fans of Left For Red will enjoy the new songs, they include all the characteristics of LFR that people like with some surprises here and there. For the new audience we try to make our music accepting to people of all musical preferences with catchy hooks, beefy riffs and big metal smiles haha!
When at important events such as festivals, how important is it for the band to have someone there from management/PR to help represent the band? What kind of support do they give to the band?
Well speaking as somebody who co-runs a management and PR label (FATangel management/bookings/PR – shameless plug) I think it is very important! At events artists need to concentrate on being rockstars and enjoying themselves on the run up to performing so having somebody take care of the finer details just means that it's one less thing for them to think about. For an album, what's the point in spending all that money on your music for nobody to hear it.
Speaking of the new album, how did the production go for this? Did you go into the studio to record it or did you do it yourselves? Tell us about the new album!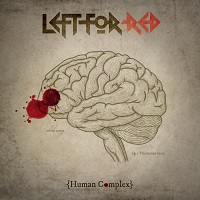 It seems to have been a very long process, we started writing the album about three years ago and have recorded it over a couple of years to make sure we are happy with it. We recorded with Tom Gittins at Monochrome Productions as he worked with us on our 'Mercy Flight' EP and first album 'All Things Known And Buried'. Our new album is called 'Human Complex'. It is a play on words with god complex, the concept that the band had was to explore the human psyche, especially as to why people can be so cocky and very careless about the effects it has on themselves or others. Each song concentrates on an emotion, decision or belief such as love, hate, jealousy, regret and so on. It also highlights the effects that mental health can have on the human brain's ability to make an informed decision.
The album launch is almost here too – 6 April. I bet you guys can't wait to get this album out there to your fans!
You bet! We have an amazing venue lined up, we are playing at the Institute 2, which is a huge venue and massive stage. We also have some of our friends joining us on the bill which is cool. Resin, Eyes Of The Raven, Skull Fox and Scattering Ashes….can't wait
After this you have Heaven & Hell Fest in May in Sheffield, playing alongside some great bands like Bad Earth and Chasing Dragons! Who are you looking forward to seeing while your there?
Hell yeah! We also have a wicked gig at the Dolls House in Wales with our friends in Witch Tripper plus White Raven Down, Black Tree Vultures and more raising money for Mencap. But 100% Heaven & Hell Fest is a fantastic event with a good mix of rock and metal bands, most of which we haven't shared the stage with. I have heard good things of Bad Earth and Chasing Dragons though so will look forward to checking them out. Our friends in The Loved & Lost and Secrets Of Mariana are there the day after… it is going to be a great weekend.
For big events such as festivals do you mix your set with old and new songs? Do you all get input into what you play? Describe how you go about selecting your songs…
Yeah, we generally discuss/argue about what songs we want to play and where they should be in the set. We try to play songs that are fan favourites mainly this year we will be including new songs.
Can we expect a video anytime soon?
This year is our tenth anniversary so we are working on something currently but too early to tell what it will look like. We have a couple of ideas for our next single but are still yet to storyboard it.
I want the scoop when you're ready to drop the details lol. What are the bands plans for the rest of the year?
We will be releasing the album on 6 April and we plan to get out on the road. We have some shows announced but there are others that we can't wait to announce, including more festival slots. Watch this space!
Lost For Red play Stage 2 at HRH Metal at 5pm tomorrow (Sunday 17 February).
www.facebook.com/leftforreduk/
All content © Über Rock. Not to be reproduced in part or in whole without the express written permission of Über Rock.