By Mistress Of The Moonlight
So, the first festival of the year is finally upon us, in the shape of the HRH Metal shebang in the home of the genre, Birmingham. In the weeks leading up to this moohassive weekender, we have been chatting to some of the lower order acts to get their take on the event and find out what they are up to currently and in the near future… In our latest chinwag, we invited Preston-based metallians Ward XVI take time out of their day to day lives to grab a coffee and have a chat with us at ÜRHQ. They tell us all about the band's plans, festivals and give us an update on their next album.
First of all, we were keen to find out if there was any juicy gossip from last year's jaunt around the Uber Kingdom of Rock 'n' Roll with former Misfits frontman Doyle…
Psychoberrie: I think it was definitely more mentally exhausting playing a different city every single night whilst doing all the driving, unloading and setting up ourselves than I'd envisaged. Once we got into the swing of things it was great, I never wanted it to end. We quite often had to set off driving to the next location straight after the Doyle show; however, in Sheffield we stayed for the club night afterwards. Wolfy was new to the band, we actually used the tour to audition him. He was obviously still out to impress us and decided to show off his martial arts skills. He asked me if he could do a move on me but wouldn't tell me what the move was and me being me, I agreed. So next thing he grabbed me and flipped me over, a full 360 and I landed on my feet, only in mid-air I'd hit the back of my heel really hard. I hid behind Wolfy and said "Shit I've just kicked someone in the head" and so I peered over his shoulder only to see Dr Von Stottenstein looking a little dazed with what has to be the biggest lump I've ever seen on anyone's head seen.
Dr Von Stottenstein: Yeah, it was crazy. We had recently had a European tour cancelled (due to our image rather than music) after I'd sold all my gear and got loans out to fund, we were pretty low and our bass player and drummer quit, but we were offered this opportunity so we jumped at it, recruited Wolfy at short notice and our guitarist Lex saved us from catastrophe and played drums (he's really damn good) and all travelled the UK in a Kia hatchback (gear, gnome and all). We were lucky everyone had quit otherwise the travel would have been an issue. Fourteen straight days cramped in a car from city to city was an experience… that whole cliché about not seeing anything but motorway-venue- hotel thing is totally true, though we did do a little sightseeing.
Hmm stories?? Nothing to see here… move along… (I lost all long-term memory via a boot to the face).
I do remember gigging straight after the venue had been hosting a funeral and having to somehow drive the car up what seemed like a mountain in a snow storm. That was quite scary at times.
Wolfy: Well the Doyle tour was actually my first time playing with the band. I had been a huge fan of Ward for a fair few years and saw them in Manchester where they said the bassist was leaving… Then I was asked if I would like to audition, naturally I jumped at the opportunity and began practicing with them then they asked me if I would be able to play the tour with them. I made sure I was and so began my admission into the ward!
This year sees you guys hitting a lot of festivals across the UK, starting with HRH Metal this weekend. Are you guys ready for this one?
Von Stottenstein: Yeah, we've not gigged in three months so it's good to start with a small one ha ha ha. We'll have to get all the props together and grease the chainsaw
Do you find your first show of the year nerve wracking, or are you guys just happy to get back out on stage and do what you do?
Psychoberrie: For years we've barely had a break between gigs, it's just been full steam ahead. This is the first time we've had a couple of months off before a gig so I think for the most part we're just eager to get back out there, because it's been what feels like a long time it'll be a great release and should make for a great show.
Von Stottenstein: Not nerve wracking, but there's a certain mindset you have to return to and become regimental again about the music/ merch/ stage production etc… as we do it all ourselves (obv)
Wolfy: Personally, it is strange especially having a few months off but if there is one thing that makes me excited and happy is playing live with the inmates and having a good time! Playing something as big as HRH just adds to the… adrenalin, I guess. 
Leading up to an event, how do you go about getting yourself focused before stepping out on stage?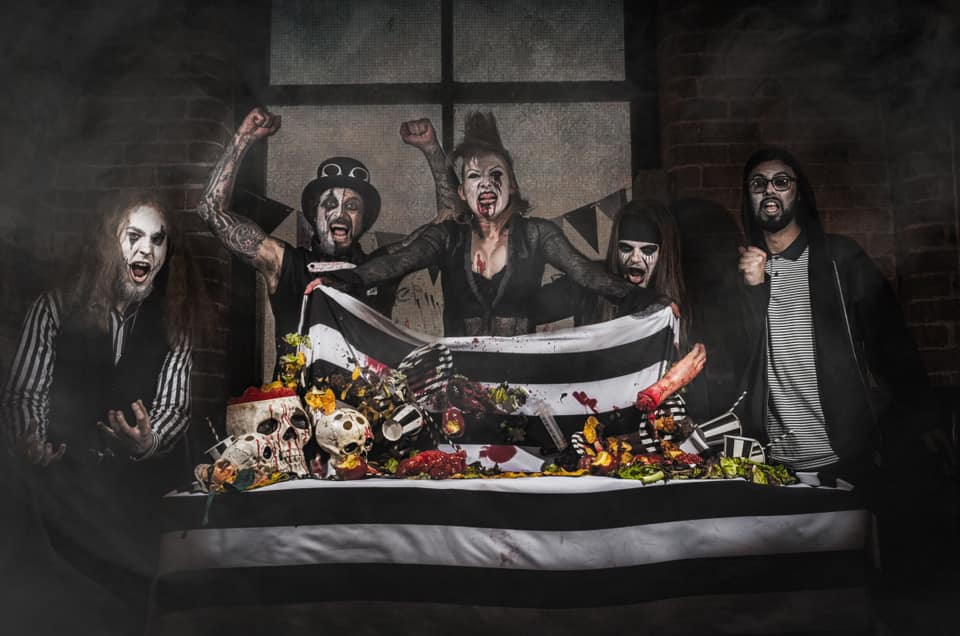 Psychoberrie: Putting on my makeup is part where I get into character and get focused. I used to think the whole having to do makeup before every gig was becoming a bit of a pain but we got an artist in to do all of our faces for one gig and I ended up redoing my face as I realised it had become an important ritual for me and I just couldn't go out there 'til I'd done it myself.
Lex Whittingham: I usually just jam a few tracks from my favourite band (Nightwish) to get myself warmed up, either off stage or during sound check, my go-to tracks are 'The Kinslayer', 'Devil & The Deep Dark Ocean' and 'The Pharaoh Sails To Orion'.
Dr Von Stottenstein: Putting on the costume gets you into persona very quickly. 
Wolfy: It's all about being relaxed I find. The more chilled I am the easier it is to focus and get into the swing of it. Best way to chill is always just have a good time. 
Have you guys been rehearsing hard in the run up to this?
Lex Whittingham: We rehearse together at least once a week, and then I play guitar by myself at home almost every day, even just unplugged watching TV.
Dr Von Stottenstein… Not really/ no more than usual although we've been auditioning drummers (trying to anyway as several just didn't turn up)
Then you go straight onto the Renaissance Festival in London. You then have Devolution Magazine's 16th Birthday bash on 16 March with Sulpher headlining, and you guys will be playing alongside the likes of Mr Strange, Hells Puppets, Hells Gazelles and Tormenta. Bet you're looking forward to this one!
All: Yeah… the Devolution guys have been ace to us, so we were honoured to be called upon.
From here you have – Hammerfest (21-24 March), Breaking Bands (25 May), the ÜR-backed SOS Festival (14 July} and 53 Degrees in Preston in October. So far, it looks like your schedule is pretty hectic!
Dr Von Stottenstein: We'd made a conscious decision that we'd be more scrupulous when accepting gigs, over the last 2 years we've played over 60 gigs per year and have been so lucky to tour 3 times with Doyle/ Red Rum and our own Halloween tour, in addition to playing Bloodstock/ amplified and breaking bands that we've not had much time to write new material, and while our show has evolved into something quite ambitious (to us) our progress on album two has suffered so we'd agreed to refocus this year… keep the inmates gagging for more
Do you guys find it easy adapting to life on the road when touring and being away from family? Can you tell us a little about what it's like out on the road with the band?
Psychoberrie: I love being on the road, I love travelling, though when touring we never see anything other than the inside of the venues. Once we're out on the road I wish it would just go on forever. I think adjusting back to normal life is a lot harder. Most people suffer from the festival blues, I'd say tour blues are far worse haha.
Dr Von Stottenstein: I'm the only one in the band with children so my pressures are probably a little different. I have found times where I've gone weeks without seeing the kids which makes me feel terrible. The main pressure is trying to maintain momentum and also careers.. getting off work on time and so on. We've had to tour in the past in Newcastle etc.. where we literally finished work at 5, drove to Newcastle, finished the gig and got home for 4am only to be working at 7am and so on. We did that for the first week of the Doyle tour and red Rum tour too.
Wolfy: We love being on the road and playing everywhere, meeting new people and such, sure it can be stressful at times and things can go wrong but we never back down from a challenge and that's what I love about it. It's a challenge… While doing what I love the most. It's just a certain feeling you get thats a mix of happy, proud, adrenaline and so many others.
Outside of Ward XVI do any of you have any other music related projects going on?
Lex Whittingham: I also play guitar and lead vocals for my thrash band, Bloodmores.We recently released our new album, 'The Seeds Of Seasons', on 1 February: you can check it out on Spotify, iTunes and all the other usual places.
Dr Von Stottenstein: I've been asked to be part of a couple of top secret projects this year which is exciting and also honouring to be asked. Alex's album is pretty ace though. I'm a little jealous tbh.
Has the band got any big goals they'd like to achieve? Maybe a festival you haven't played, or supporting a certain artist or having a specific artist in mind that you would like to have feature as a special guest on your next album…
Psychoberrie: I'd like to play some big festivals like Download, Wacken and Graspop. I'd also love to do a European tour or a tour of America
Lex Whittingham: Nothing specific, but I'd like to go abroad sometime, some shows across Europe would be awesome.
Dr Von Stottenstein: I'd love to return to Bloodstock… probably won't happen again, but it was such an amazing week and the people we met (especially the new blood stage team are fkn phenomenal. I'd love to return there just to let us get them on stage and us sacrifice them and add them to the show as a thank you. I'd like to play a European festival like Metal Days or Draspop. I think our sound and look would be we received.
Band wise, I'm a massive Iron Maiden fan and I think Adrian Smith is the only person on earth I'd be star struck with. Avatar and Evil Scarecrow  are new favourites to me not just musically but how they tie theatre into their live shows. They've both inspired me to be more adventurous with our live set up. 
Wolfy: I would LOVE to play alongside my favourite band Igorrr one day for the pure reason of… We're both weird band wise… And we do things that aren't very mainstream which I love. We love different and weird. It's why we do what we do with the blood and guts and murder added to our set… Other than that… Bloodstock or hellfest… Need I say more?
Speaking of albums, you are hitting the studio to do a follow up of your last album 'The Art Of Manipulation'. How's this going? Have you been in the studio yet?
Psychoberrie: At the moment, we're just in the process of writing. We won't head to the studio until we have the whole album ready to record. With the cost of recording it's important to go in well rehearsed, knowing exactly what we're doing. Last year a lot of money was wasted altering parts and we need to learn from that this time round.
Dr Von Stottenstein: We've a few demos almost complete, it's been difficult with a changing  line up and so many gigs. Hopefully it will be sorted soon.
Lex: I have an ever growing collection of demos for new tracks that I've been recording from home, but as for studio time, official recording is yet to begin.
Any exclusives you can give us about the next album?
Psychoberrie: The subject of this next album is going to be quite dark, I imagine this will be the darkest album of them all in fact, but I'm afraid you'll have to wait for the release to see where Psychoberrie's tales will take you next.
What else has the band got lined up for 2019?
Dr Von Stottenstein: We've a single out in March, with an ace video by Very Metal Art, a few more festivals to announce and a Ward XVI baby in June.
Ward XVI play Stage 3 at HRH Metal at 7pm tomorrow (Sunday 17 February).
All content © Über Rock. Not to be reproduced in part or in whole without the express written permission of Über Rock.