By Jase Walker
It's the final day, Download always takes so long to arrive and passes by so quickly. By Sunday I can feel the tiredness setting in but it's time to dig deep and push through for the last lot of amazing acts we've got on today.
I've got myself to the main stage first thing to get a bit of Wargasm in my ears. I've had a brief listen to these a number of times leading up to seeing them here but like a few others this weekend, it's my first time seeing them live. After a brief delay, they kick off the main stage and I don't know what I was expecting but it wasn't suddenly getting my face melted off with some crazy heavy stuff within the first 30 seconds! Wargasm are absolutely dripping with attitude, there's so many influences in here; punk, metal, hip-hop, all wrapped up in a package that oozes sexual energy.
Neither of the duo are keen on standing still for long, constantly bouncing around the stage all the while kicking out some thunderous noise. The more I hear of this show, the more I want to make sure I never miss a gig of theirs in future. Some of their songs seem to carry a really similar energy to The Prodigy with intense synths and bombastic drums. Wargasm certainly have a very original spark in the music they make and especially on how their live show translates to the audience. A fantastically energetic band that knows how to get an audience going. An ideal future opener for Downloads main stage.
After a brief rest, I'm back off to the Avalanche stage for The Hara. Another band that I'm witnessing for the first time after listening through some bits of their stuff throughout 2022. From what I know of the band, they have a strong LGBTQ fanbase and have been exceptionally busy over the past few years, and it's landed them a spot on the Avalanche stage as a result. They kick off to rapturous applause and their singer's outfit is an absolutely bloody fantastic drag queen cloak. The sound at the start is a bit off, the guitar is very quiet and the vocals sometimes boom a bit and the bass is extremely loud in comparison to the rest.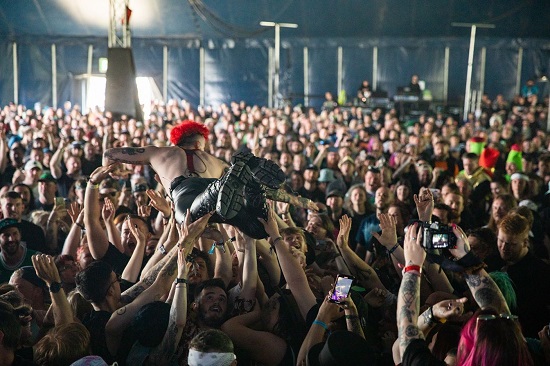 Visually the stage performance is great to watch, there's a lot going on and their singer is jumping around the stage constantly and locking eyes and gesturing to the audience. A bit further into the set, the sound issues seem to have cleared up and I can hear everything much better now. There's so many different influences bleeding through, a little bit of dubstep in parts, more metal in others and some bits are blues infused hard rock. Now in the stride of their set, it's coming across much better now. I definitely want to see these at their own show to see how their audience responds, I don't doubt for a second it'd be wild!
Another run across to the other side of the arena to catch Phoxjaw at the Dogtooth stage. I thought I'd be late but looks like they're slightly behind schedule, so I catch them just as they begin! After a bit of a bizarre intro, they rip into a crushing riff that shakes the floor. Thick, gravelly, fuzzy mids laden riffs echo through the Dogtooth stage's tent, I almost feel like I'm at Arctangent listening to these! God that Bass tone roars like a dragon, when there's brief breaks where they aren't playing you're suddenly hit in the face with it when it comes back in.
It's hard to put my finger on what you could class these as, other than just the standard prog thing. They've got that same brashness of the likes of Black Peaks and Arcane Roots, but they also aren't afraid of using discord and noise as part of their songs. There's a bit overarching punk element to the music too, whatever it is, it goes hard. There's so much going on in their songs, a definite amalgamation of diverse influences. I'm still torn up about missing them at Satan's Hollow a while back, but I'll make up for that this year with their other festival performances.
Sticking around the Dogtooth stage, next up we've got Modern Error. Sadly, the tour they had with Trash Boat earlier this year was cancelled due to health issues but they're ready to smash Download! Sadly the crowd is a bit thinner but that's not going to dampen how excited I am for them! Their electronic infused approach to post-hardcore is a novel approach, jumping between parts reminiscent of NIN to parts that remind me a lot of 80s new-romantic pop. When they hit the heavy guitar parts, they hit unbelievably hard, you wouldn't think these are just 6-string guitars!
The crowd's now filled up a bit more and we've got a massive mosh pit going on right behind me, I've managed to get myself a nice spot right at the barrier. Modern Error are giving everything to this performance, their singer flinging himself around the stage like a maniac. Hopefully I'll get to see these again at their own show soon, so far it looks like this is the only date I can get to this year! Another first for me at Download festival, I wouldn't have it any other way.
After dipping back to press for a brief interview with The Hara, I'm immediately back to the Avalanche stage for my main band of the weekend, Spiritbox! I've managed getting into the crowd a bit and it's absolutely rammed before they've even started. Opening with 'Circle With Me', the crowd chants and hangs on every word. Next is 'Blessed Be', a massive favourite of mine from Eternal Blue. Onto 'Hurt You', again, a massive response from the crowd and I can see a huge pit going from my vantage point! Following straight into 'Yellowjacket' we are getting the best Eternal Blue bangers one after the other here!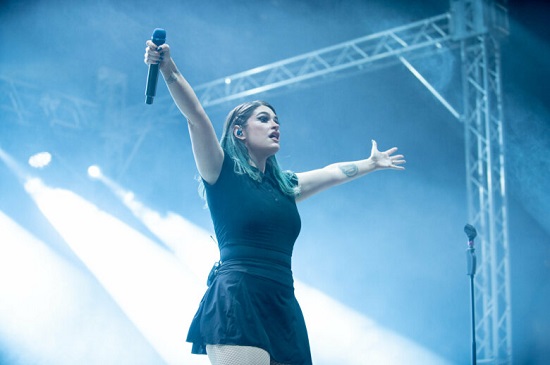 Oh god, it's 'Holy Roller' time, this is about to pop off massively! Almost the entire crowd headbangs in unison to that bloody tasty main riff, there is no other acceptable reaction. Finishing with 'Eternal Blue', and I'm sad that it's such a short set, but it was oh so worthwhile. Spiritbox are on the up and up in a huge way, and I'm still gutted that 2020 scuppered their plans to come over with After The Burial and I can't make it to their London dates after Download, but I don't doubt for a second that they'll be back for a full ÜK tour soon.
Unfortunately, I've had to miss out on Orbit Culture and Trash Boat as by this point I'm completely shattered. After a rest I've made my way to the main stage to catch a bit of Korn, it'd be rude not to! Opening with 'Here To Stay', the absolutely massive crowd had no issues meeting Jonathan's words with a widespread chorus. Running through their big songs in quick succession, 'Got The Life', followed by 'Falling Away From Me', every time the camera sweeps the audience they're going berserk! After a couple of new ones and were treated to a bagpipe break, because why not eh? 'Shoots And Ladders' sure is an interesting one, especially with a Metallica break at the end of it!
'Coming undone', suddenly breaks into a verse of 'We Will Rock You', nobody misses a beat getting into it either. All aboard the bangers train, 'Freak on a leash', right after and I think I've woken up a bit now after a good old fashioned headbang! 'ADIDAS' goes hard and I think the kids in front of me are going to learn some pretty interesting words with the crowd screaming the chorus. Finishing with 'Blind' which wasn't totally unexpected, I miss them playing 'Twisted Transistor' but it's been a really solid set either way!
Last one for today, I'm at the Dogtooth stage for YONAKA. This is the final one on the list for my Download weekend and I've made good on my promise to cover the smaller stages and bands and I'm very happy about that. Before I check out completely, it's time to dig deep for a band that I've been wanting to see for ages now.  Opening with 'Ordinary' they've already done my favourite track, happy with that!  There's something about this grime/trap infused rock that really does it for me, it's such a fresh approach that works amazingly well. Each song is filled with an aggressive attitude that comes across extremely well in their live show.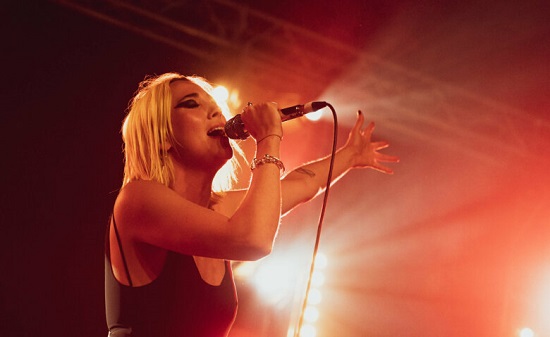 The centre of the crowd is awash with people jumping up and down and waving their arms around, never minding the massive heavyweights on the other stage. 'Call me a Saint', sounds massive, their singer's voice soars over the band to incredible highs. It's impressive how YONAKA can jump between raw metal/punk riffs to trap beats without it being jarring. With this performance it leaves no doubt in my mind that YONAKA were the right band to spend my time seeing to close out Download. The rate that this band is going at as well, I don't think it'll be long before seeing them doing bigger sets on much larger stages. Finishing with 'Seize The Power' was expected but what an absolute banger it is.
Download festival 2022 has been a very special experience for me, one that I am going to cherish and remember for many years to come. Being given the chance to do press for Download is something I will never take for granted.
But now, I really want my bed…
Download 2023 will take place over the weekend of 8-11 June (yes, that's FOUR days). Limited early bird tickets are available NOW.
All written content © Über Rock. Not to be reproduced in part or in whole without the express written permission of Über Rock.