By DJ Monk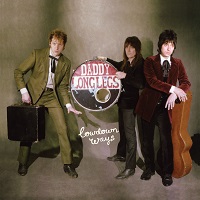 While the current fad for "retro" sees virtually every new band being hailed as the saviours of rock 'n' roll delving into regurgitating and reviving the sounds of the late '60s/early '70s, Chicago's Daddy Long Legs have delved even deeper into the archival well to bring the sounds of both the delta and their home city back to life with this, their third studio album, and first for new label Yep Roc.
'Lowdown Ways' draws on the likes of Son House, Howlin' Wolf, Lightnin' Hopkins, Muddy Waters and, of course, Robert Johnson as much as does the spirits of MC5, Captain Beefheart, Wilko-era Feelgood and The Pretty Things, drawing together elements of old school R'n'B, gospel, Cajun and garage punk in the process to produce an album that is as fervid as it is energetic, feverish as it is enthusiastic in its proving that the blues is indeed the most effervescent and enduring of all modern musical miens, especially when performed with passion and by artists who genuinely believe in what they are doing, as Messrs Hurd, Akturk and Styles (not Harry, we hasten to add) clearly do.
The scene is set right from the beginning with 'Theme From Daddy Long Legs', with its hum along refrain, piercing harmonica, classic "I took a walk…" vocal intro and foot-stomping vibe, before they introduce us to the joys pf 'Pink Lemonade', with it's gloriously muddy, fuzzed-to-fuck-and-back guitar riff and ZZ Top-ish "wow wow wow" backing gang vocal. Then it's straight over to foothills of Mississippi and a moonshine-on-the-porch 'Ding Dong Dang' session before lead single 'Mornin' Noon & Nite' really ups the ante with a glorious slice of rambunctious rock 'n' roll, completely with brilliantly tongue-in-cheek, innuendo-laden lyrics, topped off a slice of that good old-boy harmonica vibe that sends shivers down your spine.
After trips down to the heart of Bourbon Street to gatecrash the 'Glad Rag Ball' and a hot date with Miss 'Célaphine', a JD-fuelled jaunt around the 'Bad Neighbourhood' and a riotous rockabilly-style celebration in the 'Winners Circle' comes my only complaint: 'Back Door Fool' is a complete and total rip-off of 'Dirty Old Town', right down to the main riff and the vocal phrasing, and so much so that I had to check the song's name on the track-listing, as I fully expected Hurd to declare that he'd met his love by the gasworks wall rather than how we were gonna be blue 'cos she'd done him wrong…
However, that's a glitch and, on the basis of the first two spins of this otherwise fantastic album, I'm really looking forward to catching these boys when the tour pulls into ÜR's home town early next month… and I'm sure it will be getting much more airplay at ÜRHQ before then… do yerselves a favour and do likewise…
'Lowdown Ways' is released on 10 May. You can get your copy HERE.
Daddy Long Legs play the following dates:
Thursday 18 April​ – Brighton, Prince Albert
Friday 19 April – London, Le Beat Bepsoke Festival @ 229
Thursday 9 May – Glasgow, Audio
Friday 10 May – Belfast, Black Box
Saturday 11 May – Dublin, The Sugar Club
Sunday 12 May – Manchester, Night & Day
Tuesday 14 May – Newcastle Upon Tyne, The Cluny
Wednesday 15 May – Leeds, Brudenell Social Club
Friday 17 May – Norwich, NAC
Saturday 18 May – Bedford, Esquires
Sunday 19 May – Southend, The Railway Hotel
www.facebook.com/officialdaddylonglegs/
All content © Über Rock. Not to be reproduced in part or in whole without the express written permission of Über Rock.