By DJ Monk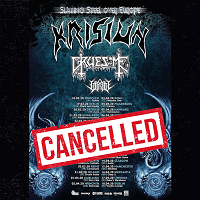 As the ÜK Government today (Thursday) announced that it is entering the second phase of its battle against the spread of the Covid-19 virus, more and more gigs and tours are being cancelled. And the Irish music scene is facing the possibility of a virtual shutdown for at least the next two weeks.
The latest tours to be axed include those by The Who, black metal priestess Chelsea Wolfe, metalcore mob After The Burial, Brazilian death metallers Krisiun, ÜR faves Snake Oil & Harmony and New York progressive metallers Car Bomb, while Massive Wagons have pulled the plug on their 'Live Over Europe' tour. Earlier today, one of the world's biggest promoters, Live Nation, issued an instruction to all its artists to be prepared to cancel shows at little or no notice.
Ironically, one tour still unaffected seems to be Cattle Decapitation's now aptly titled 'Europandemic' trek, which is due to start in Israel on 25 March and hit the British Isles from 10 April.
Meanwhile, UK grind legends Napalm Death also have been forced to postpone three dates planned in Limerick, Dublin and Belfast at the end of this month, after new advice from the Irish government said that all indoor events with more than 100 attendees planned between now and 29 March should be called off. This pronouncement is likely to have a profound effect on the Irish rock scene. At the time of writing, while major venues such as the 3Arena, Academy and Vicar Street have no choice but to cancel all bookings within the quarantine period, many smaller gigs are still going ahead as planned. Dublin's top metal promoter, DME, said that "this whole situation has everyone in a tailspin" and urged fans to "please have patience regarding news on upcoming shows". One early casualty, however, is 'The First Gathering' all-dayer, which was due to take place in Drogheda this Saturday (14 March).
Earlier today, Scottish First Minister Nicola Sturgeon followed the example of Ireland and other countries by implementing a ban on gatherings of more than 500 people from this coming Monday (16 March).
It is highly likely that, in light of increasing restrictions of travel and public gatherings across Europe, coupled with Donald Trump's ban on flights between the US and most European countries (except the UK and Ireland), many more tours and events will be called off as the global panic escalates. And with the ÜK Government's declaration that it is seeking to delay the full effects of the virus until later in the spring/early in the summer, to allow the health service to cope better, it is possible that the annual "festival season" could be adversely affected. However, none of the major festivals previously contacted by Über Rock have responded to our requests for statements, so that is another situation which remains as fluid as the overall crisis itself.
We'll keep you updated either here or through our social media channels… but, look on the bright side: we can think of a lot worse things than having to self-isolate with copious amounts of JD, rum and shed loads of Über Rock-approved rock 'n'f'n' roll \m/