By Maria Glover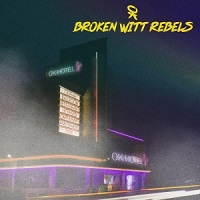 If you haven't heard of Broken Witt Rebels yet, where the heck have you been? Formed in 2015 they released their debut album in 2017 and toured pretty much non-stop for what seemed like 2 years after this. They are a Birmingham-borne band with grand ideas and this latest release looks set to send their success off the charts and multinational, being compared to Rival Sons, The Killers and Kings of Leon. While I don't like to pigeon-hole bands, I find it's useful to create a context for anyone who hasn't heard them and would agree that I can hear all these influences in the incredibly bluesy sound.
Single release 'Running With Wolves' is a high energy and radio friendly pop-rock track with an irresistible beat and sing-along chorus. it's uplifting and energizing and you just can't sit still, dang it. A contemporary blues sound comes to the fore in tracks like 'Money' and ' Fearless' – a popular live track before now unrecorded. The vocals are sinfully soulful and deep, passion oozing from the lyrics.
'OK Hotel' gives the first glimpse of just how far this album has come from the debut, how much the band have grown, an accomplished big, polished sound with lush velvety, sensual vocals. This is one of my stand-out tracks on this album, as it has a country-rock feel which I love to my cowgirl boots. Harmonies bolster that big vocal in tracks like 'Caught In The Middle', alongside the beautifully layered instrumentals creating a tide of sound flowing in the haunting and evocative 'Broken Pieces', where the vocals are simply stunning, heartfelt and intricate, the track driven by a pulsing beat.
'Take You Home' has a depth and soul in vocals and a fuzzy groove, with that staunch drum beat underneath as a foundation, a track which builds towards the chorus and buzzes round your brain for the rest of the day. 'Save My Life' is my personal four minutes of bliss on the album, a pulsating beat breathing life into the song, bluesy vocals so expressive. This is a darker, atmospheric track, powerful in both message and delivery, with a delicious gruffness to the vocals which makes my knees weak. Heavenly.
There is lighter, funkier side as shown in 'Give It Up' and 'Around We Go' – both sing-along opportunities, the former more chilled out and laid back with lots of electro, the latter more emotive and with a wailing guitar section. Ballad 'Love Drunk' is a real grower that takes root while 'Rich Get Richer' hits you full on with a harder rock style and swagger. Again this is atmospheric, and this is probably the track on the album with the more classic rock style, complete with guitar solo.
Closing track is 'Birmingham', gentle story telling over southern rock inspired chords, simple and effortless. Also absolutely mad – 'where I found my feet… where I lost my teeth'. I can;t help but feel that this song maybe makes Birmingham sound a little more exotic than it maybe is but this isn't helped by my Yorkshire accent tbh. A beautiful and enchanting close to a killer album.
This is a step forward in both sound and production, a world-class product which reaffirms that these guys were born to be superstars. Damn you payday, you merciless bitch, I need this in my car now! I cannot stop saying good things about this album, so I could drone on for hours, one to savour and lose yourself in for days at a time. Go buy.
'OK Hotel' is out tomorrow (Friday 13 March). You can get your copy HERE.
Broken Witt Rebels kick off their latest headline tour next Friday (20 March):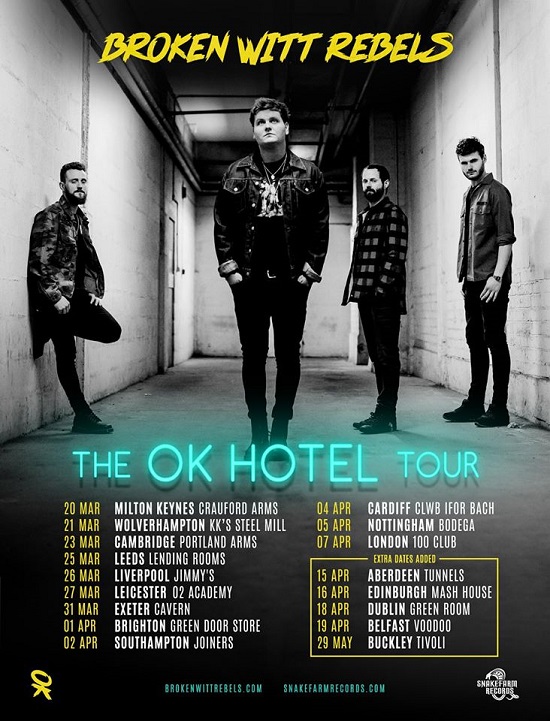 www.facebook.com/BrokenWittRebel
All content © Über Rock. Not to be reproduced in part or in whole without the express written permission of Über Rock.