By DJ Monk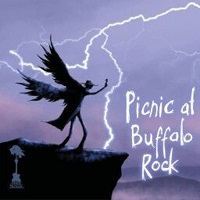 'Picnic At Hanging Rock' is perhaps one of the most famous Australian movies ever released, helping its director, Peter Weir, to carve a name for himself in the international arena and paving the way for the likes of Russell Mulcahy and the 'Mad Max' franchise to do likewise, in turn helping to launch,, albeit indirectly, the careers of Mel Gibson, Russell Crowe, Hugh Jackman and others. Now, four and a half decades later, New South Wales rock 'n' roll rebels Buffalo Crows have re-visited that historic moment in time with this aural reworking of the sense of darkness and mystery which that landmark piece of cinematography created.
These particular crows are no strangers to the death decks here at ÜRHQ, as we have reviewed two of their previous albums, 'Primitive Grind' and 'Black Tooth Grin'. Personally, I'm not familiar with either of said releases, so it was a matter of diving straight in and digesting this particular picnic without any form of appetizer to whet my tastebuds. But, then they offer up the first tasty morsel in the form of the enigmatically twisted 'Devil's On Fire', which features "gypsy vagabond" Otis Edgar on lead vocals and serves up a slightly disconcerting foretaste of what is to come… and "twisted" is a good descriptive, but what follows has more turns and contortions than a pole dancer on speed.
'Rope 'N Ride' combines the spirit of the Outback with that of the Wild West in a hellish Rose Tattoo-meets-Motörhead-meets-Corrosion Of Conformity pistol-whippin' soundtrack worthy of the final season finale of 'Sons Of Anarchy'. 'Deuteronomy' opens the book on the voodoo blooze, complete with didgeridoo intro, staggering and lurching like a drunken hobo but still managing to hold itself together with an incapable coherence, before exploding into a madcap rush of garage punk 'n' stroll that staggers down a path 'twixt the Bad Seeds picking a knife fight with those NOLA boyz and Lemmy standing toe to toe with Hank Williams and telling him to "bring it on".
'Savage Sons' brawls and swings like a cornered drunkard in a back alley bar begging for one more beer before he collapses outside in a pool of vomit only to wake up the next morning and declare "fuck, that was a great night", while 'Birth, School, Metal, Death' takes the Metallica influence of its title and stuffs it straight up your anal passage, sideways: nope, there ain't a thrash riff in sight, just another old school punk 'n' roller with a bass line that makes you walk up the bar and order a double whiskey without even realizing you've done so. But, then the bell tolls (sic) and the Crows summon their dark side with the Satanic duopoly of 'The Nameless' and 'The Raven', both of which crunch and growl with the density of a black hole on the verge of collapse. It is a dark interjection which demonstrates the ability of this band to move between genres with a credible fluidity.
Taking us into the last two songs, Buffalo Crows again twist the boundaries of conformity. 'Acid Reign' (no, it's not a tribute to the UK applecore heroes), kicks in with a church organ, an acoustic guitar and a distanced-vocal, before fuzzing out into an almost post-hardcore blast of garage rock fury complete with multiple layers of feedback, and then turning full circle upon itself, before 'Cobwebs Above Dust' rounds the album out with a psychedelic infusion of pure retro space rock vibes which somehow by, their contrast, echo everything that has gone before and leave you with one of those all-too-rare warm glows in the depths of your darkened rock 'n' roll soul.
'Picnic At Buffalo Rock' is an album which, I will admit, took me a couple of listens to really get into the groove. But, it is one which rewards with such repeated visits. It has a rare density and richness which belies the ultimate simplicity of what is occurring, but also challenges with the complexity of the listening experience.
'Picnic At Buffalo Rock' is out now. You can get your copy HERE.
All content © Über Rock. Not to be reproduced in part or in whole without the express written permission of Über Rock.